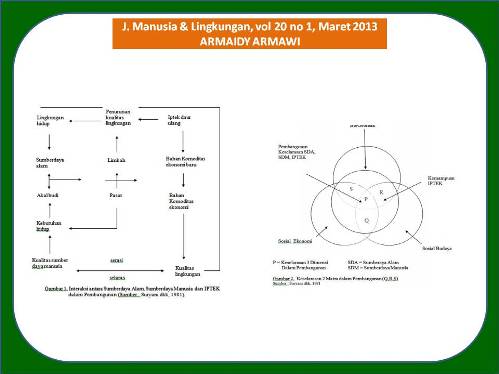 KAJIAN FILOSOFIS TERHADAP PEMIKIRAN HUMAN- EKOLOGI DALAM PEMANFAATAN SUMBERDAYA ALAM (Philosophical Studies of Human Ecology Thinking on Natual Resource Use)

https://doi.org/10.22146/jml.18474
Armaidy Armawi
(1*)
(1)&nbspFakultas Filsafat UGM
(*) Corresponding Author
Abstract
ABSTRAK
Penelitian inibertujuan untuk memberikan alternatif solusi terhadap upaya mengurangi dampak kerusakan lingkungan akibat ekploitasi sumberdaya alam yang dilakukan manusia melalui proses pembangunan dengan pendekatan filosofi apakah hakikat dan esensi dari manusiadan bagaimana kedudukannya di alam semesta ini? Apa yang harus dilakukan manusia untuk menjaga dan mengembangkan kehidupan diri dan lingkungannya?Penelitian merupakan penelitian kepustakaan yang bersifat kualitatif. Metoda yang digunakan adalah  verstehen,interpretasi,  hermeneutika dan heuristik. Hasil  penelitian menunjukkan bahwaproses pembangunan dan upaya manusia dalam melakukan eksploitasi sumberdaya alam yang tidak rasional dan hanya mementingkan "syahwat" keserakahan dan kenikmatan (hedonisme) telah memberi andil yang cukup penting dalam membentuk selera konsumtifisme. Eksploitasi sumberdaya alam berdasarkan pandangan yang individualistik-materialistik, telah menyebabkan timbulnya konflik-konflik yang berakibat pada korban manusia dan kerusakan lingkungan serta menciptakan jurang pemisah antara kesejahteraan dan kemiskinan. Oleh karena itu, dalam pembangunan diperlukan kerangka pemikiran yang bersifat antro-ekologis-filsafati (human ecology). Karena dengan kerangka pemikiran atau paradigma tersebut berbagai dimensi dapat terangkum di dalameksistensi manusia dan eksistensi lain menurut ukuran kemanusiandi dalam dirinya. Dengan demikian,apa yang dikatakan pembangunan yang berwajah insani dan lestari lingkungannya dalam pertimbangan dimensi waktu, manusia, alam serta dimensi religius dapat terbawa. Analisa dampak lingkungan dalam perencanaan pembangunan tidak cukup hanya dengan mempertimbangkan aspek teknis seperti analisa kerusakan, pencemaran dan kelestarian lingkungan, akan tetapi aspek non-teknis, yakni nilai etis yang didasarkan pada kearifan manusia dan kearifan lokal juga penting diperhatikan,agar tidak terjadi penolakan-penolakan dan konflik antarunsur ekologi dalam suatu ekosistem,sehingga terjadi interaksi yang harmoni dan seimbang antara pemanfaatan dan pemeliharaan sumberdaya alam dalam pembangunan.
ABSTRACT
This research aims to give alternative solution in reducing environmental damage as the result of human exploitation on natural resource in development process. The approach in use is philosophical approach to understand the fact and essence of human role in the universe. What human must do to maintenance and keep himself and his environment? This research is a qualitative bibliographical research. The method in use is versetehen, interpretation, hermeneutic and heuristic. The result shows the development process and human effort in exploiting natural resource is irrational and full of greediness and also hedonism. This result has important role to create consumptiveness. Natural resource base on individualistic-materialistic perspective has created various conflicts with human toll and environmental damage. It also created segregation between wealth and poverty. Therefore, development need critical framework with anthro-ecology-philosophy (human ecology). This critical framework or paradigm could resume various dimensions in human existence or another existence with human measurement. Thus, humanist development and environmental maintenance with time dimension, human, nature and religious dimension measurement are included. Environmental effect analysis in development planning not only base on technical aspect such as damage analysis, pollution and environmental maintenance but also non-technical aspects, namely ethical values base on human and local wisdom. Those attentive aspects are mentioned to avoid rejections and conflicts between ecological elements in an ecosystem to create harmonic interaction and balance between use and natural resource maintenance in development.
Keywords
human-ekologi; pelestarian; sumberdaya alam; human-ecology; maintenance; natural resources

DOI:
https://doi.org/10.22146/jml.18474
---
Article Metrics

Abstract views : 24358 |

views : 17850
Refbacks
There are currently no refbacks.
Copyright (c) 2017 Jurnal Manusia dan Lingkungan
JML Indexed by:

View My Stats