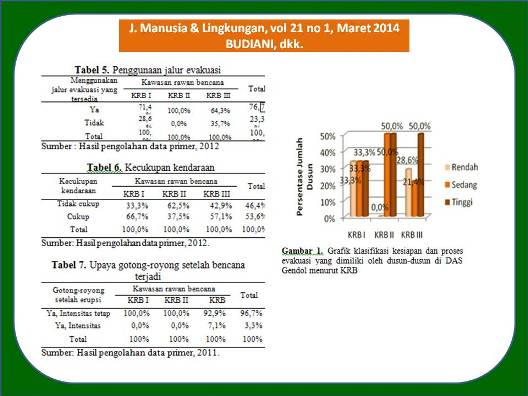 COPING CAPACITY MASYARAKAT DAS GENDOL DALAM MENGHADAPI BENCANA ERUPSI MERAPI (Coping Capacity of Watershed Gendol Community in Facing The Merapi Eruption)

https://doi.org/10.22146/jml.18518
Sri Rahayu Budiani
(1*)
, Siti Puji Lestariningsih
(2)
, Priliani Gamayanti
(3)
(1)&nbspJurusan Geografi dan Ilmu lingkungan Fakultas Geografi UGM, Bulaksumur, Yogyakarta
(2)&nbspMagister Perencanaan dan Pengelolaan Daerah Aliran Sungai, UGM, Bulaksumur, Yogyakarta
(3)&nbspMagister Perencanaan dan Pengelolaan Daerah Aliran Sungai, UGM, Bulaksumur, Yogyakarta
(*) Corresponding Author
Abstract
ABSTRAK
Erupsi gunungapi merupakan bencana yang potensial terjadi di Indonesia, salah satunya adalah Gunung Merapi di Pulau Jawa. Pada tahun 2010 terjadi erupsi Gunungapi Merapi yang termasuk paling dahsyat selama 10 tahun terakhir. Akibatnya, terjadi kerusakan di berbagai bidang seperti permukiman, pertanian, dan infrastruktur. Kerusakan terbesar terjadi di DAS Gendol, baik karena awan panas maupun lahar dingin. Dalam rangka menghadapi kemungkinan erupsi dimasa mendatang diperlukan analisis kemampuan masyarakat menghadapi bencana (coping capacity) untuk menyusun rencana strategis mitigasi bencana. Penelitian ini bertujuan untuk mengetahui tingkat sumberdaya, kesiapan dan proses evakuasi, serta coping capacity masyarakat DAS Gendol dalam mengahadapi erupsi Merapi. Penelitian ini menggunakan metode kuantitatif dengan teknik wawancara terhadap  28 kepala dusun sebagai sampel penelitian. Hasil penelitian menunjukkan bahwa sumberdaya paling tinggi terdapat di KRB I di DAS Gendol, sedangkan yang terendah di KRB III. Hal ini dikarenakan kekurangan sarana transportasi dan informasi di KRB III. Lain halnya di KRB I, akses jalan, transporatasi, dan informasi lebih mudah dijangkau.Kesiapan dan berlangsungnya proses evakuasi yang paling baik terjadi di KRB II dan III karena zonasi tersebut paling rawan sehingga evakuasi dilakukan lebih awal dibandingkan KRB I yang dianggap aman. Kendala yag dihadapi saat evakuasi di KRB III adalah penempatan lokasi pengungsian. Berdasarkan sumberdaya dan kesiapan proses evakusi, kemampuan masyarakat dalam menghadapi bencana (coping capacity) yang paling tinggi terdapat di KRB II, sedangkan terendah justru di KRB III. Tingkat coping capacity rendah justru dusun-dusun yang berbatasan dengan Sungai Gendol, yang merupakan daerah rawan terkena dampak banjir lahar dingin. Dusun-dusun tersebut meliputi Dusun Banaran, Batur, Gading, Jelapan, Kejambon Lor, dan Ngepringan 
ABSTRACT
Volcanic eruption is potential disaster in Indonesia, for example is Mount Merapi in Java Island. In the 2010 occured the most powerful eruption of Merapi volcano over the last 10 years.as a result, there is damage in various areas such as settlement, agriculture and infrastructure. The greatest damage occured in the watershed Gendol, either because the hot clouds and cold lava. In order to face the possibility of the future eruptions required the analysis ability of communities facing disaster (coping capacity) to develop a strategic plan mitigation. This research aims to determine the level of resources, preparedness, evacuation process and coping capacity of communities in watershed Gendol to face the Merapi eruption. This research use quantitative methods with interview techniques. The respondent is the head of the village and it selected of 28 villages as the sample. The research results show that the highest resource was found in KRB I on Watershed Gendol, while the lowest in the KRB III. It because of the lack of information and transportation facilities in KRB III. It is different in KRB I, the access roads, transportation and information are more accessible. The best of the preparedness and the process of evacuation occurred in KRB II and III because it is the most vulnerable, so that the evacuation can be done earlier than KRB I which is considered safely. The constraints faced evacuation process in KRB III is the placement of evacuation. Based on the resource and the evacuation process readiness, the highest coping capacity is KRB II, while the lowest in KRB III. The low level of coping capacity found in hamlets that bordering the Gendol river, which is prone to cold lava flood affected areas. The hamlets include Banaran Village, Batur, Gading, Jelapan, Kejambon Lor and Ngepringan.
Keywords
sumberdaya; kesiapan evakuasi; coping capacity; resource; preparedness of evacuation
References
Febrianti, F., 2010. Flood Risk Perception and Coping Mechanism of Local Community: A Case Study in Part of Surakarta City, Central Java Province, Indonesia. Tesis. Fakultas Geografi UGM, Yogyakarta. Kumpulainen, S., 2006. Vulnerability Concepts in Hazard and Risk Assessment. Natural and Technological Hazards and Risk Affecting the Spatial Development of European Regions, Geological Survey of Finland, Special Paper 42. Marfai, Aris, M., dan Triyanti, A., 2011. Manajemen Bencana Banjir Berbasis Masyarakat (Studi Komparasi Kota Jakarta dan Kota Surakarta). Fakultas Geografi Universitas Gadjah Mada, Program Beasiswa Unggulan BPKLN KEMENDIKNAS RI di MPPDAS Fakultas Geografi, Universitas Gadjah Mada. Nugroho, A.B., 2011. Tingkat Kerusakan Lahan Akibat Penambangan Bahan Galian Golongan C di Sub Daerah Aliran Sungai Celeng Kabupaten Bantul. Tesis. Program Studi MPPDAS. Program Pasca Sarjana, Universitas Gadjah Mada, Yogyakarta. Samaddar, S. and Okada, N., 2007. The Process of Community's Coping Capacity Development in the Sumida Ward, Tokyo – A Case Study of Rainfall Harvesting Movement. Annuals of Disas. 50(B):2007. Sugiyono, 2001. Statistik Nonparametrik untuk Penelitian. Alfabeta, Bandung. Sumekto, dan Rinan, D., 2011. Pengurangan Resiko Bencana Melalui Analisis Kerentanan dan Kapasitas Masyarakat dalam Menghadapi Bencana. Proceeding. Seminar Nasional Pengembangan Kawasan Merapi: Aspek Kebencanaan dan Pengembangan Masyarakat Pasca Bencana, Yogyakarta.

DOI:
https://doi.org/10.22146/jml.18518
---
Article Metrics

Abstract views : 2773 |

views : 2076
Refbacks
There are currently no refbacks.
Copyright (c) 2017 Jurnal Manusia dan Lingkungan
JML Indexed by:

View My Stats