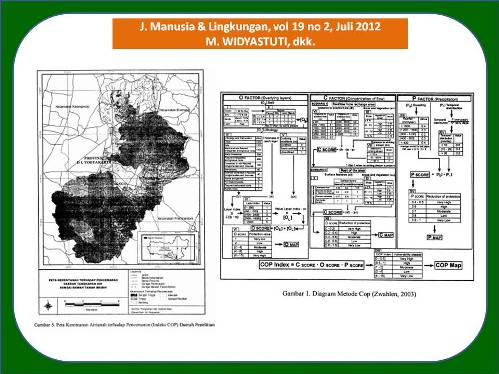 KERENTANAN AIRTANAH TERHADAP PENCEMARAN DAERAH IMBUHAN PONOR DI KARST GUNUNG SEWU (STUDI DI DAERAH ALIRAN SUNGAI BAWAH TANAH BRIBIN) (Ground Water Vulnerability to Contamination of Swallow Holes Recharge Area at Gunung Sewu Karst (Study in Bribin)

https://doi.org/10.22146/jml.18529
M. Widyastuti
(1*)
, Sudarmadji Sudarmadji
(2)
, Sutikno Sutikno
(3)
, Heru Hendrayana
(4)
(1)&nbspJurusan Geografi Lingkungan Fakultas Geografi UGM
(2)&nbspUGM
(3)&nbspUGM
(4)&nbspUGM
(*) Corresponding Author
Abstract
ABSTRAK
Airtanah karst merupakan salah satu sumbedaya alam yang potensial di kawasan karst Gunung Sewu. Di sisi lain, akuifer karst sangat rentan terhadap pencemaran. Sungai Bawah Tanah Bribin menjadi sumber air utama untuk masyarakat khususnya untuk mendukung kebutuhan air di musim kemarau. Tujuan pene1itian ini adalah: 1) mengetahui karakteristik daerah imbuhan ponor me1alui identifikasi variabel kerentanan (kondisi ponor, lereng, vegetasi, tanah dan batuan); dan 2) mengetahui tingkat kerentanan airtanah terhadap pencemaran dengan metode COP. Ponor, gua, dan dolin diidentifikasi melalui sensus, sedangkan pengambilan sampel tanah secara purposive berdasarkan unit seri tanah. Proses pengolahan data mendasarkan metode COP, yang merupakan akronim C (concentration offlowkonsentrasi aliran), 0 (overlaying layerllapisan pelindung) and P (precipitation/curah hujan). Setiap variabel dan sub variabel mempunyai nilai di setiap ke1as dan dihitung melalui operasi perkalian dan penjumlahan. Hasil menunjukkan bahwa karakteristik daerah imbuhan ponor bervariasi menurut aspekjumlah, ukuran, lokasi dan kondisi ponor; lereng dan vegetasi, jenis tanah dan batuan serta ketebalannya. Tingkat kerentanan airtanah terhadap pencemaran sebagain besar sangat rentan. Faktor yang mempunyai pengaruh besar adalah konsentrasi aliran. Jumlah ponor sebagai imbuhan terkonsentrasi (titik) dari aliran permukaan menyebabkan sangat rentan.
ABSTRACT
Karst groundwater is one of the potential natural resources in the Gunung Sewu karst area. On the other hand, karst aquifers are highly vulnerable to contamination. Bribin underground river become the main water source for the community, especially to support the water demand in the dry season. The purposes of this study are: 1) to know the characteristics of the swallow holes recharge area through identifiying vulnerability variables (swallow hole condition, slope, vegetation, soil and rock), and 2) to assess the level of groundwater vulnerability to contamination which is assessed by COP method. Swallow holes, caves and doline are identified by census, while soil sampling are done by purposive sampling using soil series unit. The data processing method based on COP, which is an acronym of C (concentration of flow), O (overlaying layer) and P (precipitation). Each variable and sub-variables have value at each class, and then performed with the operation of multiplication and addition. The results showed that characteristics of swallow holes recharge area varies from aspects of the number, demension, location, and conditon of swallow holes, slope and vegetation, soil and rock thickness. The level of groundwater vulnerability to contamination in the research area is mostly very high vulnerable. The factor that has a large contribution is the variable of flow concentration. Number of swallow holes as a point recharge of surface flow that makes very vulnerable.
Keywords
swallow holes recharge area; groundwater vulnerability; contamination; COP method

DOI:
https://doi.org/10.22146/jml.18529
---
Article Metrics

Abstract views : 2292 |

views : 2966
Refbacks
There are currently no refbacks.
Copyright (c) 2017 Jurnal Manusia dan Lingkungan
JML Indexed by:

View My Stats