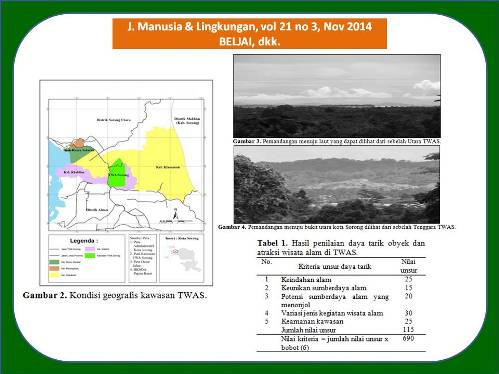 KONSEP PENATAAN LANSKAP UNTUK WISATA ALAM DI KAWASAN TAMAN WISATA ALAM SORONG (Landscape Arrangement Concept for Natural Tourism at Sorong Natural Tourism Park)

https://doi.org/10.22146/jml.18564
Matheus Beljai
(1*)
, Harini E.K.S Muntasib
(2)
, Bambang Sulistyantara
(3)
(1)&nbspProgram Studi Manajemen Ekowisata dan Jasa Lingkungan, Program Pascasarjana, Institut Pertanian Bogor, PO BOX 168, Bogor 16001
(2)&nbspDepartemen Konservasi Sumberdaya Hutan dan Ekowisata, Fakultas Kehutanan, Institut Pertanian Bogor, PO BOX 168, Bogor 16001
(3)&nbspDepartemen Arsitektur Lanskap, Fakultas Pertanian Institut Pertanian Bogor, PO BOX 168, Bogor 16001
(*) Corresponding Author
Abstract
ABSTRAK
Taman Wisata Alam Sorong (TWAS) merupakan suatu kawasan hutan yang memiliki potensi sumberdaya lanskap dan potensi wisata yang baik, seperti: keragaman topografi, hidrologi, flora dan fauna, pemandangan alam serta aksesibilitas yang mudah. Saat ini TWAS belum dimanfaatkan secara optimal, sehingga perlu pemanfaatan sumberdaya dan ruang yang ada. Pengembangan zonasi pemanfaatan wisata dibuat berdasarkan hasil analisis kesesuaian potensi biofisik lahan dan potensi obyek dan atraksi wisata alam yang ada di TWAS. Penataan lanskapnya mengacu pada konsep dasar taman wisata alam sesuai UU No. 5 Tahun 1990 sebagai suatu kawasan pelestarian alam yang dimanfaatkan untuk tujuan pariwisata alam (wisata alam) dan disesuaikan dengan kondisi biofisik kawasan dan keragaman obyek dan atraksi wisata alam. Zona yang dapat dikembangkan di TWAS ialah zona intensif, zona semi intensif dan zona ekstensif. Ruang yang dapat dikembangkan ialah ruang penerimaan dan pelayanan, ruang wisata inti, ruang wisata penunjang dan ruang konservasi.
ABSTRACT
Sorong Natural Tourism Park (SNTP) is a potentiall resource forest area which consists of potenstial landscape and it attractive objects such as topographical diversity, hydrology, highly abundant of flora fauna as well as natural view sublimity. Currently, seems that SNTP has not optimally managed yet so as it needs further management and space in the SNTP. Expansion activities in SNTP directed towards nature tourism action and adapted to both condition and function of the area. Landscape arrangement plan is refer to the basic concept of natural tourism park as a region for developed tourism in the form of regional spatial and divided by specific biophysical potency and tourism. Circulation path system is developed as a liaison between zone and attraction. Zone planned in SNTP are intensive, semi intensive and extensive while space planned are receptions and services, core tourism area, supporting area and conservation.
Keywords
konsep penaatan lanskap; pemanfaatan kawasan; ruang wisata; taman wisata alam; zonasi wisata; area utilization; landscape planning; natural tourism park; space tourism; tourism zone
References
Ayeni, D.A. 2013. Potential Roles of Landscaping in Sustainable Tourism Development in Nigeria: A Multivariate Analysis. British J. Arts & Soc. Sci., 11(2):174-185.
Anonim, 2001. Kriteria Penilaian Pengembangan Obyek dan Daya Tarik Wisata Alam. Direktorat Jenderal Perlindungan Hutan dan Konservasi Alam, Departemen Kehutanan, Jakarta.
Gunn, C.A., 1994. Tourism Planning: Basics, Concepts, Cases. Taylor & Francis, Washington.
Gold, S.M., 1980. Recreation Planning and Design. Mc Graw-Hill Book Company, New York.
Laurie, M., 1986. Pengantar kepada Arsitektur Pertamanan (terjemahan). Intermedia Bandung.133 hal.
MacKinnon, J., MacKinnon, K., Child, G., dan Thorsen, J., 1993. Pengelolaan Kawasan yang Dilindungi di Daerah Tropika. HH Amir, Penerjemah. Yogyakarta (ID): Gadjah Mada University Press. Terjemahan dari: Managing Protected Areas in The Tropics.
Maksin, M., dan Milijic, S., 2010. Strategic Planning for Sustainable Spatial, Landscape and Tourism Development in Serbia. SPATIUM Int. Rev.,23(10):30-37.
Mayer, M., Müller, M., Woltering, M., Arnegger, J., dan Job, H., 2010. The Economic Impact of Tourism in Six German National Parks. Landscape and Urban Planning, 97(4):73–82.
Navalpotro, J.A.S., Quiroga, F.G., dan Pérez, M.S., 2012. Evaluation of Tourism Development in the National Parks of Spain. Int. J. Business & Soc. Sci., 3(14):1-7.
Petäjistö, L., Selby, A., dan Huhtala, M., 2011. The Realisation of Tourism Business Opportunities Adjacent to Three National Parks in Southern Finland: Entrepreneurs and Local Decision-Makers Matter. Forest Policy and Economics 13:446–455.
Robinette, G.O., 1983. Landscape Planning for Energy Conservation. Van Nostrand Reinhold Campany, New York.
Warpani, S.P., dan Warpani, I.P., 2007. Pariwisata dalam Tata Ruang Wilayah. Penerbit ITB, Bandung.
Wearing, S., dan Neil, J., 2009. Ecotourism: Impacts, Potentials and Possibilities. Elsevier's Science and Technology Rights Department in Oxford, Oxford.

DOI:
https://doi.org/10.22146/jml.18564
---
Article Metrics

Abstract views : 14064 |

views : 7868
Refbacks
There are currently no refbacks.
Copyright (c) 2017 Jurnal Manusia dan Lingkungan
JML Indexed by:

View My Stats