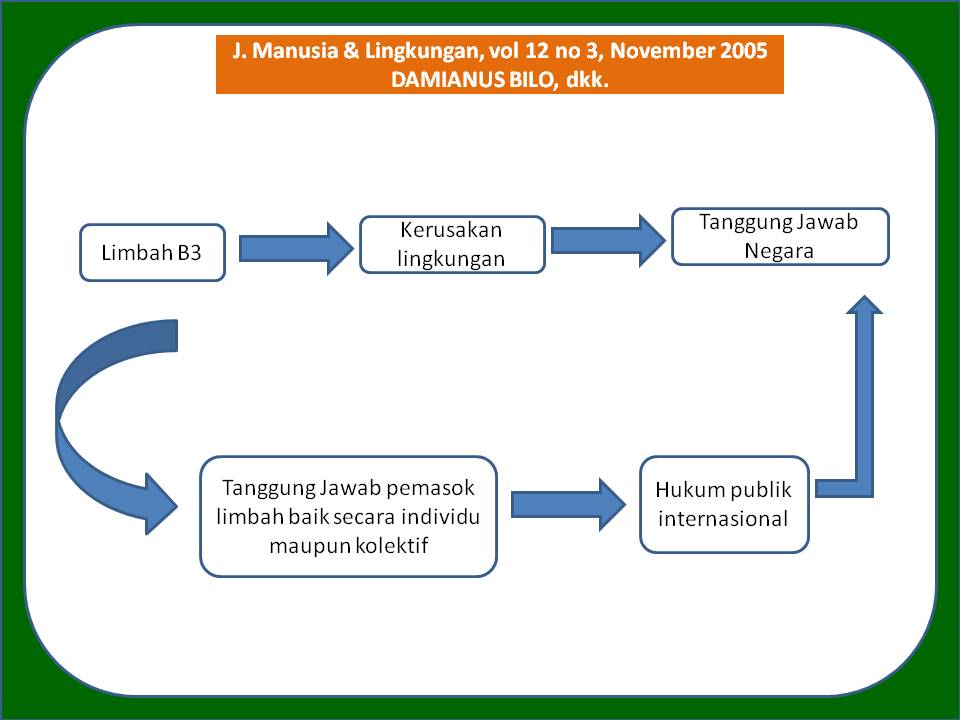 PERTANGGUNGJAWABAN NEGARA TERHADAP KERUGIAN DAN KERUSAKAN LINGKUNGAN AKIBAT KEGIATAN EKSPOR IMPOR LIMBAH 83 (The State Responsibilities toward Environmental Damages due to Hazardous Wastes Export-Import Activities)

https://doi.org/10.22146/jml.18639
Damianus Bilo
(1*)
, Sugeng F. Istanto
(2)
, Marsudi H. Triatmodjo
(3)
(1)&nbspProgram Studi llmu Hukum Program Pascasarjana Universitas Gadjah Mada, Yogyakarta
(2)&nbspFakultas Hukum Universitas Gadjah Mada, Yogyakarta
(3)&nbspFakultas Hukum Universitas Gadjah Mada, Yogyakarta
(*) Corresponding Author
Abstract
ABSTRAK
Penelitian ini bertujuan untuk menginvestigasi dan menganalisis fenomena legal dan praktek hukum yang mengatur pergerakan lintas batas B3 dan limbah 83. Penelitian ini mengkombinasikan pendekatan legal dan normatif. Informasi diinterpretasi dengan menggunakan metode Juridical-analytical dan evaluative-explanatory. Penelitian menyimpulkan bahwa fihak-fihak yang terlibat dalam pengeluaran limbah B3 adalah bertanggung jawab baik secara individual maupun kolektif untuk memberikan kompensasi kerusakan lingkungan yang diderita oleh fihak ketiga. Prinsip ini didasarkan pada hukum publik internasional yang menyatakan bahwa setiap tindakan pelanggaran hukum oleh suatu negara adalah menyangkut pertanggung jawaban international dari negara tersebut. 
ABSTRACT
This research aims to investigate and analyze legal phenomena and the practices of law that regulate transboundry movement of hazardous wastes and their disposal. The research combines the normative and empirical legal approach. Information is interpreted by using juridical analytical and evaluative explanatory method. The research concludes that the parties involved in the transmission of hazardous wastes are either individually or collectively responsible for compensating detriments and environmental damaged sufferes by the third parties. This principle is based on the public international law, which insists that every internationally wrongful act of a State entails the international responsibility of that State.

DOI:
https://doi.org/10.22146/jml.18639
---
Article Metrics

Abstract views : 2174 |

views : 2315
Refbacks
There are currently no refbacks.
Copyright (c) 2017 Jurnal Manusia dan Lingkungan
JML Indexed by:

View My Stats