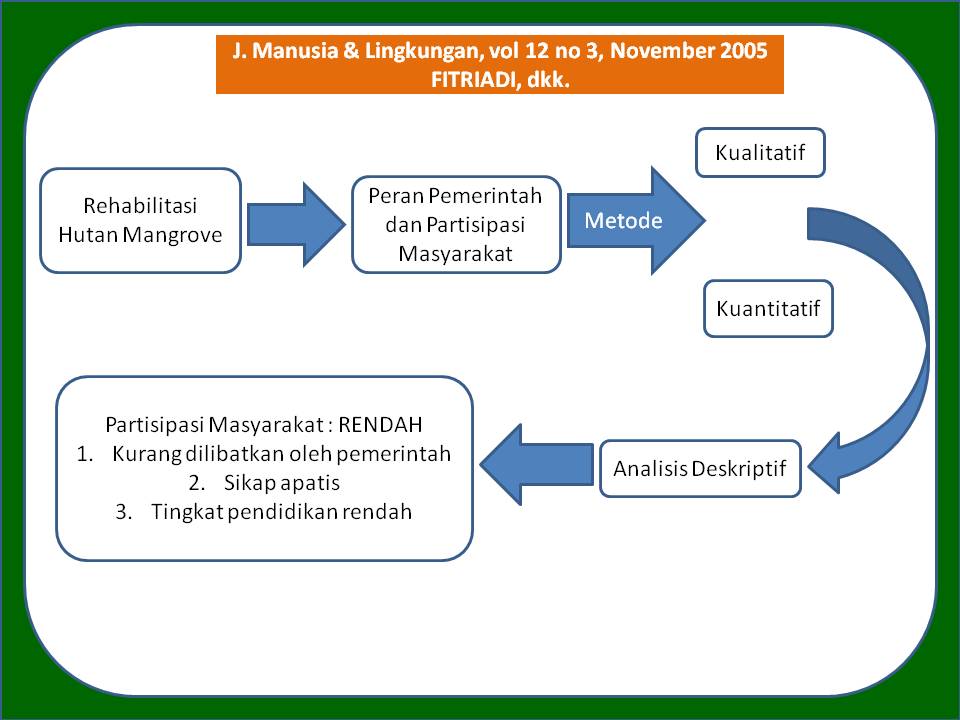 PERAN PEMERINTAH DAN PARTISIPASI MASYARAKAT DALAM REHABILITASI HUTAN MANGROVE: KASUS DI KECAMATAN PEMANGKAT KABUPATEN SAMBAS KALIMANTAN BARAT (Government Roles and Community Participation in the Rehabilitation of Mangrove Forset: A Case of Pemangkat Sub)

https://doi.org/10.22146/jml.18640
Fitriadi Fitriadi
(1*)
, Totok Gunawan
(2)
, Rijanta Rijanta
(3)
(1)&nbspKantor Pengendalian Dampak Lingkungan Kabupaten Sambas, Kalimantan Barat
(2)&nbspFakultas Geografi Universitas Gadjah Mada, Yogyakarta
(3)&nbspFakultas Geografi Universitas Gadjah Mada, Yogyakarta
(*) Corresponding Author
Abstract
ABSTRAK
Penelitian ini bertujuan untuk mengetahui peran Pemerintah Daerah dan partisipasi masyarakat dalam rehabilitasi hutan mangrove dan faktor-faktor yang mempengaruhi partisipasi masyarakat. Daerah penelitian adalah Desa Pemangkat Kota Kecamatan Pemangkat Kabupaten Sambas Kalimantan Barat. Metode penelitian yang digunakan adalah metode kuantitatif dan kualitatif. Analisis data dilakukan dengan analisis deskriptif. Responden penelitian terdiri dari masyarakat Desa Pemangkat Kota yang terlibat langsung dalam kegiatan rehabilitasi hutan mangrove dan aparat Pemerintah Daerah yang terkait dengan kegiatan rehabilitasi hutan. Pengumpulan data dilakukan dengan wawancara, observasi lapangan dan wawancara mendalam. Hasil penelitian menunjukkan bahwa peran Pemerintah Daerah dalam rehabilitasi hutan mangrove Tanjung Bila, dan partisipasi masyarakat dalam proses perencanaan adalah rendah. Hal ini disebabkan oleh kurang dilibatkannya masyarakat dalam proses perencanaan, sikap apatis dari masyarakat, dan rendahnya tingkat pendidikan masyarakat.
ABSTRACT
The research was aimed to understand the Local Territory Government roles and the community participation on mangrove forest rehabilitation including factors that influenced community participation. The study area was Pemangkat Kota Village Pemangkat Sub District Sambas Regency West Kalimantan. The methods used for this research were quantitative and qualitative methods, and were conducted through a descriptive analysis. The respondents were communities at Pemangkat Kota Village who were involved directly on the mangrove forest rehabilitation activities and the Local Governmental officials that linked to such activities. The results show that both the rules of Local Government in the forest rehabilitation of Tanjung Bali and the respondent participations for planning process were low. The lack of involvement of societies on planning process, apathetic attitude of societies, and low level of societies education, and low income were factors that contributed to the condition.

DOI:
https://doi.org/10.22146/jml.18640
---
Article Metrics

Abstract views : 2724 |

views : 4746
Refbacks
There are currently no refbacks.
Copyright (c) 2017 Jurnal Manusia dan Lingkungan
JML Indexed by:

View My Stats