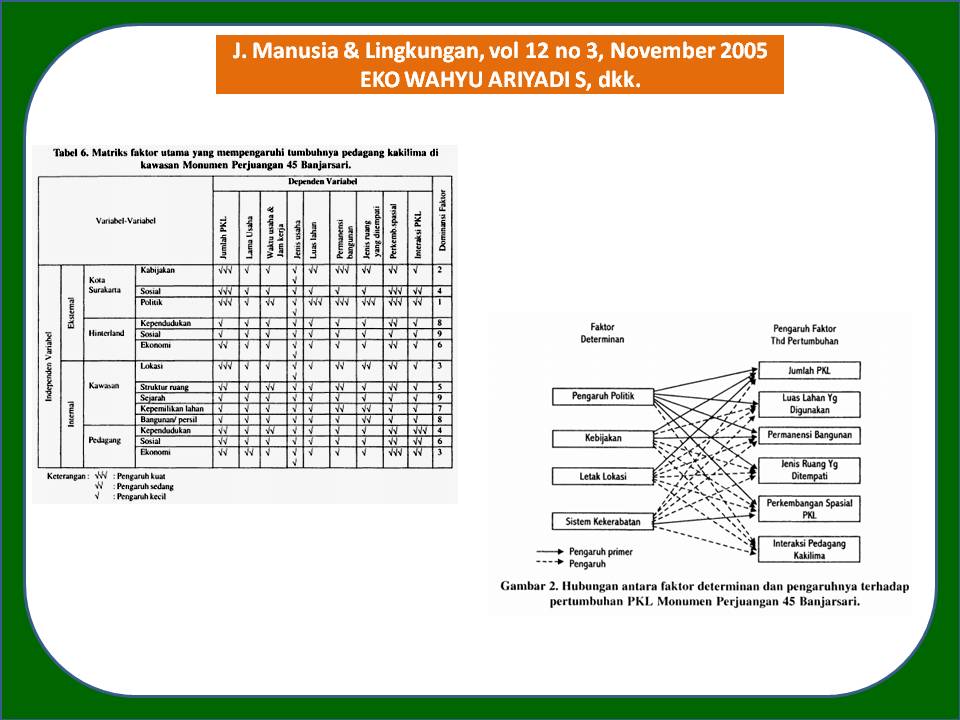 KAJIAN TERHADAP FAKTOR-FAKTOR YANG MEMPENGARUHI TUMBUHNYA PEDAGANG KAKILIMA PADA SUATU KAWASAN: STUDI KASUS KAWASAN MONUMEN PERJUANGAN 45 BANJARSARI SURAKARTA (A Study on the Factors Accelerating the Growth of Vendors in A Region: A Case Study)

https://doi.org/10.22146/jml.18642
Eko Wahyu Ariyadi
(1*)
, Laretna T. Adishakti
(2)
, Didik Kristiadi
(3)
(1)&nbspPemerintah Kota Parepare, Propinsi Sulawesi Selatan
(2)&nbspFakultas Teknik Jurusan Arsitektur Universitas Gadjah Mada, Yogyakarta
(3)&nbspFakultas Teknik Jurusan Arsitektur Universitas Gadjah Mada, Yogyakarta
(*) Corresponding Author
Abstract
ABSTRAK
Tujuan penelitian ini adalah untuk mengidentitikasitaktor-faktor yang mempercepat pertumbuhan pedagang kaki lima di kawasan Monumen Perjuangan 45 Banjarsari Surakarta, serta mempelajari dampak faktor-taktor tersebut. Penelitian ini menggunakan pendekatan kualitatif dengan berfokus pada paradigma fenomenologi, serta menggunakan metode eksplorasi untuk pengumpulan data. Hasil penelitian mengidentifikasi faktor yang mempercepat tumbuhnya pedagang kaki lima dan diklasifikasikan menjadi (I) taktor eksternal (dari kota Surakarta dan sekitarnya), dan (2) faktor internal (daerah yang bersangkutan) Penelitian menyimpulkan bahwa faktor-faktor tersebut dengan kuat mempercepat pertumbuhan. Semua faktor mempengaruhi pertumbuhan dalam hal jumlah, perkembangan spesial kios permanen, jenis ruang yang ditempati, dan interaksi antar pedagang kaki lima di Monumen Perjuangan Banjarsari.
ABSTRACT
The objevtives of this research are to identify factors that accelerate the growth of vendors at the Monumen Perjuangan 45 area in Banjarsari, and to study the impacts of those factors. The research adopted a qualitative approach by focusing on the phenomenology paradigm, and it used exploration method for data collection. The results identify that the factors accelerating the growth of vendors can be classified into (1) external factors (of Surakarta city and its hinterland), and (2) internal factors (of the area and vendors concerned). The research concluded that the factors strongly accelerating the growth. All of factors affect the growth of vendor in terms of the growth of the number, spatial development, degree of permanent building (kiosk), type of space occupied, width of area used, and the interaction among vendors at the Monumen Perjuangan 45 area in Banjarsari.

DOI:
https://doi.org/10.22146/jml.18642
---
Article Metrics

Abstract views : 1312 |

views : 1690
Refbacks
There are currently no refbacks.
Copyright (c) 2017 Jurnal Manusia dan Lingkungan
JML Indexed by:

View My Stats