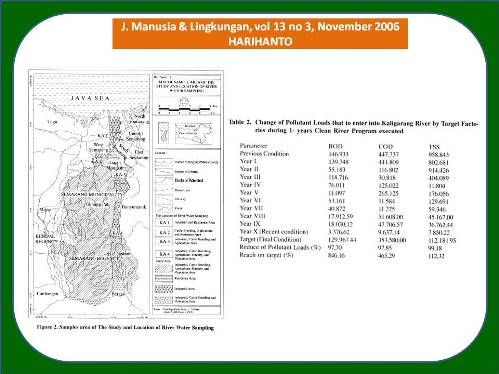 CLEAN RIVER PROGRAM AT KALIGARANG CENTRAL JAVA PROVINCE

https://doi.org/10.22146/jml.18657
Harihanto Harihanto
(1*)
(1)&nbspThe Environment Research Centre, Mulawarman University, Samarinda, Indonesia
(*) Corresponding Author
Abstract
Kaligarang River that located n Central Java Province represents one of the rivers in Indonesia which water quality was proved very bad. Since 1989 Clean River Program has been executed in this river. Nevertheless, untul 1998 there have not yet independent evaluation towards this program. To Know wether of this program successful a survey has been conducted from November 1998 to November 1999. The success of this program investigated by: (1) reducing of pollutant loads, (2) target of pollution loads that reached, and (3) improving of river water quality. It was foujd that this program has been successfully reducing pollutant loads of waste of all factories as target froups. Nevertheless, the quality of water of Kaligarang River was still relatively bad. This condition porbably was cause by domestic waste partivularly from hospital, hotel, restaurant dan small factories that was not included as tartet group in this program. Thus it was conclude at the implementation of the Clean River Program in Kaligarang has not been succesful to im[rove water quality of this river.

DOI:
https://doi.org/10.22146/jml.18657
---
Article Metrics

Abstract views : 753 |

views : 687
Refbacks
There are currently no refbacks.
Copyright (c) 2017 Jurnal Manusia dan Lingkungan
JML Indexed by:

View My Stats