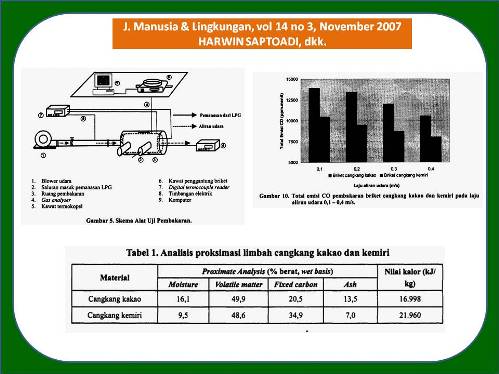 PEMANFAATAN LIMBAH BIOMASSA CANGKANG KAKAO DAN KEMIRI SEBAGAI BAHAN BAKAR BRIKET (Utilization of Biomass Wastes from Cocoa and Candlenut Shells as Fuel Briquette)

https://doi.org/10.22146/jml.18670
Harwin Saptoadi
(1*)
, Moch. Syamsiro
(2)
, Bisrul Hapis Tambunan
(3)
(1)&nbspJurusan Teknik Mesin dan lndustri, Universitas Gadjah Mada Jl. Grafika 2, Yogyakarta
(2)&nbspJurusan Teknik Mesin, Universitas Janabadra, Jl. TR Mataram 57, Yogyakarta
(3)&nbspJurusan Teknik Mesin, Universitas Negeri Medan, Jl. William Iskandar, Medan
(*) Corresponding Author
Abstract
ABSTRAK 
Biomassa adalah sumber energi utama jutaan manusia di dunia, akan tetapi penggunaannya menurun ketika batubara, minyak dan gas tersedia cukup melirnpah. Namun akhir-akhir ini perhatian muncul kembali karena terjadinya krisis energi dan isu-isu lingkungan. Pemanfaatan biomassa untuk menggantikan bahan bakar fosil dapat menurunkan persoalan emisi CO2 global. Penelitian ini bertujuan untuk mengkaji alternatif sumber energi terbarukan dengan pemanfaatan limbah biomassa cangkang kakao dan kemiri. Penelitian dilakukan dengan menghaluskan biomassa dengan ukuran partikel kurang dari I mm. Kemudian 5 gram campuran bahan baku dengan bahan pengikat gel tepung kanji dengan perbandingan 70:30 untuk kakao dan 80:20 untuk kemiri dibriket dalarn cetakan berdiarneter l6 mm. Setelah dibriket kemudian dikeringkan dengan oven pada suhu 50 oC selama 5 jam. Pembakaran dilakukan dalam ruang bakar pada temperatur dinding 350 oC dan laju aliran udara bervariasi antara 0,1 - 0,4 m/s. Hasil penelitian menunjukkan bahwa cangkang kakao dan kemiri mempunyai nilai kalor masing-masing 16.998 dan 21.960 kJ/kg. Emisi CO cukup signifikan pada tahap devolatilisasi. Cangkang kakao memberikan total emisi CO lebih tinggi dibandingkan dengan cangkang kemiri. Laju aliran udara juga berpengaruh terhadap emisi CO yang dihasilkan. Penambahan laju aliran udara akan mengurangi emisi CO, hal ini karena adanya penambahan suplai oksigen sehingga pemnbakaran dapat berlangsung lebih sempurna.
ABSTRACT 
Biomass was the  primary source of energy for millions of people in the world, but when coal, oil, and gas became widely available, its use was declined. However, in recent years interest in biomass utilization increases because of energy crisis and environmental issues. Utilization of biomass for substituting fossil fuel can reduce global CO2 emission problem. The objective of this research is to study alternative energy sources that utilize biomass waste from cocoa and candlenut shells. Biomass materials were crushed until particle size of less than 1 mm were obtained. Five grams mixture  of biomass and binder with composition 70:30 for cocoa and 80:20 for candlenut were briquetted in 16 mm cylindrical mould and dried in an oven at  50C for 5 hours. Combustion tests were conducted in a combustion chamber at constant wall temperature 350C and air velocity ranges between 0.1 – 0.4 m/s. The results show that cocoa and candlenut shells have calorific value of 16,998 and 21,960 kJ/kg respectively. The CO emission was generated significantly during devolatilization phase. Cocoa shell generate total CO emission higher than that of candlenut shell. The increase of air velocity can reduce CO emission, because more oxygen is supplied to the briquette that can help completing the combustion.

DOI:
https://doi.org/10.22146/jml.18670
---
Article Metrics

Abstract views : 8736 |

views : 4929
Refbacks
There are currently no refbacks.
Copyright (c) 2017 Jurnal Manusia dan Lingkungan
JML Indexed by:

View My Stats