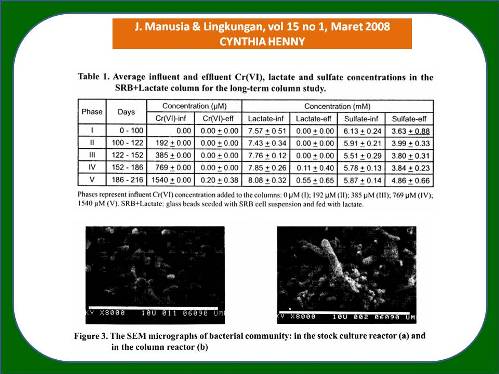 CHROMIUM(VI) REDUCTION BY A MIXED CULTURE OF SULFATE REDUCING BACTERIA DEVELOPED IN COLUMN REACTOR

https://doi.org/10.22146/jml.18673
Cynthia Henny
(1*)
(1)&nbspPuslit Limnologi-LlPl, Jl. Jakarta-Bogor Km 46, Cibinong 16911
(*) Corresponding Author
Abstract
A lactate enriched mixed sulfate reducing bacteria (SRB) culture was examined for the reduction of Cr(VI) in a continuous flow system. The influent was mineral salts media added with lactate and sulfate with amounts of 8 and 6 mM respectively as electron donor and electron acceptor. The SRB culture was allowed to stabilize in the column before adding the Cr(VI) to the influent. Chromium and sulfate reduction and lactate oxidation were examined by measuring the concentrations of Cr(Vl), sulfate and lactate in the influent and the effluent over time. The experiment was discontinued when Cr(VI) concentration in the effiuent was breakthrough. In the absence of Cr(VI), sulfate was not completely reduced in the column, although lactate was completely oxidized and acetate as an intermediate product was not often detected. Almost all of Cr(VI) loaded was reduced in the column seeded with the SRB culture at influent Cr(VI) concentrations of 192,385 and769 mM. There was no significant Cr(VI) loss in the control column, indicating that Cr(VI) removal was due to the reduction of Cr(VI) to Cr (lll) by the SRB culture. The instantaneous Cr(VI) removal decreased to a minimum of 32%, 24 days after the influent Cr(VI) concentration was increased to 1540 mM, ancl sulfate removal efficiency decreased to a minimum of 17%. The SRB population in the column decreased 100 days after C(VI) was added to the column. The total mass of Cr(VI) reduced was approximately 878 mmol out of 881 mmol of Cr(Vl) loaded in 116 days. The results clearly show that our developed SRB culture could reduced Cr(Vl) considerably.

DOI:
https://doi.org/10.22146/jml.18673
---
Article Metrics

Abstract views : 775 |

views : 604
Refbacks
There are currently no refbacks.
Copyright (c) 2017 Jurnal Manusia dan Lingkungan
JML Indexed by:

View My Stats