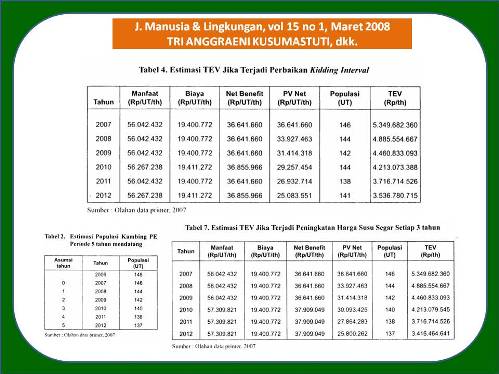 NILAI EKONOMI TOTAL KAMBING PERANAKAN ETAWAH (PE) SISTEM KANDANG KELOMPOK DI DESA GIRIKERTO TURI SLEMAN (Total Economic Value Of Etawah Crossbreed Goat Of Village Group System : A Case Study in Girikerto Village in Turi Sleman)

https://doi.org/10.22146/jml.18677
Tri Anggraeni Kusumastuti
(1*)
, Masyhuri Masyhuri
(2)
, Any Suryantini
(3)
(1)&nbspFakultas Peternakan, Universitas Gadjah Mada, Yogyakarta
(2)&nbspFakultas Pertanian, Universitas Gadjah Mada, Yogyakarta
(3)&nbspFakultas Pertanian, Universitas Gadjah Mada, Yogyakarta
(*) Corresponding Author
Abstract
ABSTRAK
Tujuan penelitian ini adalah menganalisis nilai ekonomi total yang menunjukkan besar aset sumberdaya Kambing Peranakan Etawah (PE) sistem kandang kelompok di Desa Girikerto Turi Sleman. Pengambilan sampel secara sensus pada tiga kelompok ternak yaitu "Mandiri" di Dusun Nganggring, "Pangestu" di Dusun Kemirikebo, dan "Sukorejo l" di Dusun Sukorejo sebanyak 116 sampel. Untuk menghitung nilai ekonomi total dengan mengidentifikasi manfaat sosial yaitu nilai guna langsung, nilai guna tidak langsung, maupun nilai pilihan. Selain itu juga mempertimbangkan biaya sosial meliputi biaya langsung atau operasional, biaya eksternal, dan biaya relokasi. Nilai manfaat dan biaya yang dapat dipasarkan (marketahle) menggunakan harga pasar, sedangkan yang tidak dipasarkan (no marketable) yaitu nilai pilihan (kemauan membayar atau willingness to Pay dari masyarakat dan peternak Kambing PE, sistem kandang kelompok) serta biaya relokasi (kemauan menerima tawaran alau Willingness to Accept peternak kambing sistem individu) menggunakan Contingent Valuation method (CIVM). Untuk mengetahui terjadinya perubahan di luar kondisi normal dengan menggunakan analisis sensitivitas meliputi perbaikan manajemen pemeliharaan, perubahan harga output clan input, serta perubahan lingkungan. Nilai ekonomi totaI pada kondisi normal untuk periode 5 tahun mendatang dengan asumsi tidak ada perkembangan populasi tiap tahunnya dalam satuan Unit Ternak (UT) sebesar 3.416.464.641 rupiah pertahun. Urutan prioritas kelayakan nilai ekonomi total Kambing Peranakan Etawah 5 tahun mendatang adalah penurunan mortalitas (4.111.611.671 rupiah pertahun), kenaikan harga jual ternak (3.814.291.873 rupiah pertahun), peningkatan produksi susu (3.756.830.268 rupiah pertahun). perbaikan kidding interval (3.536.780.715 rupiah pertahun), peningkatan harga susu segar (3.534.635.862 rupiah pertahun), penurunan harga pollard  (3.438.843.522 rupiah pertahun). peningkatan manfaat lingkungan (3.417.191.446 rupiah pertahun) dan peningkatan biaya lingkungan (3.438.843.522 rupiah pertahun). Hasil simulasi menunjukkan perbaikan manajemen pemeliharaan menjadi prioritas yaitu nilai ekonomi total pada peningkatan produksi susu, perbaikan kidding interval, dan penurunan mortalitas lebih tinggi dibandingkan pada kondisi normal.
ABSTRACT
The study was aimed to analyze Total Economic Value showing the amount of resource asset of  Etawah  crossbreed goat in village group system in Girikerto Village Turi Sleman. The sampling was carried out in census in three groups of cattle "Mandiri" in Ngangring hamlet, "Pangestu" in Kemirikebo hamlet, and "Sukorejo I" in Sukorejo hamlet of 116 samples. To count the Total Economic Value by identifying social benefit (direct use value), indirect use value or option value and social cost (direct cost or production cost, external cost, and relocation cost). The marketable benefit and cost approach used market price; while ones which are not marketed (the Willingness to Pay of society and farmers of PE Crossbreed goat with village group system) and relocation cost (Willingness to Accept individual system goat farmers) used Contingent Valuation Method (CVM). Sensitivity analysis included the adjustment of maintenance management, output and input price change, and environmental change. Total Economic Value in normal condition for the period of next 5 years (with assumption that there is population increasing each year in Animal Unit of 3.416.464.641 rupee annually. The priority of the reliability of Total Economic Value of Etawah crossbreed goat in the next 5 years in mortality decrease (4.111.611.671 rupee annually), goat selling price increase (3.814.291.873 rupee annually), milk production increase (3.756.830.268 rupee annually), kidding interval repaire (3.536.780.715 rupee annually), fresh milk price increase (3.534.635.862 rupee annually), the decrease of pollard price (3.438.843.522 rupee annually), environment benefit increase (3.417.191.446 rupee annually), and the increase of environmental cost (3.438.843.522 rupee annually)so that it can be said that the repair of maintenance  management becomes the priority.

DOI:
https://doi.org/10.22146/jml.18677
---
Article Metrics

Abstract views : 2369 |

views : 867
Refbacks
There are currently no refbacks.
Copyright (c) 2017 Jurnal Manusia dan Lingkungan
JML Indexed by:

View My Stats