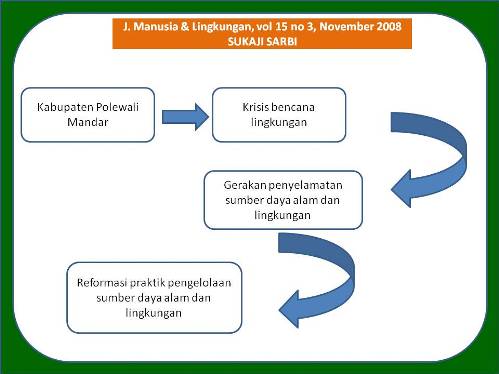 MENINGKATKAN KESADARAN MASYARAKAT KABUPATEN POLEWALI MANDAR DI ERA OTONOMI DAERAH DALAM PENGELOLAAN SUMBERDAYA ALAM YANG BERKELANJUTAN (Improving The Society Awareness in Polewali Mandar Regency in The Area autonomy Era in Processing the Natural Resource

https://doi.org/10.22146/jml.18686
Sukaji Sarbi
(1*)
(1)&nbspFKIP Universitas Al-Asyariah Mandar Sulawesi Barat
(*) Corresponding Author
Abstract
ABSTRAK
Indonesia pada umumnya dan khususnya Kabupaten Polewali Mandar krisis bencana lingkungan semakin serius. Keadaan ini telah mendorong tumbuhnya gerakan kepedulian terhadap penyelamatan sumberdaya alam dan lingkungan hidup. Bertujuan untuk melakukan reformasi terhadap praktek-praktek pengelolaan sumberdaya alamn dan lingkungannya yang secara bijaksana, sehingga krisis lingkungan hidup dapat dikendalikan. Kepada mayarakat dan berbagai pihak yang terkait dengan pengelolaan sumberdaya alam dan lingkungan diperlukan kesadaran untuk rnengimplementasikan moral dan etika lingkungan. 
ABSTRACT 
General Indonesia and especially Polewali Mandar regency is having crisis on natural disaster seriously.   This condition grows a movement to take care the natural resources and the living space.  The aim is making reformation on the way of processing the natural resources (wealth) and environment that are not popular (suitable) anymore so that the living space can be controlled.  The society and the stakeholder of natural resource processing is hoped to have awareness to imply a change in  minding it (morals) and good environmental  behaviour.

DOI:
https://doi.org/10.22146/jml.18686
---
Article Metrics

Abstract views : 1212 |

views : 1738
Refbacks
There are currently no refbacks.
Copyright (c) 2017 Jurnal Manusia dan Lingkungan
JML Indexed by:

View My Stats