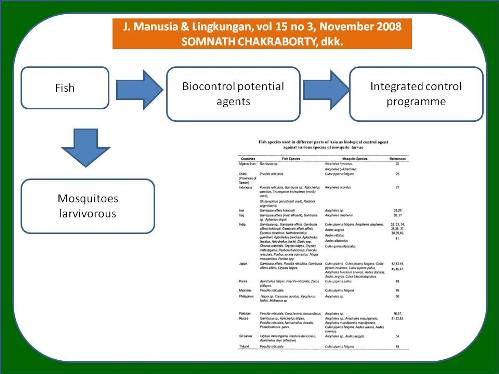 CONTROL OF MOSQUITOES BY THE USE OF FISH IN ASIA WITH SPECIAL REFERENCE TO INDIA: RETROSPECTS AND PROSPECTS (Pengendalian Nyamuk dengan Penggunaan lkan di Asia dengan Rujukan Khusus ke India: Tinjauan Masa Lalu dan Masa Depan)

https://doi.org/10.22146/jml.18687
Somnath Chakraborty
(1*)
, Swaha Bhattacharya
(2)
, Sajal Bhattacharya
(3)
(1)&nbspIndustrial Fish and Fisheries, Dept. of Zoology, Asutosh College, Kolkata 700 026,India
(2)&nbspDept. of Biotechnology, St. Xavier's College, Kolkata 700 016 , India
(3)&nbspDept. of Zoology and Post Graduate Dept. of Environmental Science Asutosh College, Kolkata 700026, India
(*) Corresponding Author
Abstract
ABSTRACT
Fish have their greatest potential as biocontrol agents against the aquatic stages of mosquitoes and are used as a major component of the integrated vector control programme. Many countries in Asia including India have used mosquito larvivorous fish for the containment of mosquito borne diseases, especially malaria. Present review is an attempt to prepare a list of potential mosquito larvivorous fish used in different countries in Asia with special emphasis on India.

ABSTRAK
Ikan berpotensi paling besar sebagai agen hayati terhadap stadia akualik nyamuk dan digunakan sebagai komponen utama dalam program pengendalian vektor terpodu. Banyak Negara di Asia termasuk India telah menggunakan ikan pemakan jentik untuk ,menanggulangi penyakit bawaan nyamuk. terutama malaria. Tinjauan pustaka ini mencoba memberikan suatu daftar jenis-jenis ikan pemakan jentik yang digunakan di berbagai Negara di Asia dengan penekanan khusus di India.

DOI:
https://doi.org/10.22146/jml.18687
---
Article Metrics

Abstract views : 622 |

views : 684
Refbacks
There are currently no refbacks.
Copyright (c) 2017 Jurnal Manusia dan Lingkungan
JML Indexed by:

View My Stats