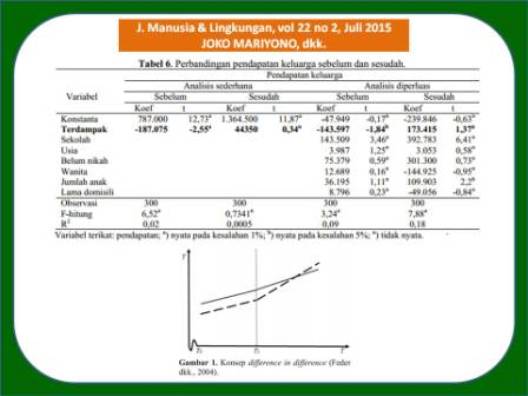 DAMPAK KEBERADAAN PERUSAHAAN AIR MINUM DALAM KEMASAN DI KLATEN-JAWA TENGAH PADA SITUASI PEREKONOMIAN MASYARAKAT (Impact of Presence of Botled Drinking Water Corporation in Klaten-Central Java on Economic Situation of Community)

https://doi.org/10.22146/jml.18736
Joko Mariyono
(1*)
, Muhammad Atiq Zambani
(2)
(1)&nbspProgram Pascasarjana, Universitas Pancasakti, Jl. Halmahera km-1 Tegal, Jawa Tengah.
(2)&nbspPT Tirta Investama, Jl. Cokro-Delanggu km-1 Klaten, Jawa Tengah.
(*) Corresponding Author
Abstract
ABSTRAK
Keberadaan sebuah perusahaan akan berpengaruh pada masyarakat sekitar. Kajian ini menganalisis dampak ekonomi perusahaan air minum dalam kemasan di Kabupaten Klaten terhadap kehidupan masyarakat di sekitar perusahaan. Data dikumpulkan dengan wawancara pada 300 rumah tangga. Wawancara berdasarkan kuesioner yang terstruktur. Analisis dilakukan pada pendapatan rumah tangga, konsumsi dan investasi pendidikan anak. Analisis data menggunakan model pertumbuhan dan pengambilan keputusan, yang diestimasi dengan model ekonometrik. Hasil analisis menunjukkan bahwa keberadaan perusahaan telah memperbaiki kehidupan masyarakat di sekitar perusahaan. Keberadaan perusahaan telah meningkatkan pendapatan yang cepat sehingga dapat mengejar tingkat pendapatan masyarakat lain yang lebih sudah lebih baik. Sebagai akibat kenaikan pendapatan yang cepat, konsumsi keluarga meningkat dan mendorong investasi pendidikan anak. Investasi pendidikan anak sangat penting karena merupakan usaha untuk meningkatkan sumberdaya manusia. Generasi penerus yang terdidik dan berkualitas akan menentukan pembangunan bangsa. Meskipun keberadaan perusahaan telah berdampak positif bagi perekonomian masyarakat sekitar, perusahaan tidak serta merta dapat mengexploitasi sumber daya air tanpa batas. Perusahaan masih harus bertanggung jawab untuk melakukan konservasi lingkungan agar penggunaan sumber daya air tetap lestari dan bermanfaat bagi masyarakat.
ABSTRACT
The existence of a corporation will affect the surrounding community. This study analyzes the economic impacts of the presence of the botled drinking water corporation in Klaten District on the livelihood of people around the firm. Data were collected by interviewing 300 households. Interviews were based on a structured questionnaire. Analysis was conducted on household income, consumption and education investment of children. Income growth and decision-making models were used and estimated using econometric models. The results show that the presence of company has been improving the livelyhood of people around the company. Family income has increased and levelled others with higher income levels. As a result of the rapid increase in income, household consumption increased and encouraged education investment. The education of children is important because it attempts to improve the quality of human resource. The next educated and qualified generation determines development of the nation. Although the presence of company has provided desirable economic impacts on the community, it does not immediately mean that the company can extract water resource without limitation. The company still has responsibility to conserve the environment such that the use of water resource is sustainable and benefits community.
Keywords
dampak ekonomi; investasi pendidikan; perusahaan air minum dalam kemasan; metode kuantitatif; botled drinking water corporation; economic impact; education investment; quantitative method
References
Anonim, 2006. Corporate Governance, Institute of Company Secretaries of India, New Delhi.
Anonim, 2012. Dinas Pengelolaan Pendapatan Keuangan dan Aset, Kabupaten Klaten dan Dirjen Perimbangan Keuangan, Kementerian Keuangan RI, Jakarta.
Anonim, 2013. Kajian Dampak Multi Dimensi Kegiatan Bisnis PT Tirta Investama Klaten (Aqua Danone) di Desa Ponggok dan Wangen, Kecamatan Polanharjo, Kabupaten Klaten, Provinsi Jawa Tengah. Fakultas Ekonomi, Universitas Sebelas Maret, Surakarta.
Chahoud, T., dan Emmerling, J., 2006. Corporate Social and Environmental Responsibility in India, UN Global Compact's Role, Bonn. Pp. 12.
Choliq, A.R., dan Suwarna, H., 1999. Evaluasi Pro-yek (Suatu Pengantar), Pionir Jaya, Bandung.
Comincioli, N., Poddi, L., dan Vergalli, S., 2012. Does Corporate Social Responsibility Affect The Performance Of Firm? Economy and Society Series, 53:1-33.
Darmanto, D., dan Sudarmadji, 2013. Pengelolaan Sungai Berbasis Masyarakat Lokal, di Daerah Lereng Selatan Gunung Api Merapi, Jurnal Manusia dan Lingkungan, 20(2):229-239.
Feder, G., Murgai, R. dan Quizon, J.B., 2004. Sending Farmers Back to Schools: The Impact of Farmer Field School in Indonesia. Review of Agricultural Economics, 26(1):45–62.
Gunawan, B. dan Utami, S.S., 2008. Peranan Corporate Social Responsibility Dalam Nilai Perusahaan. Jurnal Akuntansi dan Keuangan, 7(2):174-185.
Kotler, P., dan Lee, N., 2005. Corporate Social Responsibility: Doing the Most Good for Your Company and Your Cause. John Wiley & Sons, New Jersey.
Mankiw, N.G., Romer, D., dan Weil, D.N., 1992. Contribution to The Empirics of Economic Growth, Quarterly Journal of Economics, 107(2):407-437.
Meutia, R., 2005. Tingkat Kepedulian dan Tanggung Jawab Sosial Perusahaan Terhadap Nilai Perusahaan: Studi Empiris Pada Perusahaan Manufaktur di Provinsi Nanggroe Aceh Darussalam. Jurnal E-Mabis, 1(11):1-20.
Nicholson, W. dan Synder, C.M., 2011. Microeconomic Theory: Basic Principles and Extensions. Chengage Learning South-Western, Mason.
Partini, 2013. CSR dan Pemberdayaan Masyarakat (Studi Implementasi CSR-PTBA di Muara Enim, Sumatra Selatan), Jurnal Manusia dan Lingkungan, 20(2):84-99.
Prayogo, D., dan Hilarus, Y., 2012. Efektivitas Program CSR/CD dalam Pengentasan Kemiskinan: Studi Peran Perusahaan Geotermal di Jawa Barat, Jurnal Sosiologi Masyarakat, 17(1):1-22.
Ram, R., 2007. IQ and Economic Growth: Further Augmentation of Mankiw–Romer–Weil Model, Economics Letters, 94:7–11.
Soesilowati, E., Indriyanti, D.R., dan Widiyanto, 2011. Model Corporate Social Responsibility Dalam Program Pemberdayaan Petani Hortikultura, Jurnal Ekonomi Pembangunan, 12(1):102-117.
Sugiyono, 2010. Metode Penelitian Kuantitatif Kualitatif dan R&D. Alfabeta, Bandung.
Sumaryo, 2011. Tanggung Jawab Sosial Perusahaan dan Tingkat Keberdayaan Ekonomi Rumah Tangga, Jurnal Ekonomi Pembangunan, 12(2):272-280.
Verbeek, M., 2002. A Guide to Modern Econometrics. John Wiley & Sons, Chichester.

DOI:
https://doi.org/10.22146/jml.18736
---
Article Metrics

Abstract views : 17784 |

views : 4457
Refbacks
There are currently no refbacks.
Copyright (c) 2017 Jurnal Manusia dan Lingkungan
JML Indexed by:

View My Stats