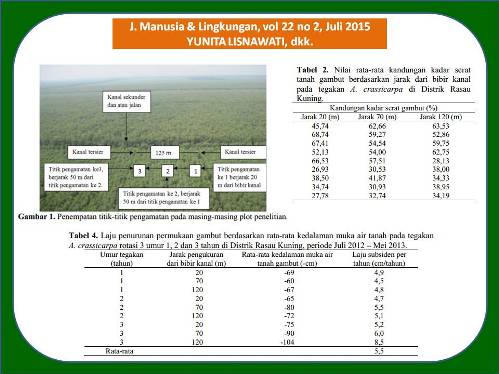 DAMPAK PEMBANGUNAN HUTAN TANAMAN INDUSTRI Acacia crassicarpa DI LAHAN GAMBUT TERHADAP TINGKAT KEMATANGAN DAN LAJU PENURUNAN PERMUKAAN TANAH (The Impact of Development of Industrial Plantation Forest Acacia crassicarpa in Peatland Towards the Maturity)

https://doi.org/10.22146/jml.18740
Yunita Lisnawati
(1*)
, Haryono Suprijo
(2)
, Erny Poedjirahajoe
(3)
, Musyafa Musyafa
(4)
(1)&nbspPusat Penelitian dan Pengembangan Peningkatan Produktivitas Hutan, Jl. Gunung Batu 5, Bogor 16610
(2)&nbspFakultas Kehutanan, Universitas Gadjah Mada, Jl. Agro, Bulaksumur, Yogyakarta 55281
(3)&nbspFakultas Kehutanan, Universitas Gadjah Mada, Jl. Agro, Bulaksumur, Yogyakarta 55281
(4)&nbspFakultas Kehutanan, Universitas Gadjah Mada, Jl. Agro, Bulaksumur, Yogyakarta 55281
(*) Corresponding Author
Abstract
ABSTRAK
Pembangunan hutan tanaman di lahan gambut tidak terlepas dari sorotan isu negatif lingkungan terkait dengan penurunan kedalaman muka air tanah, sehingga terjadi perubahan ekosistem asli. Kegiatan reklamasi lahan untuk HTI Acacia crassicarpa dalam jangka panjang disinyalir akan menimbulkan dampak negatif terhadap perubahan karakteristik tanah gambutnya seperti tingkat kematangan dan laju penurunan permukaan tanah gambut (subsiden). Kajian mengenai dampak pembangunan HTI di lahan gambut terhadap tingkat kematangan dan laju subsiden perlu dilakukan untuk memberikan informasi mengenai kondisi exsisting daya dukung lahannya. Penelitian ini bertujuan untuk mengevaluasi tingkat kematangan gambut baik secara vertikal (berdasarkan kedalaman gambut) maupun secara horizontal (berdasarkan jarak dari bibir kanal) dan mengetahui laju subsiden sebagai dampak dari reklamasi lahan gambut menjadi HTI A. crassicarpa. Penelitian dilakukan di PT AA, Distrik Rasau Kuning, Kabupaten Siak, Riau. Plot penelitian ditempatkan dalam satu transek sepanjang 100 m yang dibuat tegak lurus dengan kanal tersier, terdapat 12 plot dan dalam satu transek terdapat 3 titik pengamatan sehingga total titik pengamatan adalah 36 titik. Parameter yang diamati adalah dinamika kedalaman muka air tanah, nilai kadar serat tanah gambut dan laju subsiden. Hasil penelitian menunjukkan bahwa dampak perubahan kedalaman muka air tanah gambut di lokasi penelitian hanya mempengaruhi tingkat kematangan gambut pada kedalaman kurang dari 2 m, sedangkan jarak kanal tersier sebesar 125 m tidak berpengaruh secara nyata terhadap tingkat kematangan gambut. Pada kedalaman kurang dari 2 m tingkat kematangan gambut lebih tinggi dibandingkan dengan lapisan di bawahnya. Pembangunan HTI A. crassicarpa di lokasi penelitian menyebabkan laju subsiden sebesar rata-rata 5,5 cm/tahun. 
ABSTRACT
The establishment of forest on peat areas is insepatable from the glare of the negative environmental issues associated with a decrease in the depth of water table which then result in a change of the original ecosystem. Long-term land reclamation activities for HTI Acacia crassicarpa is supposed to give a negative impact on changes in the peat soil characteristics such as level of maturity and the rate of decrease in surface peat soil (subsidence). Studies on the impact of HTI development in peat areas particularly on the level of maturity and rate of subsidence need to be done in order to provide information regarding the carrying capacity of the land exsisting condition. This study aims at evaluating the maturity level of the peat either vertically (based on the depth of peat) or horizontally (based on the distance from the lips of the canal) and determining the rate of subsidence as a result of reclamation of peatlands into plantations A. crassicarpa. The study was conducted in PT. AA, Rasau Kuning District, Siak, Riau. Research plots were placed in a 100 m long transects that were perpendicular to the tertiary canal. There are 12 plots and, transects consist of 3 observation points, so the total observation point is 36 points. Parameters measured were the dynamics of groundwater depth, the value of peat fiber content and the rate of subsidence. The results show that the impact of changes in the water table depth of peat soil in the study area only affects the level of maturity of peat at depths less than 2 m, whereas the tertiary canals distance of 125 m did not significantly affect the level of maturity of peat. At a depth of less than 2 m of peat maturity level is higher than the layer below it. A. crassicarpa plantation development in the study area leads to subsidence rate by an average of 5.5 cm / year.
Keywords
hutan tanaman industri; kematangan gambut; lahan gambut; laju subsiden; industrial plantation forest; peat maturity; peatland; subsidence rate
References
Andrie, E., 2010. The Dept of Ground Water Table Dynamics and Characteristic of Peatland Near Drainage Canal ex, Mega Rice Project in Central-Kalimantan. Makalah Seminar Ilmiah VI Lingkungan Tropis-Ikatan Ahli Teknik Penyehatan dan Tehnik Lingkungan Indonesia (IATPI). Denpasar, 29 Juli 2010.
Anonim. 2009. Petunjuk Teknis Analisis Kimia Tanah, Tanaman, Air dan Pupuk. Edisi ke 2. Balai Penelitian Tanah. Bogor.
Frizdew, R., 2012. Variasi Kadar Karbon Organik Berdasarkan Perbedaan Kedalaman Muka Air Pada Lahan Gambut yang Diusahakan Untuk Komoditas Perkebunan. Thesis. Sekolah Pascasarjana. Institut Pertanian Bogor. Bogor.
Gandini, T., 1998. Perubahan Sifat dan Klasifikasi Tanah Gambut setelah 23 Tahun Penggunaan Lahan untuk Pertanian di Delta Berbak Jambi. Disertasi. Sekolah Pascasarjana. IPB. Bogor.
Hooijer, A., Silvius, M., Wosten, H., dan Page, S., 2006. Peat-CO2. Assessment of CO2 Emissions From Drained Peatlands in SE Asia. Delf Hydraulics Report, Q3943.
Hooijer, A., Page, S., Jauhiainen, J., Lee, W.A., Idris, A., dan Anshari, G., 2012. Subsidence and Carbon Loss in Drained Tropical Peatlands, Biogeosciences 9:1053-1071.
Limin, S., Layuniati, dan Jamal, Y., 2000. Utilization of Inland Peat for Food Crop Commodity Development Requires High Input and is Detrimental to Peat Swamp Forest Ecosystem. Proc. International Symposium on Tropical Peatlands 22-23 November 1999. Bogor.
Marolop, R., Widodo, A., Ismail dan Setyawan, A., 2007. Pengelolaan Lahan Gambut untuk Pengembangan Hutan Tanaman Industri PT. Arara Abadi, Riau. Makalah Sosialisasi Kegiatan BPHPS Guna Mendukung Kebutuhan Riset Hutan Tanaman Kayu Pulp, 27 November 2007. Balai Penelitian Hutan Penghasil Serat. Pekanbaru.
Maswar, 2011. Kajian Cadangan Karbon Pada Lahan Gambut Tropika Yang Didrainase Untuk Tanaman Tahunan. Disertasi. Program Studi Ilmu Tanah, Sekolah Pascasarjana, Institut Pertanian Bogor. Bogor.
Neil, F., Sarah, B., dan Malcolm, Mc.L. 2005. Peat Subsidence near Drains in the Waikato Region. Environment Waikato Technical Report 2005/40.
Rahmadi., 2009. Effects of Climate Change and Land Subsidence on Water Management zoning in Tidal Lowlands Case Study Telang, South Sumatra. Thesis. UNESCO – IHE Delft.
Rieley, J.O., Page, S.E., Limin, S.H., dan Winiarti S., 1997. The Peatland Resources of Indonesia and the Kalimantan Peat Swamp Forest Research Project. Proc. Int'l. Symp. Biodiversity, Environmental Importance and Sustainability of Tropical Peat and Peatland. Samara Publ.
Saefudin, A., 2009. North EasLand and Water Evaluation of Lowland Areas Case Study : Lowlands intern Muara Enim Region Indonesia. Thesis. UNESCO – IHE, Delft.
Salmah, A.Z., Aminuddin, Y., Marzuki, H., dan Azizah, M.J., 1994. The Magnitude of Problems with The Sustainable Development of Coastal Plains in Malaysia: Research Needs and Related Priorities. Papers on the Regional Workshop on the Sustainable Use of Coastal Land in'South-East Asia. AIT, Bangkok, Thailand.
Stewart, J.M., 1991. Subsidence in Cultivated Peat Lands. in Tropical Peat. Proceedings of the International Symposium on Tropical Peatland. 6-10 May 1991 Kuching.
Suhartana, S., Yuniawati dan Dulsalam, 2013a. Biaya dan Produktivitas Penyaradan dan Pembuatan/Pemeliharaan Kanal di HTI rawa gambut di Riau dan Jambi. Jurnal Penelitian Hasil Hutan 31(1):36-48.
Suhartana, S., Yuniawati dan Dulsalam, 2013b. Optimasi Petak Tebang di Hutan Tanaman Rawa Gambut Berdasarkan Produktivitas dan Biaya Terkait. Jurnal Penelitian Hasil Hutan, 31(3):200-212.
Suhartana, S., Yuniawati dan Dulsalam. 2014. Luas Petak Tebang Optimal Pemanenan Kayu di Areal Hutan Tanaman Rawa Gambut. Jurnal Penelitian Hasil Hutan, 32(3):175-188.
Wahyunto., Ritung, S., Suparto., dan Subagjo, H., 2005. Sebaran Gambut dan Kandungan Karbon di Sumatera dan Kalimantan. Proyek Climate Change, Forests and Peatlands in Indonesia. Wetlands International – Indonesia Programme dan Wildlife Habitat Canada. Bogor.
Wösten, J.H.M., Ismail, A.B., dan Van Wijk, A.L.M., 1997. Peat Subsidence and Its Practical Implications: a Case Study in Malaysia. Geoderma, 78:25–36.

DOI:
https://doi.org/10.22146/jml.18740
---
Article Metrics

Abstract views : 11110 |

views : 8828 |

views : 1275 |

views : 1258 |

views : 945 |

views : 1149
Refbacks
There are currently no refbacks.
Copyright (c) 2017 Jurnal Manusia dan Lingkungan
JML Indexed by:

View My Stats