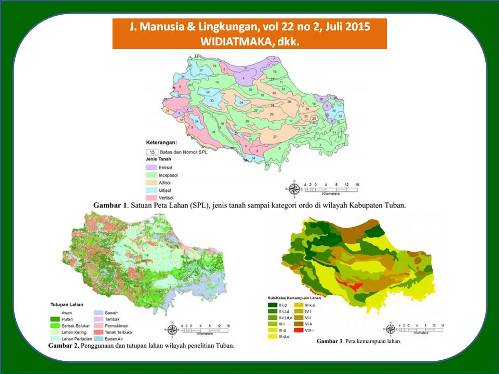 DAYA DUKUNG LINGKUNGAN BERBASIS KEMAMPUAN LAHAN DI TUBAN, JAWA TIMUR (Land Capability Based Environmental Carrying Capacity in Tuban, East Java)

https://doi.org/10.22146/jml.18749
Widiatmaka Widiatmaka
(1*)
, Wiwin Ambarwulan
(2)
, Muhamad Yanuar Jarwadi Purwanto
(3)
, Yudi Setiawan4
(4)
, Hefni Effendi
(5)
(1)&nbspDepartemen Ilmu Tanah dan Sumberdaya Lahan, Fakultas Pertanian, Institut Pertanian Bogor, Kampus Darmaga, Bogor 16680
(2)&nbspBadan Informasi Geospasial, Jalan Raya Bogor-Jakarta Kilometer 46, Cibinong, Bogor 16911
(3)&nbspDepartemen Teknik Sipil dan Lingkungan, Fakultas Teknologi Pertanian, Institut Pertanian Bogor, Kampus Darmaga, Bogor 16680
(4)&nbspPusat Penelitian Lingkungan Hidup, Institut Pertanian Bogor, Kampus Darmaga, Bogor 16680.
(5)&nbspPusat Penelitian Lingkungan Hidup, Institut Pertanian Bogor, Kampus Darmaga, Bogor 16680.
(*) Corresponding Author
Abstract
ABSTRAK
Evaluasi daya dukung lingkungan merupakan bagian dari upaya mewujudkan pembangunan berkelanjutan. Salah satu metoda evaluasi daya dukung lingkungan adalah evaluasi berbasis kemampuan lahan. Penelitian ini bertujuan untuk melakukan evaluasi daya dukung lingkungan berbasis kemampuan lahan di Tuban, Jawa Timur. Evaluasi dilakukan dengan mengkaji kesesuaian antara kemampuan lahan dengan penggunaan lahan aktual dan alokasi Pola Ruang dalam Rencana Tata Ruang Wilayah Kabupaten. Kemampuan lahan dievaluasi pada setiap Satuan Peta Lahan yang diperoleh dari survai lapangan tahun 2014. Penggunaan lahan aktual dianalisis menggunakan citra Landsat 8 OLI tahun peliputan 2013. Hasil analisis menunjukkan bahwa kemampuan lahan di wilayah penelitian berkisar dari kemampuan lahan kelas II sampai kelas VIII. Wilayah dengan kemampuan lahan yang memungkinkan untuk pengusahaan budidaya (kelas II-IV) mencakup 78,6% wilayah studi, sementara wilayah yang tidak memungkinkan untuk budidaya (kelas V-VIII) mencakup 21,4% wilayah studi. Faktor pembatas kemampuan lahan terdiri dari tekstur tanah, kedalaman efektif, drainase, lereng dan genangan/banjir. Saat ini, 32% wilayah di Kabupaten Tuban penggunaan lahannya sesuai dengan kemampuan lahannya, 66,4% wilayah digunakan melebihi kemampuan lahannya. Dalam hal alokasi lahan pada pola ruang, 67,3% wilayah dialokasikan penggunaan lahannya sesuai dengan kemampuan lahannya, sedangkan 31% dialokasikan melebihi kemampuan lahannya. Temuan ini dapat digunakan untuk mengontrol penggunaan lahan di Kabupaten Tuban dan menjadi bahan revisi Rencana Tata Ruang Wilayah Kabupaten agar penggunaan lahan dialokasikan sesuai dengan kemampuan lahannya.
ABSTRACT
Evaluation of the environmental carrying capacity should be done as part of sustainable land use planning. One of the method to evaluate carrying capacity is land capability based evaluation. This study aims to evaluate the land capability based carrying capacity of Tuban Regency, East Java Province. Evaluation is done by assessing the conformity between the land capability with current land utilization and land allocation of the Official Spatial Planning of the Regency. Land capability was evaluated for each land unit, which was obtained from soil survey, done in 2014. The current land use is analyzed using LANDSAT 8 OLI imagery of 2013. The results showed that the land capability in research areas was ranged from class III to class VIII. Area with land capability which support the agricultural uses (class I-IV) is 78.6% of total area, while the area which should not be used for agricultural cultivation (class V-VIII) was 21,4% of the total area. Factors limiting the land cability include soil texture, effective depth, drainage, slope, and flood. The area covering 32% of Tuban Regency is used in accordance with land capability, 66.4% is used exceeding land capability. There are 31% of the area that has been allocated in Official Spatial Planning of the Regency exceeds the land capabilities, while 67.3% has been allocated in accordance with land capability. The research result can be used as input to control land utilization in Tuban Regency as well as input for Official Land Use Planning revision.
Keywords
evaluasi kemampuan lahan; interpretasi citra; perencanaan; survai tanah; tataguna lahan; land capability evaluation; landuse planning; image interpretation; soil survey
References
Adamu, G.K., Yusuf, M.A., dan Ahmed, M., 2014. Soil Degradation in Drylands. Academic Research International, 5(1):78-91.
Adnyana, I.W.S., dan Asy-syakur, A.R., 2012. Aplikasi Sistem Informasi Geografi (SIG) Berbasis Data Raster Untuk Pengkelasan Kemampuan Lahan di Provinsi Bali dengan Metode Nilai Piksel Pembeda. Manusia dan Lingkungan, 19(1):21-29.
Akinci, H., Ozalp, A.Y., dan Turgut, B., 2013. Agricultural Land Use Suitability Analysis Using GIS and AHP Technique. Computers and Electronics in Agriculture, 97:71–82.
Amiri, F., dan Shariff, A.R.B.M., 2012. Application of Geographic Information Systems in Landuse Suitability Evaluation for Beekeeping: A Case Study of Vahregan Watershed (Iran). African Journal of Agricultural Research, 7(1):89–97.
Anonim, 1976. A Framework for Land Evaluation. Soils Bulletin, 32:72.
Anonim, 1987. Our Common Future. World Commission on Environment and Development. Oxford University Press. New York.
Anonim, 2010a. Klasifikasi Penutup Lahan. Standar Nasional Indonesia, No. 7645: 2010. Badan Standardisasi Nasional, Jakarta.
Anonim, 2010b. Keys to Soil Taxonomy. 10th Edition. United State Department of Agriculture, Washington.
Anonim, 2011. Peta Sumberdaya Tanah Pulau Jawa dan Madura. Pusat Penelitian Tanah dan Agroklimat, Bogor.
Fenton, T.E., 2014. Land Capability Classification. In Encyclopedia of Natural Resources: Land. Taylor and Francis: New York. pp. 299-301.
Arsyad, S., 2010. Konservasi Tanah dan Air. IPB Press, Bogor.
Badaruddin, Ruslan, M., Kusuma, Z., dan Rayes, M.L., 2013. An Analysis of Land Characteristics and Capabilities in Kusambi Sub-Watershed of Batulicin Watershed in Tanah Bumbu Regency, South Kalimantan. Journal Savap International, 4(5):222-233.
Bandyopadhyay, S., Jaiswal, R.K., Hegde, V.S., dan Jayaraman, V., 2009. Assessment of Land Suitability Potentials for Agriculture Using A Remote Sensing and GIS Based Approach. International Journal of Remote Sensing, 30(4):879–895.
Boix, L.R., dan Zinck, J.A., 2008. Land-Use Planning in The Chaco Plain (Burruyacu´, Argentina), Part 2: Generating A Consensus Plan to Mitigate Land-Use Conflicts and Minimize Land Degradation. Environmental Management, 42:200–209.
Bulliqi, S., Isufi, F., Humolli, F., Stublla, A., dan Stublla, E., 2012. Land Resources in Lowland of Kosova and Their Utilization. Journal International of Environmental Application & Science, 7(1):8-12.
Campos, S., Nardini, R.C., de Barros, Z.X., dan Cardoso, L.G., 2010. Geographic Information System Applied to Spatial Distribution of Land Use Capability. Pesq. Agropec. Trop., Goiânia, 40(2):174-179.
Chang, I.S., dan Wu, J., 2011. Review on Natural Resources Utilization in China. Management Science and Engineering, 5(2):16-21.
Costantini, E.A.C., 2009. Manual of Methods for Soil and Land Evaluation. Enfield, Science Publishers. pp. 549
Ditzler, C.A., dan Ahrens, R.J., 2006. Development of Soil Taxonomy in the United States of America. Eurasian Soil Science, 39(2):141–146.
Dougill, A.J., Twyman, C., Thomas, D.S.G., dan Sporton, D., 2002. Soil Degradation Assessment in Mixed Farming Systems of Southern Africa: Use of Nutrient Balance Studies for Participatory Degradation Monitoring. The Geographical Journal, 168(3):195-210.
Feizizadeh, B., dan Blaschke, T., 2012. Land Suitability Analysis for Tabriz County, Iran: A Multi-Criteria Evaluation Approach Using GIS. Journal of Environmental Planning and Management, 4:1–23.
Goldshleger, N., Ben-Dor, E., Lugassi, R., dan Eshel, G., 2010. Soil Degradation Monitoring by Remote Sensing: Examples with Three Degradation Processes. Soil Science Society of American Journal, 74:1433–1445.
Gupta, S., dan Sharma, R.K., 2010. Dynamic of Land Utilisation, Land Degradation and Factors Determining Land Degradation in Humachal Pradesh. Indian Journal of Agricultural Economics, 65(2):245-260.
Hardjowigeno, S., dan Widiatmaka. 2007. Evaluasi Lahan dan Perencanaan Tataguna Lahan. Gadjahmada University Press, Yogyakarta.
Helms, D., 1992. Readings in the History of the Soil Conservation Service. Soil Conservation Service, Washington, DC. pp. 60-73.
Klingebiel, A.A., dan Montgomery, P.H., 1961. Land capability classification. Agriculture Handbook, 210. Soil Conservation Service, U.S. Department of Agriculture. Washington, DC. pp. 1-3.
Maleknia, R., Mirarab, J., Moghaddam, M.N., dan Shahvali, A., 2013. An Ecological Capability Evaluation Model for Recreation, Conservation and Protection Functions of Iran's Zagro. International Journal of Agriculture: Research and Review, 3(2):458-466.
Mokarram, M., dan Aminzadeh, F., 2010. GIS-Based Multicriteria Land Suitability Evaluation Using Ordered Weight Averaging with Fuzzy Quantifier: A Case Study in Shavur Plain, Iran. The International Archives of the Photogrammetry, Remote Sensing and Spatial Information Sciences, 38(2):508–512.
Munasinghe, M., 1993. Environmental Economics and Sustainable Development. World Bank Environment Paper No. 3, Washington DC.
Pilvere, I., Nipers, A., dan Upite, I., 2014. Agricultural Land Utilization Efficiency: The Case of Latvia. International Journal of Trade, Economics and Finance, 5(1):65-71.
Sharififar, A., Ghorbani, H., dan Karimi, H., 2013. Integrated Land Evaluation for Sustainable Agricultural Production by Using Analytical Hierarchy Process. Agriculture (Poľnohospodárstvo), 59(3):131−140.
Singer, M.J., dan Munns, D.M., 2002. Soils: an Introduction. 5th ed. Prentice Hall, Englewood Cliffs.
Singer, M.J., 2014. Land Capability Analysis. In Encyclopedia of Natural Resources: Land. Taylor and Francis, New York, Published online: 21 Oct 2014, 295-298.
Smardon, R., 2008. A comparison of Local Agenda 21 Implementation in North American, European and Indian Cities. Management of Environmental Quality: An International Journal 19(1):118–137.
Stocking, M.A., dan Murnaghan, N., 2002. Field Assesment of Land Degradation. Earthscan, London.
Sudershan, I., 2003. Environmental Damage to Land Resources - Need to Improve Land Use Data Base. Economic and Political Weekly, 38(34):3596 - 3604.
Symeonakis, E., Calvo-Cases, A., dan Arnau-Rosalen, E., 2007. Land use change and land degradation in Southeastern Mediterranean, Spain. Environmental Management, 40:80-94.
Tan, K.H., 2009. Environmental Soil Science. 3rd edition. CRC Press, Boca Raton. pp. 557.

DOI:
https://doi.org/10.22146/jml.18749
---
Article Metrics

Abstract views : 20141 |

views : 14489
Refbacks
There are currently no refbacks.
Copyright (c) 2017 Jurnal Manusia dan Lingkungan
JML Indexed by:

View My Stats