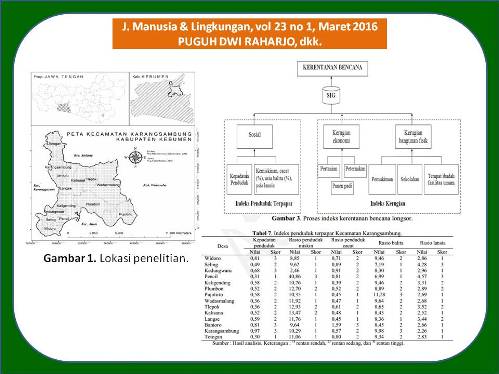 KONDISI SOSIAL-MASYARAKAT PADA KARAKTERISTIK FISIK LINGKUNGAN DALAM MEMPENGARUHI RISIKO LONGSOR DI KARANGSAMBUNG-KEBUMEN (Social-Population Condition on The Physical Environment Characteristics in Influence The Risk of Landslide in Karangsambung)

https://doi.org/10.22146/jml.18767
Puguh Dwi Raharjo
(1*)
, Sueno Winduhutomo
(2)
(1)&nbspBalai Informasi dan Konservasi Kebumian Karangsambung, Lembaga Ilmu Pengetahuan Indonesia Jl. Karangsambung km 19 Kebumen, Jawa Tengah 54353
(2)&nbspBalai Informasi dan Konservasi Kebumian Karangsambung, Lembaga Ilmu Pengetahuan Indonesia Jl. Karangsambung km 19 Kebumen, Jawa Tengah 54353
(*) Corresponding Author
Abstract
ABSTRAK
Faktor fisik, sosial, ekonomi dan lingkungan memainkan peran kunci kerentanan longsor dalam menentukan risikonya. Kecamatan Karangsambung Kabupaten Kebumen merupakan daerah dengan ragam topografi dan litologi yang memiliki intensitas tanah longsor tinggi. Tujuan dari penelitian ini adalah untuk mengetahui peranan sosial-masyarakat pada setiap desa di Kecamatan Karangsambung dalam mempengaruhi risiko tanah longsor. Pada penelitian ini dilakukan analisis mengenai faktor fisik lingkungan berupa pembuatan peta ancaman longsor. Analytical Hierarchy Process (AHP) digunakan sebagai metode dalam pembuatan peta ancaman yang diolah dengan menggunakan Sistem Informasi Geografis (SIG). Ancaman longsor dihubungkan dengan kondisi sosial-masyarakat dan lingkungan, sehingga terlihat peranannya dalam mengurangi risiko longsor. Hasil yang diperoleh bahwa Desa Totogan, Pujotirto, Wadasmalang, Kaligending, Plumbon, Banioro dan Tlepok memiliki tingkat ancaman longsor yang tinggi. Namun kondisi sosial-masyarakat sangat baik dalam mengatasi dampak dan mitigasi bencana longsor, kecuali pada Banioro. Desa Totogan juga memiliki ancaman longsor akan tetapi kerugian lingkungan apabila terjadi longsor tidak tinggi. Kondisi sosial-masyarakat di setiap desa sangat berpengaruh terhadap risiko longsor pada Kecamatan Karangsambung yang sering terjadi longsor.
ABSTRACT
Physical, social, economic and environment factors play a role in susceptibility the landslides risk. Subdistricts of Karangsambung - Kebumen is a region with diverse topography and lithology which has a high-intensity landslides. The purpose of this study was to determine the role of socio-community in Karangsambung which influencing the landslides risk. In this study, we analytedevery environmental physical factors to give the landslide hazard map. Analytical Hierarchy Process (AHP) is used as a method to processing landslides maps using Geographic Information System (GIS). The landslides hazard associated with the socio-community and the environment, visible role in reducing the landslides risk. The results obtained that the village of Totogan, Pujotirto, Wadasmalang, Kaligending, Plumbon, Banioro and Tlepok have a high-level of landslide hazard. However, the socio-community is very well in overcoming the impact and mitigation of landslides, except Banioro. Totogan also has a high-level landslide hazard but damages the environment in the event of landslides is low. Social conditions is very influential on the landslides risk which often occur in the Karangsambung Sub district.
Keywords
kerugian lingkungan; lingkungan fisik; longsor; risiko; sistem informasi geografis; sosial-masyarakat; financial environment; physical environment; landslide, risk; geographic information system; socio-population
References
Anonim, 2001. Peta Rupa Bumi Indeonesia. Skala 1:25.000. Lembar Karangsambung. Edisi:1-2001. Badan Koordinasi Surevai dan Pemetaan Nasional, Cibinong.
Anonim, 2004. Petunjuk Teknis Pengamatan Tanah. Balai Penelitian Tanah. Pusat Penelitian dan Pengembangan Tanah dan Agroklimat, Bogor.
Anonim., 2012. Peraturan Kepala Badan Nasional Penanggulangan Bencana No. 02 Tahun 2012 tentang Pedoman Umum Pengkajian Risiko Bencana. Badan Nasional Penanggulangan Bencana (BNPB), Jakarta.
Anonim, 2013. Landsat 8 OLI/TIRS, Scene LC81200652013175LGN00. WRS Path 120-WRS Row 065. U.S. Department of the Interior U.S. Geological Survey, Washington.
Anonim, 2014. Kecamatan Karangsambung Dalam Angka. Badan Pusat Statistik, Kebumen.
Asikin, S., Handoyo, A., Busono, H., dan Gafoer, S., 1992. Peta Geologi Lembar Kebumen, Jawa. Pusat Penelitian dan Pengembangan Geologi, Bandung.
Cardinali, M., Reichenbach, P., Guzzetti, F., Ardizzone, F., Antonini, G., Galli, M., Cacciano, M., Castellani, M., and Salvati, P., 2002. A Geomorphological Approach to The Estimation of Landslide Hazards and Risks in Umbria, Central Italy. Natural Hazards and Earth System Sciences, 2:57-72.
Cutter, S.L., Mitchell, J.T., dan Scott, M.S., 2000. Revealing the Vulnerability of People and Places: A Case Study of Georgetown County, South Carolina. Annals of the Association of American Geographers, 90(4):713–737
Eldrandaly, K., 2013. Developing a GIS-Based MCE Site Selection Tool in ArcGIS Using COM Technology. International Arab Journal of Information Technology, 10(3):276-282
Fell R., Ho K.K.S., Lacasse S., dan Leroi E. 2005., A Framework for Landslide Risk Assessment and Management. Proceedings International Conference on Landslide Risk Management. Taylor & Francis. London. 3-25.
Lihawa, F., Patuti, I.M., dan Nurfaika, 2014. Sebaran Aspek Keruangan Tipe Longsoran di Daerah Aliran Sungai Alo Provinsi Gorontalo. Jurnal Manusia dan Lingkungan, 21(3):277-285.
Glade, T., 1998. Establishing The Frequency and Magnitude of Landslide-Triggering Rainstorm Events in New Zealand. Environmental Geology, 35(2–3):160-174.
Glade, T., 2006. Quantitative Landslide Risk Analysis: Between Local Field Monitoring and Spatial Modelling. Int. Assoc. for Mathematical Geology XIth International Congress Université de Liège, Belgium. S09-13:1-4.
Guzzetti F., Carrara A., Cardinali M., and Reichenbach, P., 1999. Landslide Hazard Evaluation: an Aid to a Sustainable Development. J.Geomorphology, 31:181-216.
Intarawichian, N., dan Dasananda, S., 2010. Analytical Hierarchy Process For Landslide Susceptibility Mapping In Lower Mae Chaem Watershed, Northern Thailand. J. Sci. Technol., 17(3):277-292.
Marjanovic, M., 2009. Landslide Susceptibility Modelling: a Case Study on Fruška Gora Mountain, Serbia. Geomorphologia Slovaca et Bohemica, 9(1):29-42.
Moradi, M., Bazyar, M.H., and Mohammadi, Z., 2012. GIS-Based Landslide Susceptibility Mapping by AHP Method, A Case Study, Dena City, Iran. J. Basic. Appl. Sci. Res., 2(7):6715-6723.
Roberts, N., 2009. Culture and Landslide Risk in The Central Andes of Bolivia and Peru. Studia Universitatis Babeş-Bolyai, Geologia, 54(1):55-59.
Saaty, T.L and Vargas, L.G., 2006. Decision Making With The Analytic Network Process-Economic, Political, Social and Technological Applications with Benefits, Opportunities,Costs and Risks. Springer Science Business Media, New York p.11-204.
Santha., S.D and Sreedharan, R.K., 2010. Population Vulnerability and Disaster Risk Reduction: A Situation Analysis Among The Landslide Affected Communities in Kerala, India. Journal of Disaster Risk Studies. 3(1):367-380.
Song, Q. H., Liu, D. S., dan Wu, Y. X. 2007. Study on the Acceptable and Tolerable Risk Criteria for Landslide Hazards in the Mainland of China. ISGSR2007 First International Symposium on Geotechnical Safety & Risk. Shanghai Tongji University, Shanghai. pp.363-374.
Suharko., 2014. Pencegahan Bencana Lingkungan Hidup Melalui Pendidikan Lingkungan. Jurnal Manusia dan Lingkungan, 21(2):254-260.
Suharsono, P., 1988. Identifikasi Bentuk Lahan dan Intepretasi Citra untuk Geomorfologi. Fakultas Geografi, Universitas Gadjah Mada. Yogyakarta.
Timothy, K., 2008. Landslides- Mass Wasting, Soil, and Mineral Hazards. Facts On File, Inc. New York, p.15-46.

DOI:
https://doi.org/10.22146/jml.18767
---
Article Metrics

Abstract views : 8440 |

views : 4454
Refbacks
There are currently no refbacks.
Copyright (c) 2017 Jurnal Manusia dan Lingkungan
JML Indexed by:

View My Stats