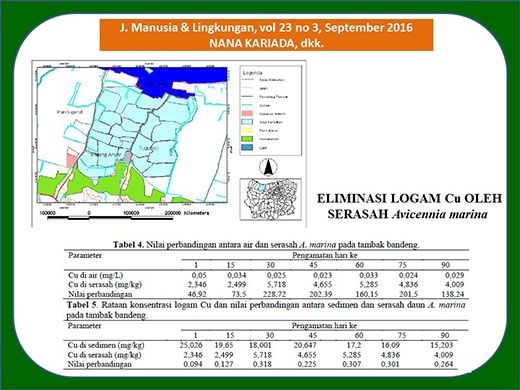 ELIMINASI LOGAM Cu OLEH SERASAH Avicennia marina DI LINGKUNGAN TAMBAK BANDENG WILAYAH TAPAK TUGUREJO, SEMARANG (Cu Metal Elimination by Avicennia marina Litter Leaf in the Environment of Milkfish Fishpond in Tapak Village, Tugurejo Semarang)

https://doi.org/10.22146/jml.18800
Nana Kariada Tri Martuti
(1*)
, Budi Widianarko
(2)
, Bambang Yulianto
(3)
(1)&nbspProgram Doktor Ilmu Lingkungan, Program Pasca Sarjana, Universitas Diponegoro, Jl. Imam Bardjo, SH No. 3 - 5, Pleburan, Semarang 50241.
(2)&nbspJurusan Teknologi Pangan, Fakultas Teknologi Pertanian, Universitas Katolik Soegijapranata, Jl. Pawiyatan Luhur IV/1, Bendan Dhuwur, Semarang 50234.
(3)&nbspJurusan Kelautan, Fakultas Perikanan dan Ilmu Kelautan, Universitas Diponegoro, Jl. Prof. H. Soedarto, S.H, Tembalang, Semarang 50275.
(*) Corresponding Author
Abstract
ABSTRAK
Serasah mempunyai peran penting dalam transfer logam dari tanaman ke dalam media lingkungan hidupnya. Tujuan penelitian mengkaji tingkat eliminasi logam Cu melalui proses defoliasi serasah daun Avicennia marina di tambak bandeng. Bahan penelitian terdiri dari air dan sedimen tambak serta serasah daun mangrove dari jenis A. marina. Destruksi logam Cu pada air, sedimen dan serasah menggunakan Tefflon bomb extraction, dilanjutkan dengan pengukuran logam Cu menggunakan AAS. Penelitian dilakukan selama 90 hari pada tambak bandeng wilayah Tapak Semarang, di dalamnya terdapat tumbuhan mangrove A. marina. Kadar logam Cu pada air tambak penelitian antara 0,02±0,007 - 0,05±0,008 mg/L. Konsentrasi logam Cu pada sedimen tambak penelitian berkisar antara 15,20±1,77 - 25,03 ±4,77 mg/kg, Faktor Konsentrasi (FK) air dan sedimen tambak penelitian antara 500.52 - 897,70. Serasah daun A. marina mengandung logam Cu 2,346±0,536 – 5,285±2,091 mg/kg. Hasil penelitian menunjukkan terdapat kemampuan serasah A. marina dalam mengembalikan logam Cu ke lingkungan hidupnya. Perbandingan antara serasah dengan air dan sedimen menunjukkan bahwa kemampuan serasah dalam mengembalikan Cu ke perairan (46,92 - 228,72) lebih besar dari pada ke sedimen lingkungan hidupnya (0,094 - 0,318).
ABSTRACT
Avicennia marina litter plays an important role in the heavy metal transfer from the plant into its environment. It occurs due to its ability in eliminating the metal from its tissue, as its adaptation to metal – polluted environment. The purpose of this research was to examine the elimination level of Cu through a defoliation process of A. marina into milkfish pond. The objects of the research were water, sediment and A. marina litter. The destruction of Cu in water, sediment and litter was accomplished using Tefflon bomb extraction, followed by measurement of Cu using AAS. The study was conducted in milkfish pond in Tapak region at Semarang city for 90 days, in which the A. marina plants grow. The value of copper content in the water pond was between 0.02 ± 0.007 to 0.05 ± 0.008 mg / L. The concentration of Cu in the sediment ranged from 15.20 ± 1.77 to 25.03 ± 4.77 mg / kg, the concentration factor (CF) of water and waste sediment with water and sediment ranged from 500.52 - 897, 70. The content of Cu in A. marina litter was 2.346 ± 0.536 to 5.285 ± 2.091 mg / kg. The result of the research showed the ability of A. marina litter to reconstruct copper to its environment. The comparison between the ability of A. marina litter to reinstate Cu to water (46.92 to 228.72) is greater than that of the sediment to its environment (.094-.318).
Keywords
Avicennia marina; eliminasi; logam berat; polutan; serasah; tembaga; copper; elimination; heavy metals; pollutants; litter
References
Abohassan, R.A., 2013. Heavy Metal Pollution in Avicennia marina Mangrove Systems on the Red Sea Coast of Saudi Arabia. Met., Env. & Arid. Land. Agric. Sci., 24(1):35-53.
Amin, B., 2001. Akumulasi dan Distribusi Logam Berat Pb dan Cu pada Mangrove (Avicennia marina) di Perairan Pantai Dumai, Riau. Jurnal Natur Indonesia, 4(1):80-86.
Barutu, H.L., Amin, B., dan Efriyeldi, 2014. Konsentrasi Logam Berat Pb, Cu, dan Zn Pada Avicennia marina di Pesisir Kota Batam Provinsi Kepulauan Riau. Website: http://download.portalgaruda.org/article.php?article.diakses 25 Agustus 2015.
Davari, A., Danehkar, A., Khorasani, N., dan Javanshir., A., 2012. Identification of Heavy Metals Contamination at Bushehr Mangroves, Journal of Environmental Studies, 38(3):7 - 9.
Defew, L.H., James M.M., dan Hector, M.G., 2004. An Assessment of Metal Contamination in Mangrove Sediments and Leaves from Punta Mala Bay, Pacific Panama. Marine Pollution Bulletin, 50:547-552.
Dewantoro, A., 2015. Sistem Dekomposisi Serasah Hutan Mangrove. Website: http://tgc.lk.ipb. ac.id/2015/05/18/sistem-dekomposisi-serasah-hutan-mangrove/. Diakses 24 Agustus 2015.
Fitter, A.H., dan Hay, R.K.M., 1992. Fisiologi Lingkungan Tanaman. Gadjah Mada University Press. Yogyakarta.
Kulkarni V.A., Tanaji, G.J., Mhalsekar, N.M., dan Naik, A.N., 2010. Biological and Environmental Characteristics of Mangrove Habitats from Manori Creek, West Coast, India. Environ. Monit. Assess., 168:587-596.
MacFarlane, G.R, dan Burchett, M.D., 2000. Cellular Distribution of Copper, Lead and Zinc in the Grey Mangrove, Avicennia marina (Forsk.) Vierh. Aquatic Botany, 68:45-59.
MacFarlane, G.R., Pulkownik A., dan Burchett, M.D., 2003. Accumulation and Distribution of Heavy Metals in the Grey Mangrove, Avicennia marina (Forsk.) Vierh.: Biological Indication Potential. Environmental Pollution, 123:139-151.
Marjanto, W.D., 2005. Evaluasi Penyelesaian Sengketa Lingkungan Hidup. Program Pasca Sarjana, Universitas Diponegoro. Semarang.
Martuti, N.K.T., dan Irsadi, A., 2014. Peran Mangrove Sebagai Biofilter Pencemaran Air Wilayah Tambak Bandeng Tapak, Semarang. J. Manusia dan Lingkungan, 21(2):188-194
Mulyadi, E., Laksmono, R., dan Aprianti, D., 2009. Fungsi Mangrove Sebagai Pengendali Pencemar Logam Berat. J. Ilmiah Teknik Lingkungan, 1:33-39. Noer, A.H., 2009. Model Dinamik Rantai Makanan pada Ekosistem Mangrove di Laguna Tasilaha. Media Litbang Sulteng, 2(2):110-120.
Purwiyanto, A.I.S., 2013. Daya Serap Akar dan Daun Mangrove Terhadap Logam Tembaga (Cu) di Tanjung Api-Api, Sumatera Selatan, Maspari Journal, 5(1):1-5.
Qiu, Y.W., Yu, K.F., Zhang, G., dan Wang, W.X., 2011. Accumulation and Partitioning of Seven Trace Metals in Mangroves and Sediment Cores from Three Estuarine Wetlands of Hainan Island, China. Journal of Hazardous Materials, 190:631-638.
Saenger, P., dan McConchie, D., 2004. Heavy Metals in Mangroves: Methodology, Monitoring and Management, Envi. Forest Bulletin, 4:52-62.
Usman, A.R.A., Alkredaa, R.S., dan Al-Wabel, M.I., 2013. Heavy Metal Contamination in Sediments and Mangroves from the Coast of Red Sea: Avicennia marina as Potential Metal Bioaccumulator. Ecotoxicology and Environmental Safety, 97:263-270.
Wen-jiao, Z., Xiao-yong, C and Peng, L., 1997. Accumulation and biological cycling of heavy metal elements in Rhizophora stylosa mangroves in Yingluo Bay, China. Marine Ecology Progress Series. 159:293-301.
Zamroni, Y., dan Rohyani, I.S., 2008. Produksi Serasah Hutan Mangrove di Perairan Pantai Teluk Sepi, Lombok Barat. Biodiversitas, 9(4):284-287.

DOI:
https://doi.org/10.22146/jml.18800
---
Article Metrics

Abstract views : 2556 |

views : 2481
Refbacks
There are currently no refbacks.
Copyright (c) 2017 Jurnal Manusia dan Lingkungan
JML Indexed by:

View My Stats