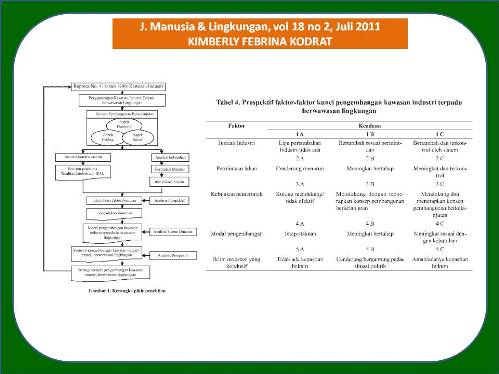 ANALISIS SISTEM PENGEMBANGAN KAWASAN INDUSTRI TERPADU BERWAWASAN LINGKUNGAN: STUDI KASUS DI PT. KAWASAN INDUSTRI MEDAN (Analysis System of Integrated Industrial Estate Ecodevelopment Case Study: At PT. Medan Industrial Estate)

https://doi.org/10.22146/jml.18819
Kimberly Febrina Kodrat
(1*)
(1)&nbspUniversitas Al Azhar Medan
(*) Corresponding Author
Abstract
ABSTRAK
Tujuan utama penelitian adalah menganalisis kinerja pengembangan kawasan industri terpadu berwawasan lingkungan. Cakupan aspek penelitian disinkronkan dengan konsep pembangunan berkelanjutan sekaligus dijadikan sebagai batasan kajian, yakni mempersekutukan aspek ekonomi, ekologi dan sosial. Data diperoleh dengan menggunakan metode survei melalui observasi, wawancara mendalam, dan pendapat pakar. Metodologi penelitian menggunakan metode survei dengan menggunakan perpaduan antara hard system (analisis sistem dinamis) dan soft system (analisis prospektif). Dari hasil uji statistik chi square (α = 0,01) diperoleh bahwa kelompok masyarakat yang bekerja di dalam PT. KIM mempunyai hubungan yang sangat signifikan dengan kelompok masyarakat yang bekerja di luat PT. KIM terhadap tingkat pendapatan, tingkat pendidikan dan faktor usia. Berdasarkan hasil analisis kualitas limbah cair unit IPAL PT. KIM terdapat 5 parameter yang masih berada diatas nilai baku mutu KepMenLHNo.51/1997, yaitu: BOD, COD, TSS, klorida dan amoniak. Tingkat efisiensi pengolahan limbah cair unit IPAL PT. KIM rata-rata 53,07%. Hasil analisis ketergantungan antar faktor dengan menggunakan Analisis Prospektif diperoleh sebanyak 5 faktor strategis masa depan yang mempengaruhi pengembangan kawasan industri terpadu berwawasan lingkungan, yaitu: jumlah industri, permintaan lahan, kebijakan pemerintah, model pengembangan, dan iklim investasi yang kondusif. Pengembangan kawasan industri terpadu berwawasan lingkungan dapat dilakukan dengan strategi moderat dengan kebijakan mencakup jumlah industri bertambah secara bertahap dengan meningkatnya permintaan lahan serta kebijakan pemerintah yang memfasilitasi peningkatan modal pengembangan dan didukung oleh iklim investasi yang kondusif.
ABSTRACT
The main purpose of the research is to study environmental aspect of industrial estate development. The scope of the research aspects is synchronized with sustainable development concepts, namely: economic, ecological, and social aspects. Data are collected through survey method that represents observation, in depth interview, and expert judgment. The research are using hard system methodology (dynamic system) as well as soft system methodology (participatory prospective analysis). The result of chi square statistic test (α = 0,01) showed that community group working in Medan Industrial Estate (Kawasan Industri Medan) is very significant compared to those working outside of Kawasan Industri Medan, including income, education, and age levels. The results of quality analysis of waste water observed that 5 parameters higher than the standard of waste water, namely: biological oxygen demand, chemical oxygen demand, total suspended solid, chloride and ammonia. The efficiency level of Medan Industrial Estate waste water treatment unit is about 53,07% on average. The result of the interdependency analysis of the influenced factors using participatory prospective analysis generates 5 future strategic factors affecting the integrated industrial estate development, namely: amount of industries, land demand, government policy, development funds, and conducive invesment atmosphere. Environmental purposes for integrated industrial estate development would be using moderat strategy with the following policies: supporting government policy, land vailability in line with its demand, increasing land demand and controlled procedures to implement government regulations

DOI:
https://doi.org/10.22146/jml.18819
---
Article Metrics

Abstract views : 10568 |

views : 5513
Refbacks
There are currently no refbacks.
Copyright (c) 2017 Jurnal Manusia dan Lingkungan
JML Indexed by:

View My Stats