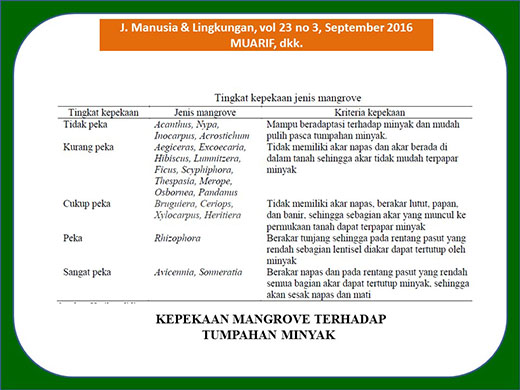 TINGKAT KEPEKAAN MANGROVE INDONESIA TERHADAP TUMPAHAN MINYAK (The Sensitivity Levels of Indonesian Mangrove to Oil Spills)

https://doi.org/10.22146/jml.22476
Muarif Muarif
(1*)
, Ario Damar
(2)
, Sigid Hariyadi
(3)
, Mennofatria Boer
(4)
, Dewayani Soetrisno
(5)
(1)&nbspJurusan Perikanan Fakultas Pertanian Universitas Djuanda, Jl. Tol Ciawi No 1 Bogor 16720.
(2)&nbspPusat Kajian Sumberdaya Pesisir dan Lautan (PKSPL) Institut Pertanian Bogor, Jl Raya Pajajaran Bogor 16143.
(3)&nbspFakultas Perikanan dan Ilmu Kelautan Institut Pertanian Bogor, Jl. Raya Dramaga Bogor 16680.
(4)&nbspFakultas Perikanan dan Ilmu Kelautan Institut Pertanian Bogor, Jl. Raya Dramaga Bogor 16680.
(5)&nbspBadan Informasi Geospasial (BIG), Jl Raya Cibinong Bogor 16911.
(*) Corresponding Author
Abstract
ABSTRAK
Kepekaan mangrove merupakan komponen penting dalam menentukan tingkat kepekaan ekosistem mangrove terhadap tumpahan minyak. Mangrove Indonesia dapat dikelompokkan dalam 5 tingkat kepekaan terhadap tumpahan minyak, yaitu tidak peka (Acanthus, Nypa, Inocarpus, Acrostichum), kurang peka (Aegiceras, Excoecaria, Hibiscus, Lumnitzera, Ficus, Scyphiphora, Thespasia, Merope, Osbornea, Pandanus), cukup peka (Bruguiera, Ceriops, Xylocarpus, Heritiera), peka (Rhizophora), dan sangat peka (Avicennia, dan Sonneratia). Penilaian terhadap komunitas mangrove di Indonesia menunjukkan sebagian besar tergolong ke dalam katagori sangat peka dan peka apabila komunitas mangrove tersebut terkena tumpahan minyak.
ABSTRACT
The sensitivity of mangrove is an important component to determine the sensitivity of mangrove ecosystem to oil spills. The Indonesian mangrove can be grouped into five levels of sensitivity to the oil spill, include not sensitive (Acanthus, Nypa, Inocarpus, and Acrostichum), low sensitive (Aegiceras, Excoecaria, Hibiscus, Lumnitzera, Ficus, Scyphiphora, Thespasia, Merope, Osbornea, and Pandanus), intermediate sensitive (Bruguiera, Ceriops, Xylocarpus, and Heritiera), sensitive (Rhizophora), and very sensitive (Avicennia, and Sonneratia). Assessment of mangrove communities in Indonesia showed mostly belong to the category of very sensitive and sensitive if the mangrove communities injured by the oil spill.
Keywords
ekosistem; kepekaan; mangrove; pencemaran; tumpahan minyak; ecosystem; sensitivity; mangrove; pollution; oilspill
References
Andrade, M. dan Szlafsztein, C., 2012. Remote Sensing and Environmental Sensitivity for Oil Spill in the Amazon, Brazil, dalam Remote Sensing Applications. InTech. pp. 309–330. Rijeka.
Baker, J.M., 1971. Seasonal Effects of Oil Pollution on Salt Marsh Vegetation. OIKOS., 22:106-110.
Böer, B., 1993 Anomalous Pneumatophores and Adventitious Roots of Avicennia marina (Forssk.) Vierh. Mangroves Two Years After the 1991 Gulf War Oil Spill in Saudi Arabia. Marine Pollution Bulletin, 27(C):207–211.
Brito, E.M.S., Duran, R., Guyoneaud, R., Goñi-urriza, M., Oteyza, T.G., De Crapez, M.A.C., Aleluia, I., dan Wasserman, J.C.A., 2009. A Case Study of in Situ Oil Contamination in a Mangrove Swamp ( Rio De Janeiro , Brazil ). Marine Pollution Bulletin, 58(3):418–423.
Cavalcanti, L., Santos, M., dan Cunha-lignon, M., 2012. Long-term Effects of Oil Pollution in Mangrove Forests (Baixada Santista, Southeast Brazil) Detected Using a GIS-based Multitemporal Analysis of Aerial Photographs. Brazilian Journal of Oceanography, 60(2):159–170.
Clark, R.B. 1986. Marine Pollution. Claredon Press. Oxford.
Duke, N.C., Pinzon, Z.S., dan Prada, M.C., 1997. Large-Scale Damage to Mangrove Forests Following Two Large Oil Spills in Panama. Biotropica, 29(1):2–14.
Duke, N.C., 2016. Oil Spill Impacts on Mangroves: Recommendations for Operational Planning and Action Based on a Global Review. Marine Pollution Bulletin, 109(2):700–715.
Emerson, E., 1983. Oil Effects On Terrestrial Plants And Soils: A Review. Ontario Ministry of the Environment. Ontario.
Gudin, C., dan Syratt, W.S., 1975. Biological Aspects of Land Rehabilitation Following Hydrocarbon Contamination. Environ. Pollut., 8:107-112.
Hanna, R.G.M., 1996. An Approach to Evaluate the Application of the Vulnerability Index for Oil Spills in Tropical Red Sea Environments. Spill Science & Technology Bulletin, 2(3):171–186.
Hoff, R., Hensel, P., Proffitt, E.C., Delgado, P., Shigenaka, G., dan Yender, R. 2002. Oil Spill in Mangrove, Planning and Response Considerations. NOAA Ocean Service, Office of Response and Restoration. Washington.
Hutchinson, T.C., dan Heliebust, J.A., 1974. Oil Spills and Vegetation at Normal Wells. N.,W.T. Environmental-Social Program. Northern Pipelines Task Force, Ottawa, Information Canada Report 73-43. pp. 129.
Kankara, R.S., Arockiaraj, S., dan Prabhu, K., 2016. Environmental Sensitivity Mapping and Risk Assessment for Oil Spill along the Chennai Coast in India. Marine Pollution Bulletin, 106(1–2): 95–103.
Lee, C.H., Lee, J.H., Sung, C.G., Moon, S.D., Kang, S.K., Lee, J.H., Yim, U.H., Shim, W.J., dan Ha, S.Y., 2013. Monitoring Toxicity of Polycyclic Aromatic Hydrocarbons in Intertidal Sediments for Five Years After the
Hebei Spirit Oil Spill in Taean, Republic of Korea. Marine Pollution Bulletin, 76(1–2):241–249.
Lewis, M., dan Pryor, R., 2013. Toxicities of Oils, Dispersants and Dispersed Oils to Algae and Aquatic Plants: Review and Database Value to Resource Sustainability. Environ. Pollut., 180:345–367.
Lewis, R., 1983. Impact of Oil Spills on Mangrove Forests in Tasks Jor Vegetation Science, Vol. 8 ed. by H.J. Teas. Dr W. Junk Publishers, The Hague. pp. 171–183.
Michel, J., dan Rutherford, N., 2014. Impacts, Recovery Rates, and Treatment Options for Spilled Oil in Marshes. Marine Pollution Bulletin. 82(1–2):19–25.
Mitchell, W.W., Loynachan, T.E., dan McKendrick, K.J.D., 1979. Effects of Tillage and Fertilization on Persistence of Crude Oil Contamination in an Alaskan soil. J. Environ. Quaff., 8:525-532.
Mauludiyah, dan Mukhtasor. 2009. Perhitungan Skala Biaya Kerugian Akibat Tumpahan Minyak: Relevansinya untuk Perairan Indonesia. Seminar Nasional Teori dan Aplikasi Teknologi Kelautan, 17 Desember 2009.
Onwuegbuzie, J.A., Leech, N.L., dan Collins, K.M.T., 2012. Qualitative Analysis Techniques for the Review of the Literature. The Qualitative Report 2012 [Internet]. 17(56):1-28.
Rikardi, N., 2013. Analisis Metode Indeks Kepekaan Lingkungan Ekosistem Mangrove terhadap Tumpahan Minyak, Studi Kasus di Wilayah Pesisir Kabupaten Subang. Tesis. Sekolah Pascasarjana Institut Pertanian Bogor. Bogor.
Saputro, G.B., Hartini, S., Sukardjo, S., Susanto, A., dan Ponoman, A. 2009. Peta Mangrove Indonesia. Pusat Survei Sumberdaya Alam Laut Bakosurtanal. Cibinong.
Schallier, R, Van Roy, W., dan Van Cappellen, M., 2013. Technical Sub‐report 6: Development of an Environmental and Socioeconomic Sensitivity Methodology. Be Aware, Bonn Agreement Belgium. Belgium.
Sowmya, K., dan Jayappa, K.S., 2016. Environmental Sensitivity Mapping of The Coast of Karnataka, West Coast of India. Ocean and Coastal Management, 121:70–87.
Sucipto, A., 2012. Tumpahan Minyak di Perairan Gresik Diteliti. http://regional.kompas.com/ read/2012/11/01/21532747/Tumpahan.Minyak.di. Perairan Gresik Diteliti. [Internet]. [Diunduh 2013-03-28].
Tyler-Walters, H., Hiscock, K., Leur, D.B., dan Jackson, A., 2001. Identifying and ecosystem sensitivities. Report to Department for Environment, Food and Rural Affairs (Final Report). From the Marine Life Information Network (MarLIN), Marine Biological Association of the United Kingdom, Plymouth.

DOI:
https://doi.org/10.22146/jml.22476
---
Article Metrics

Abstract views : 3641 |

views : 3000
Refbacks
There are currently no refbacks.
Copyright (c) 2017 Jurnal Manusia dan Lingkungan
This work is licensed under a
Creative Commons Attribution-ShareAlike 4.0 International License
.
JML Indexed by:

View My Stats