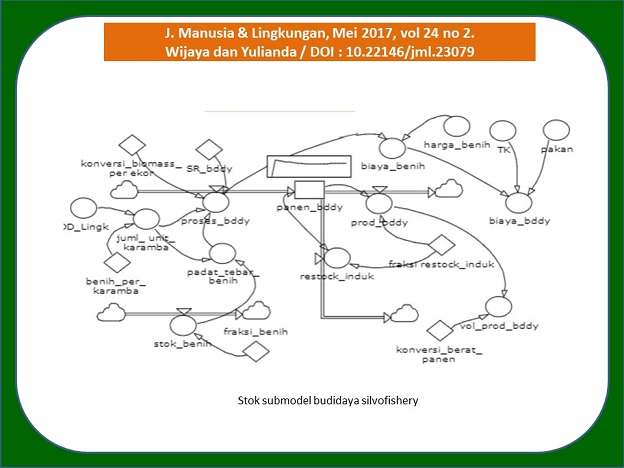 MODEL PENGELOLAAN KEPITING BAKAU UNTUK KELESTARIAN HABITAT MANGROVE DI TAMAN NASIONAL KUTAI PROVINSI KALIMANTAN TIMUR (The Model of Mud Crab (Scylla serrata) Management for Habitat Preservations of Mangrove in Kutai National Park, East Kalimantan Province)

https://doi.org/10.22146/jml.23079
Nirmalasari Idha Wijaya
(1*)
, Fredinan Yulianda
(2)
(1)&nbspFakultas Teknik dan Ilmu Kelautan, Universitas Hang Tuah, Jl. Arief Rahman Hakim No.150, Surabaya 60111.
(2)&nbspFakultas Perikanan dan Ilmu Kelautan Institut Pertanian Bogor, Jl. Agathis, Darmaga, Bogor 16680.
(*) Corresponding Author
Abstract
Abstrak
Taman Nasional Kutai (TNK) memiliki ± 5.227 ha hutan mangrove di sepanjang pesisir pantainya. Hampir 23% luas hutan mangrove ini mengalami degradasi akibat konversi lahan dan pemanfaatan yang merusak. Kepiting bakau (Scylla serrata) merupakan salah satu sumberdaya yang terdapat dalam ekosistem mangrove, yang dapat dimanfaatkan untuk budidaya sylvofishery. Pemanfaatan ini merupakan mata pencaharian alternatif bagi penduduk lokal dalam kawasan TNK agar dapat memenuhi kebutuhan hidupnya tanpa merusak hutan mangrove. Model pemanfaatan sylvofishery kepiting bakau disusun dari 5 submodel, yaitu habitat mangrove, penangkapan kepiting, budidaya pembesaran kepiting, pasar, dan sosial. Hasil simulasi terhadap model dinamik, menunjukkan bahwa skenario optimistik memberikan kinerja model yang lebih berkelanjutan untuk pengelolaan hutan mangrove di TNK, bila dilakukan dengan pendekatan optimasi pemanfaatan sumberdaya S. serrata. Dengan sylvofishery diharapkan akan terjadi keseimbangan antara pemanfaatan dan kelestarian lingkungan hutan mangrove.
Abstract
The National Park Kutai (TNK) has ± 5,227 ha mangrove forest in along coastal beach. Therefore, almost 23% of mangrove forest was degraded caused by land conversion and utilization of damaged. Mud crab (Scylla serrata) is one of the resources in mangrove ecosystem, and it can be utilized for the cultivation sylvofishery. The utilization of sylvofishery was an alternative livelihood for the local resident in TNK areas that was not damaged their forest necessity. The model of sylvofishery utilization mud crab prepared were 5 sub-models, such as mangrove habitat sub-model, catching mud crab sub-model, enlargement cultivation of mud crab sub-model, market sub-model and social sub-model. The simulation results showed that an optimistic scenario performance model to sustainable for management of mangrove forest in TNK if it was conducted with optimization approached resources in utilization of S. serrata. With silvofishery, it is expected to give a balance between utilization and conservation of mangrove ecosystems.
Keywords
model dinamik; pengelolaan; kepiting bakau; hutan mangrove; dynamic model; management; mud crab; mangrove forest
References
Arifin, Z., 2006. Carrying Capacity Assessment on Mangrove Forest with Special Emphasize on Mud Crab Silvofishery System: A Case Studi in Tanjung Jabung Timur District Jambi Province. [Thesis]. Post Graduate School. Bogor Agricultural University, Bogor.
Dahuri, R,. Rais, J., Ginting, S.P., dan Sitepu, M.J., 2001. Pengelolaan Sumberdaya Pesisir dan Lautan Secara Terpadu, cetakan kedua. Pradnya Paramita. Jakarta. 326 p.
Ford, A., 1999. Modeling the Environment, An Introduction to System Dynamics Models of Environmental Systems. Island Press. Washington DC.
Gunawan, W., Adinugroho, W.C., dan Noorcahyati, 2005. Model Pelestarian Ekosistem Mangrove Di Kawasan Taman Nasional Kutai oleh masyarakat dusun Teluk Lombok. Loka Litbang Satwa Primata, Badan Litbang Kehutanan, Departemen Kehutanan.
Le Vay, L., 2001. Ecology and Management of Mud Crab Scylla spp. Asian Fisheries Sciense, 14:101-111.
Muryani, C., Ahmad, Nugraha, S., dan Utami, T., 2011. Model Pemberdayaan Masyarakat dalam Pengelolaan dan Pelestarian Hutan Mangrove di Pantai Pasuruan Jawa Timur. J. Manusia & Lingkungan, 18(2):75-84
Anonim, 2002. Membangun kembali upaya mengelola kawasan konservasi di indonesia melalui manajemen kolaboratif: Prinsip, kerangka kerja dan panduan implementasi. Naskah kerja teknis. PHKA-Dephut, NRM/EPIQ, WWF, Wallacea, TNC. NRM/EPIQ. Jakarta.
Rohmatulloh, 2008. Studi Dinamika Sistem Penilaian Kinerja Pabrik Gula : Kasus PT PG Rajawali II Unit PG Subang Jawa Barat. [Tesis]. Sekolah Pascasarjana IPB. Bogor.
Sparre, P., dan Venema, S.C., 1999. Introduksi Pengkajian Stok Ikan Tropis. Organisasi Pangan dan Pertanian (FAO), PBB. Edisi Bahasa Indonesia: Puslitbangkan. Indonesia.
Sterman, J.D., 2000. Business Dynamics : System Thinking and Modeling for a Complex World. Irwin McGraw-Hill, Boston.
Trin˜o AT, EM Rodriguez. 2002. Pen culture of mud crab Scylla serrata in tidal flats reforested with mangrove trees. Elsevier, Journal Aquaculture, 211:125–134.
Anonim, 2006. Ecosystem-Based Management: Markers for Assessing Progress. United Nations Environment Programme (UNEP), Global Programme of Action for the Protection of the Marine Environment from Land-based Activities (GPA). The Hague.
Van der Lee GEM., DT Van der Molen, HFP Van den Boogaard, H Van der Klis. 2006. Uncertainty analysis of a spatial habitat suitability model and implications for ecological management of water bodies. Landscape Ecology 21:1019–1032
Warner, G.F., 1977. The Biologi of Carbs. Eleck Science, London.
Yuniarsih, A., Marsono, D., Pudyatmoko, S., dan Sadono, R., 2014. Pemodelan Sistem Pengusahaan Wisata Alam di Taman Nasional Gunung Ciremai, Jawa Barat. J. Manusia Dan Lingkungan, 21(2):220-231

DOI:
https://doi.org/10.22146/jml.23079
---
Article Metrics

Abstract views : 4813 |

views : 2138 |

views : 2381
Refbacks
There are currently no refbacks.
Copyright (c) 2018 Jurnal Manusia dan Lingkungan
This work is licensed under a
Creative Commons Attribution-ShareAlike 4.0 International License
.
JML Indexed by:

View My Stats