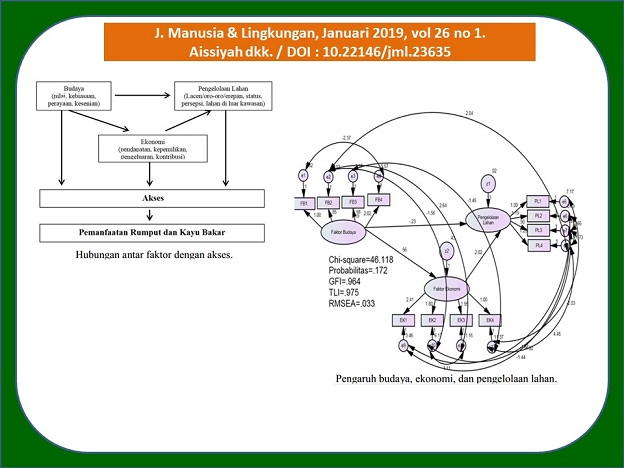 PEMANFAATAN RUMPUT DAN KAYU BAKAR UNTUK KEBUTUHAN SUBSISTEN MASYARAKAT DI TAMAN NASIONAL GUNUNG MERBABU (Utilization of Grass and Fuel Wood for Community Subsistence Needs in Gunung Merbabu National Park)

https://doi.org/10.22146/jml.23635
Ayu Kurnia Aissiyah
(1*)
, Lies Rahayu Wijayanti Faida
(2)
, Much. Taufik Tri Hermawan
(3)
(1)&nbspProgram Studi Pascasarjana Ilmu Kehutanan, Universitas Gadjah Mada Yogyakarta
(2)&nbspProgram Studi Pascasarjana Ilmu Kehutanan, Universitas Gadjah Mada Yogyakarta
(3)&nbspProgram Studi Pascasarjana Ilmu Kehutanan, Universitas Gadjah Mada Yogyakarta
(*) Corresponding Author
Abstract
ABSTRAK
Pemanfaatan rumput dan kayu bakar oleh masyarakat sekitar pada Taman Nasional Gunung Merbabu (TNGMb) tidak sejalan dengan zonasi taman nasional. Pada penelitian ini telah dilakukan berupa kajian intensitas pemanfaatan rumput dan kayu bakar dari kawasan TNGMb melalui identifikasi pengaruh antar faktor pada aktivitas pemanfaatan rumput dan kayu bakar oleh masyarakat serta identifikasi unsur pembentuk akses masyarakat dalam pemanfaatan rumput dan kayu bakar yang berasal dari kawasan TNGMb. Penelitian dilakukan di wilayah TNGMb dengan mengambil lokasi sampel di Dusun Godang, Guwolelo, Batur, dan Sembungan. Tipe penelitian yang digunakan adalah metode kombinasi. Pengumpulan data dilakukan melalui observasi lapangan, kuesioner, wawancara, dan penelusuran dokumen. Metode kuantitatif disajikan dalam bentuk statistik diskriptif (peta, distribusi frekuensi) dan analisis jalur. Metode kualitatif menggunakan analisis akses. Hasil penelitian menunjukkan bahwa intensitas pemanfaatan rumput dan kayu bakar di TNGMb di lokasi sampel tergolong sedang cenderung tinggi (63 kali per hari untuk rumput dan 41 kali per minggu untuk kayu bakar). Dalam kaitannya terhadap faktor pengelolaan lahan maka faktor budaya berpengaruh sebesar 91%, faktor ekonomi berpengaruh sebesar 17,8 %. Faktor ekonomi menjadi faktor mediasi antara faktor budaya dan faktor pengelolaan lahan, serta terukur secara bersama-sama berpengaruh terhadap faktor pengelolaan lahan sebesar 49,2%. Unsur pembentuk akses masyarakat sekitar kawasan dalam pemanfaatan rumput dan kayu bakar bersifat sederhana atau konvensional.
ABSTRACT
Grass and fuel wood utilization by community around Gunung Merbabu National Park (GMNP) was inconsistent with national park zoning. This research have been done by evaluating of the intensity of grass and fuel wood derived from GMNP, according to identify the effect between factors at grass and fuel wood utilization by community and determining of the community access pattern in grass and fuel wood utilization. The research study was implemented in GMNP area, which sample locations were Gondang, Guwolelo, Batur, and Sembungan villages. The method used for the research was a combined research method. Data collection was conducted by field observation, interview, questionnaires and document analysis. Quantitative method was presented in descriptive statistic (map, frequency distribution) and path analysis results. Qualitative method was conducted by access analysis. The results showed that intensity grass and fuel wood utilization in GMNP in sample location was in the middle to high trend categories (63 times per day for grass and 41 times per week for fuel wood). Affect to the land management factor, it has been known that the contribution of the cultural factor was in 91% and the economic factor in 17.8 %. Economic factor become intervening factor between cultural factor and land management factor and it was evaluated in 49.2%. Community access structure in grass and fuel wood utilization was simple or conventional.
Keywords
pemanfaatan rumput; kayu bakar; zonasi taman nasional; komunitas; hutan; faktor budaya; faktor ekonomi; pengelolaan lahan; community; national park; grass; fuel wood; forest; economic factor; cultural factor. land management
References
Anonim, 2014. Zonasi Taman Nasional Gunung Merbabu (Dokumen Revisi Zonasi). Balai Taman Nasional Gunung Merbabu. Boyolali.
Anonim, 2015. Peraturan Menteri Lingkungan Hidup dan Kehutanan Nomor P.76/MENLHK-Setjen/2015 tentang Kriteria Zona Pengelolaan Taman Nasional dan Blok Pengelolaan Cagar Alam, Suaka Margasatwa, Taman Hutan Raya, dan Taman Wisata Alam. Kementerian Kehutanan. Jakarta.
Adhikari, B., Di Falco, S., dan Lovett, J.C., 2003. Household Characteristics and Forest Dependency: Evidence from Common Property Forest Management in Nepal. Ecological Economics, 48:245–257.
Clements, T., Suon, S., Wilkie, D.S., dan Milner-Gulland, E.J., 2014. Impacts of Protected Areas on Local Livelihoods in Cambodia. Journal of World Development, 64:S125–S134.
Gunawan, H., Bismark, M., dan Krisnawati, H., 2013. Kajian Sosial Ekonomi Masyarakat Sekitar Sebagai Dasar Penetapan Tipe Penyangga Taman Nasional Gunung Merbabu, Jawa Tengah. Jurnal Penelitian Hutan dan Konservasi Alam 10(2):103-119.
Hastuti, D., 2010. Kajian Klasifikasi Ekosistem sebagai Dasar Pengelolaan Taman Nasional Gunung Merbabu. Disertasi. Fakultas Kehutanan, Universitas Gadjah Mada, Yogyakarta.
Hastuti, D., Marsono, D., Irham dan Sumardi, 2011. Klasterisasi Ekosistem Taman Nasional Gunung Merbabu Berdasarkan Aspek Biologis dan Sosial Ekonomi. J. Manusia & Lingkungan, 18(2):85-97.
Morzillo, A.T., Colocousis, C.R., Munroe, D.K., Bell, K.P., Martinuzzi, S., van Berkel, D.B., Lechowicz, M.J., Rayfield, B., and McGill, B., 2015. Communities in the middle: Interactions between drivers of change and place-based characteristics in rural forest-based communities. Journal of Rural Studies, 42:79-90.
Ribot, J.C; dan Peluso, N.L., 2003. A Theory of Access. Rural Sociology 68(2):153–181.
Schlager, E., dan Ostrom, E., 1992. Property Rights Regimes and Natural Resources: A Conceptual Analysis. Land Economics, 68(3):249-262.
Steele, M.Z., Scackleton, C.M., Shaanker, R.U., Ganeshaiah, K.N., dan Radolf, S., 2015. The Influence of Livelihood Dependency, Local Ecological Knowledge and Market Proximity on The Ecological Impacts of Harvesting Non-Timber Forest Products. Forest Policy and Economics, 50:285–291.
Sudaryono, 2011. Aplikasi Analisis (Path Analysis) Berdasarkan Urutan Penempatan Variabel Dalam Penelitian. Jurnal Pendidikan dan Kebudayaan, 17(4):391-404.

DOI:
https://doi.org/10.22146/jml.23635
---
Article Metrics

Abstract views : 1386 |

views : 1496
Refbacks
There are currently no refbacks.
Copyright (c) 2020 Jurnal Manusia dan Lingkungan
This work is licensed under a
Creative Commons Attribution-ShareAlike 4.0 International License
.
JML Indexed by:

View My Stats