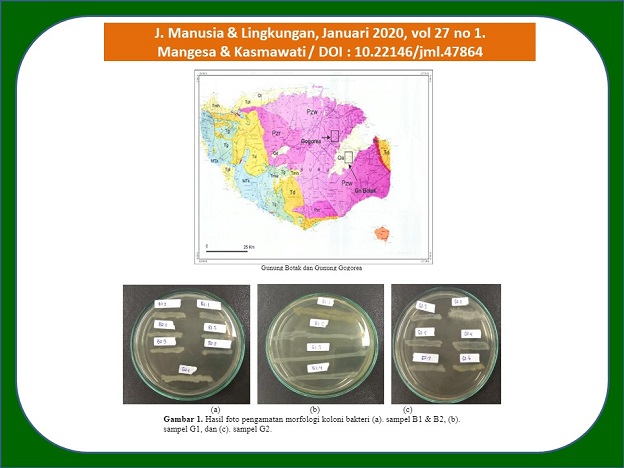 ISOLASI BAKTERI RESISTENSI MERKURI DARI LIMBAH PENAMBANGAN EMAS KABUPATEN BURU, MALUKU (Isolation of Mercury Resistance Bacteria from Gold Mining Waste in Buru District, Maluku)

https://doi.org/10.22146/jml.47864
Rosita Mangesa
(1*)
, Kasmawati Kasmawati
(2)
(1)&nbspProdi Pendidikan Biologi, Fakultas Keguruan dan Ilmu Pendidikan, Universitas Iqra Buru Jalan Prof. Dr. Abd. Bassalamah, M.Si, Namlea, Kabupaten Buru, Maluku, 97571
(2)&nbspProdi Pendidikan Biologi, Fakultas Keguruan dan Ilmu Pendidikan, Universitas Iqra Buru Jalan Prof. Dr. Abd. Bassalamah, M.Si, Namlea, Kabupaten Buru, Maluku, 97571
(*) Corresponding Author
Abstract
Abstrak
Pulau Buru merupakan salah satu pulau penambangan emas dan banyak dilakukan secara illegal dengan melibatkan penggunaan merkuri untuk alat bantu dalam proses ekstraksi emas melalui proses amalgamasi. Merkuri merupakan bahan kimia yang berbahaya dan bersifat toksik bagi manusia dan juga lingkungan, dan dampak dari penggunaan merkuri ini telah dirasakan oleh masyarakat setempat. Penelitian ini bertujuan untuk memperoleh bakteri yang resisten terhadap merkuri sehingga dapat digunakan dalam proses bioremediasi. Penelitian ini merupakan penelitian skala laboratorium dan dianalisis secara deskriptif. Hasil penelitian ini yaitu dari kedua lokasi pengambilan sampel diperoleh 17 isolat dengan morfologi yang berbeda-beda serta dari ke-17 isolat tersebut resisten terhadap merkuri.
Abstract
Buru Island is one of the gold mining islands and much of them are illegally that used mercury in gold extraction using uses mercury. Mercury is a chemical that is harmful and toxic to humans as well as the environment, and recently the impact of mercury use has been found by the local community. This study aims to obtain bacteria that are resistant to mercury so that it can be used in the bioremediation process. This research is a laboratory scale research and analyzed descriptively. The results of this study, namely from the two sampling locations obtained 17 isolates with different morphologies and from the 17 isolates were resistant to mercury.
Keywords
isolasi ; bakteri resisten ; merkuri ; limbah ; tambang emas ; isolation ; resistant bacteria ; mercury ; waste ; gold mining
References
Abdullah., Luqman, H., Fitriandi, E. dan Rahmawati, 2018. Deteksi Keberadaan Bakteri Resisten Logam Merkuri (Hg) Pada Penambangan Emas Tanpa Izin (Peti) Di Simpi, Sekadau, Kalimantan Barat. Indonesian Journal of Pure and Applied Chemistry, 1(2):56-61.
Kanzil, T., Fatimawali dan Manampiring, A., 2015. Uji Resistensi Bakteri Bacillus sp yang Diisolasi dari Plak Gigi Terhadap Merkuri dan Eritromisin. Jurnal e-Biomedik, 3(1):80-83.
Pangestu, R., Gulli, M., dan Miswan, M., 2014. Deteksi Bakteri Resistensi Merkuri Pada Areal Tromol Pertambangan Emas Kelurahan Poboya Provinsi Sulawesi Tengah. Biocelebes, 8(1):1-9.
Pattuju, S.M., Fatimawali dan Manampiring, A., 2014. Identifikasi Bakteri Resistensi Merkuri Pada Urine, Feses dan Kalkulus Gigi Pada Individu di Kecamatan Malalayang, Manado, Sulawesi Utara. Jurnal e-Biomedik, 2(2):532-540.
Rumatoras, H., Taipabu, M.I., Lesiela, L., dan Male Y.T., 2016. Analysis of Mercury (Hg) Content on Hair Villagers Kayeli, Ilegal Gold Mining Result in Botak Mountain Area, Buru Regency-Maluku Province. Ind. J. Chem. Res., 3(2):290-294.
Salatutin, F.M., Batawi, C.Y., Lessil, C.Y., dan Male, Y.T., 2015. Analysis of Mercury (Hg) Distribution in The Waeapo River Irrigation Area, Buru Regency, Maluku Province, Gold Mining Without Permission Result in Botak Mountain Area. Ind. J. Chem. Res., 3(1):270-276.
Sofia, S., dan; Husodo, A.H., 20176. Kontaminasi Merkuri Pada Sampel Lingkungan dan Faktor Risiko Pada Masyarakat dari Kegiatan Penambangan Emas Skala Kecil Krueng Sabee Provinsi Aceh. J. Manusia & Lingkungan, 23 (3):310-318.
Suharno, Sancayaningsih, R.P., Sutariningsih, E.S, dan Kusmandari, R.K., 2014. Keberadaan Fungsi Mikoriza Arbuskula di Kawasan Tailing Tambang Emas Timika Sebagai Upaya Rehabilitasi Lahan Ramah Lingkungan. J. Manusia & Lingkungan, 21(3):295-303.
Suryani, Y., 2011. Bioremediasi Limbah Merkuri dengan Menggunakan Mikroba Pada Lingkungan yang Tercemar. Jurnal Istek, 5:1-2.
Tanumihardja C. A. N., Kepel Billy., Bodhi Widhi. 2017. Identifikasi Bakteri Resistensi Merkuri Menggunakan Metode 16SrRNA Terhadap Plak Gigi Pada Pasien Pengguna Tumpatan Amalgam. Jurnal e-Biomedik, 5(2):1-6.

DOI:
https://doi.org/10.22146/jml.47864
---
Article Metrics

Abstract views : 2972 |

views : 2641
Refbacks
There are currently no refbacks.
Copyright (c) 2020 Jurnal Manusia dan Lingkungan
This work is licensed under a
Creative Commons Attribution-ShareAlike 4.0 International License
.
JML Indexed by:

View My Stats