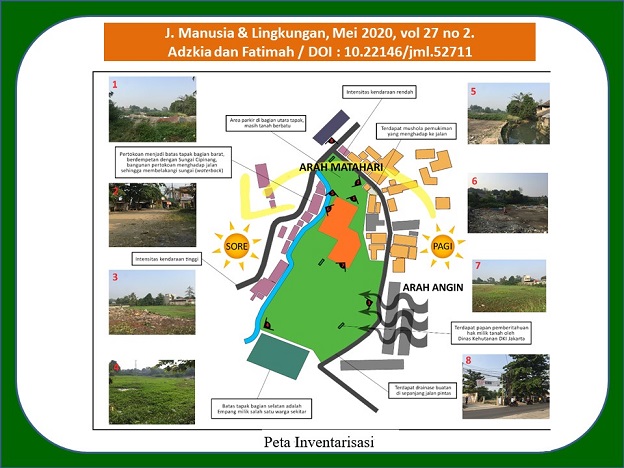 DESAIN LANSKAP SEMPADAN SUNGAI BERBASIS PREFERENSI MASYARAKAT DI SEGMEN JALAN RADAR AURI, JAKARTA TIMUR (Preferenced-based Riparian Landscape Design of Cipinang River in The Radar Auri Street Segment, East Jakarta)

https://doi.org/10.22146/jml.52711
Urfa Adzkia
(1*)
, Indung Sitti Fatimah
(2)
(1)&nbspDepartemen Arsitektur Lanskap, Fakultas Pertanian, Institut Pertanian Bogor, Jl. Meranti Kampus IPB Dramaga, Bogor, 16680.
(2)&nbspDepartemen Arsitektur Lanskap, Fakultas Pertanian, Institut Pertanian Bogor, Jl. Meranti Kampus IPB Dramaga, Bogor, 16680.
(*) Corresponding Author
Abstract
Abstrak
Jakarta Timur adalah kota administrasi terluas di provinsi DKI Jakarta. Laju pembangunan kota yang semakin meningkat menyebabkan daya tampung dan daya dukung lingkungan kota semakin menurun sehingga memicu timbulnya permasalahan sosial, ekosistem lingkungan daratan maupun akuatik. Lanskap sempadan Sungai merupakan aspek penting dari konstruksi lanskap perkotaan. Lanskap sempadan Sungai Cipinang memiliki fungsi ekologis, estetika dan sosial. Masyarakat merupakan kunci bagi terciptanya kehidupan sosial yang berkelanjutan dalam sebuah taman lingkungan. Untuk memenuhi kebutuhan masyarakat di taman lingkungan perlu adanya keterlibatan masyarakat sekitar dengan mempelajari preferensi masyarakat sekitar terhadap taman. Oleh karena itu, dibutuhkan desain taman lingkungan berdasarkan preferensi masyarakat sekitar untuk menciptakan sebuah taman lingkungan yang fungsional, estetis, ekologis, dan berkelanjutan. Proses desain lanskap sempadan Sungai Cipinang dilakukan melalui beberapa tahap, yaitu: tahap pengumpulan data, tahap analisis dan sintesiskonsep, dan desain. Konsep yang digunakan dalam taman lingkungan ini adalah Taman Olahraga dan Olah jiwa dengan memilih tanaman kangkung air sebagai konsep desain. Konsep ini dipilih untuk menjaga dan memelihara lingkungan sempadan sungai serta memberikan ruang olahraga, area rekreasi dan meningkatkan interaksi antar masyarakat sekitar. Setelah dilakukan proses desain, dihasilkan 3 model pilihan desain dan satu diantaranya menjadi sebuah siteplan yang digunakan sebagai gambar acuan dalam proses pembuatan gambar kerja. Siteplan dilengkapi dengan gambar tampak potongan, perspektif, detail desain, dan rencana penanaman.
Abstract
East Jakarta is the largest administrative city in the province of DKI Jakarta. The increasing space of urban development causes the capacity and the carrying capacity of the urban environment to decrease, thus triggering the emergence of social problems, ecosystems of the land, and aquatic environment. The riparian landscape is an important aspect of the urban landscape. The riparian landscape of Cipinang River has ecological, aesthetic, and social functions. Community is the key to create sustainable social life in the community park. To know the needs of people in a community park is important as well as in a park design process, it could be grasped through the study of people preferences. Therefore, it is important too to study the community park design based on user preference to create a community park that is functional, aesthetic, ecological, and sustainable. The design process will be carried out through several stages, namely: stage of data collection, analysis and synthesis phase, concepts, and  design. The concept is "Olah Raga dan Olah Jiwa" which Water Spinach's form as a design concept. It was chosen in addition to preserving and maintaining the riparian landscape environment, also to provide sports spaces, recreation areas. After the design process is carried out, there will be three models of design choices and one of them will be a siteplan that is used as a reference image in the process of making work drawings. A siteplan will be equipped with section plan, perspective, design details, and planting plan.
Keywords
desain; lanskap sempadan sungai; preferensi masyarakat; ekosistem; daya dukung; communities preference; design; riparian landscape; carrying capacity; ecosystem
References
Badan Pusat Statistik Kota Administrasi Jakarta Timur. 2017. Ciracas dalam Angka 2016. Jakarta (ID): BPS Kota Administrasi Jakarta Timur.
Grahn, P., and Stigsdotter, U.K., 2010. The Relation Between Perceived Sensory Dimensions of Urban Green Space and Stress Restoration. Landscape and Urban Planning, 94:264-275.
Gold, S.M., 1980. Recreation Planning and Design (McGraw-Hill Series in Landscape and Landscape Architecture). Mcgraw-Hill, New York.
Himawan, L., dan Santoni, 2019. Penataan Ruang Komersil Warga Pada Permukiman Di Bantaran Sungai Ciliwung. Architecture Innovation, 3(2): 46-72.
Jamaludin, S.N., Mohamad, N.H.N., and Thani, S.K.S.O., 2014. Designing Conducive Residential Outdoor Environment for Community: Klang Valley, Malaysia. Procedia - Social and Behavioral Sciences. AMER International Conference on Quality of Life; 1: 4-5.
Laurie, M., 1986. Pengantar kepada Arsitektur Pertamanan. Bandung (ID): Intermatra.
Mahdavinejda, M., and Abedi, M., 2012. Community-oriented Landscape Design for Sustainability in Architecture and Planning. Procedia engineering. 2011 International Conference on Green Buildings and Sustainable Cities; Elsevier; Amsterdam.
Peraturan Daerah Provinsi Daerah Khusus Ibu Kota Jakarta No. 1 tahun 2014 tentang Rencana Detail Tata Ruang dan Peraturan Zonasi.
Peraturan Pemerintah RI No. 38 Tahun 2011 tentang Sungai.
Sugiyono, 2009. Metode Penelitian Administrasi Dilengkapi dengan MetodeR&D, Bandung (ID): CV Alfabeta.
Wardiningsih, dan Salam, B.F., 2019. Perencanaan RTH Sempadan Sungai Ciliwung di Kawasan Kampung Pulo dan Bukit Duri Jakarta, Jurnal Arsitektur, 18(1):65-74.
Zuidam, R.A., 1985. Aerial Photo-Interpretation Terrain Analysis and Geomorphology Mapping. Smith Publisher The Hague, ITC.

DOI:
https://doi.org/10.22146/jml.52711
---
Article Metrics

Abstract views : 3455 |

views : 2824
Refbacks
There are currently no refbacks.
Copyright (c) 2020 Jurnal Manusia dan Lingkungan
This work is licensed under a
Creative Commons Attribution-ShareAlike 4.0 International License
.
JML Indexed by:

View My Stats