Indonesian Journal of Computing and Cybernetics Systems (IJCCS) focuses on advanced computational intelligence, including the synergetic integration of neural networks, fuzzy logic and eveolutionary computation, so that more intelligent system can be built to industrial applications. The topics include but not limited to : fuzzy logic, neural network, genetic algorithm and evolutionary computation, hybrid systems, adaptation and learning systems, distributed intelligence systems, network systems, human interface, biologically inspired evolutionary system, artificial life and industrial applications. The paper published in this journal implies that the work described has not been, and will not be published elsewhere, except in abstract, as part of a lecture, review or academic thesis.
Indonesian Journal of Computing and Cybernetics Systems (IJCCS) fokus pada komputasi cerdas, termasuk integrasi sinergis jaringan syaraf, logika samar dan komputasi evolusioner, sehingga lebih banyak sistem cerdas dapat diaplikasikan untuk industri. Topik meliputi, tetapi tidak terbatas pada, logika samar, jaringan syaraf, algoritma genetika dan komputasi evolusioner, sistem hibrid, sistem adaptif dan yang mampu belajar, sistem cerdas terdistribusi,  sistem jaringan, antar muka, sistem evolusioner terinspirasi biologi, kehidupan buatan dan aplikasi industri. Makalah yang diterbitkan dalam jurnal ini tidak boleh diterbitkan dimanapun kecuali dalam betuk abstrak, bagian dari kuliah, telaah atau tesis akademik.
IJCCS is published two times annually by the Indonesian Computer, Electronics and Instrumentation Support Society (IndoCEISS).
Vol 10, No 1 (2016): IJCCS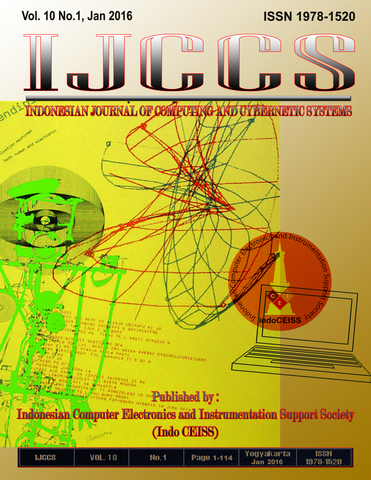 Indonesian Journal of Computing and Cybernetics Systems