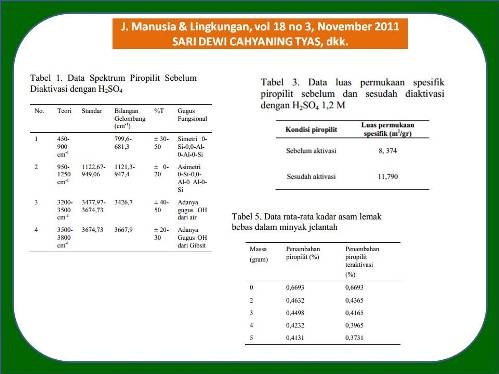 PEMANFAATAN PIROPILIT SEBELUM DAN SESUDAH AKTIVASI SEBAGAI ADSORBEN PADA PROSES PENURUNAN BILANGAN PEROKSIDA DAN KADAR ASAM LEMAK BEBAS MINYAK JELANTAH (The Utilization of Pyrophilite Before and After Activation as an Adsorbent on Decreased Level Process)

https://doi.org/10.22146/jml.18440
Sari Dewi Cahyaning Tyas
(1)
, Siti Tjahjani
(2*)
(1)&nbspJurusan Kimia, FMIPA Universitas Negeri Surabaya Alamat : Kampus Ketintang Surabaya
(2)&nbspJurusan Kimia, FMIPA Universitas Negeri Surabaya Alamat : Kampus Ketintang Surabaya
(*) Corresponding Author
Abstract
ABSTRAK
Telah dilakukan penelitian dengan tujuan: 1). Mengetahui perubahan karakteristik piropilit meliputi intensitas serapan gugus aktif OH- dan luas permukaan. 2). Mengetahui ada tidaknya pengaruh variasi jenis dan masa adsorben terhadap penurunan kadar asam lemak bebas dan bilangan peroksida minyak jelantah. Penelitian ini terdiri atas dua tahap: 1). Pembuatan adsorben yakni piropilit sebelum dan sesudah aktivasi. 2). Adsorpsi asam lemak bebas dan senyawa peroksida minyak jelantah. Analisis hasil penelitian tahap 1) dilakukan dengan Spektrofotometer IR dan "Surface area analyzer", tahap 2) dengan metode statistik analisis varian dua arah. Hasil penelitian tahap 1) menunjukkan ada perubahan karakteristik piropilit yakni peningkatan intensitas serapan gugus aktif OH- dan luas permukaan sebelum dan sesudah aktivasi berturut-turut 10-20 % menjadi 20-30 % dan 8,374 m2/g menjadi 11,790 m2/g. Untuk penelitian tahap 2) menunjukkan tidak ada interaksi antara jenis dan masa adsorben sedangkan dari masing-masing variabel ternyata ada pengaruh yang signifikan. Hal ini ditunjukkan bahwa pada masa adsorben 5 gram, sebelum dan sesudah aktivasi asam lemak bebas mengalami penurunan dari 0,6693 % menjadi 0,4131 % dan 0,3731 % sedangkan bilangan peroksida dari 1,1889 meq/Kg menjadi 0,4973 meq/Kg dan 0,4632 meq/Kg.
ABSTRACT
Has been studied with the aim of: 1). Knowing the characteristic changes in absorption intensity piropilit include active OH-groups and surface area. 2). Determine whether there is the influence of adsorbent type and period of decreased levels of free fatty acid and peroxide numbers used cooking oil.Study consisted of two stages: 1). Making the piropilit adsorbent before and after activation. 2). Adsorption of free fatty acid and peroxide compound used cooking oil. Analysis of the results of the study phase 1) performed with IR spectrophotometer and "Surface area analyzer", phase 2) with statistical methods of two-way analysis of variance.The results of stage 1) showed no change in the characteristics of the increased intensity of the absorption piropilit active OH-groups and surface area before and after activation respectively 10-20% to 20-30% and 8.374 m2/g to 11.790 m2/g. For the study phase 2) showed no interaction between species and the adsorbent while each variable there was a significant influence. It is shown that during the adsorbent 5 grams, before and after activation of free fatty acids decreased from 0.6693% to 0.4131% and 0.3731%, while the number of 1.1889 meq peroxide/kg to 0.4973 meq/Kg and 0.4632 meq/Kg.

DOI:
https://doi.org/10.22146/jml.18440
---
Article Metrics

Abstract views : 3145 |

views : 3900
Refbacks
There are currently no refbacks.
Copyright (c) 2017 Jurnal Manusia dan Lingkungan
JML Indexed by:

View My Stats