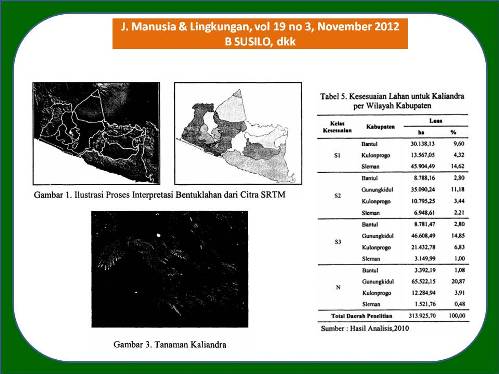 KESESUAIAN LAHAN HIJAUAN PAKAN KAMBING DI YOGYAKARTA MENGGUNAKAN PENDEKATAN SISTEM INFORMASI GEOGRAFIS (A Land of Unit Map for Goat Tree Leaves in Yogyakarta using Geographic Information System Approach)

https://doi.org/10.22146/jml.18463
B. Susilo
(1*)
, T.A. Kusumastuti
(2)
, Y. Suranindyah
(3)
, B. Suwignyo
(4)
(1)&nbspFakultas Geografi Universitas Gadjah Mada
(2)&nbspFakultas Peternakan Universitas Gadjah Mada
(3)&nbspFakultas Peternakan Universitas Gadjah Mada
(4)&nbspFakultas Peternakan Universitas Gadjah Mada
(*) Corresponding Author
Abstract
ABSTRAK
Penelitian ini bertujuan untuk membuat pemetaan kesesuaian lahan pakan hijauan kambing di kabupaten Daerah Istimewa Yogyakarta. Metode penelitian mencakup 2 kegiatan utama yaitu (1) Analisis proksirnat untuk mengetahui kandungan energi tertinggi dari jenis kacang-kacangan atau legum ( 2) Pemetaan lahan pakan dari tanaman legum yang mempunyai kandungan energi tertinggi di tiap kabupaten. Analisis kesesuaian lahan pada setiap satuan lahan diperoleh melalui proses tumpang susun (overlay) peta lereng, bentuk lahan dan penggunaan lahan dengan bantuan Sistem Informasi Geografis (SIG). Hasil penelitian menunjukkan tanaman legum yang mempunyai sumber energi tertinggi adalah kaliandra dengan berat kering berkisar 30-40%. Lahan untuk kaliandra hampir sarna di 4 kabupaten yaitu lebih dari 25%. Lahan yang paling sesuai untuk kaliandra adalah di Kabupaten Sleman.
ABSTRACT
The study aimed  to  provide a land unit map at district in Special District of Yogyakarta and a land appropriateness map, especially for goat tree leaves. The method of the study consisted of main activities which was 1) proximate analysis to find out the energy sources for nutrition need as provided by the tree leaves to goat that an appropriate was obtained from legume. 2) Mapping from legum that have highest dry matter in each  district . The analysis of land appropriateness in every land unit obtained from overlaying process of slope map, land morphology and management using Geographic Information System. The result showed that the highest energy source was Calliandra Calothyrsus and have dry matter content ranged from 30-40%. The land suitable for Calliandra Calothyrsus almost the same in districts more than 25%.  The land most suitable for Calliandra Calothyrsus  was located  in Sleman district. 
Keywords
Sistem Informasi Geografis; goat; Geographic Information System

DOI:
https://doi.org/10.22146/jml.18463
---
Article Metrics

Abstract views : 1394 |

views : 1560
Refbacks
There are currently no refbacks.
Copyright (c) 2017 Jurnal Manusia dan Lingkungan
JML Indexed by:

View My Stats