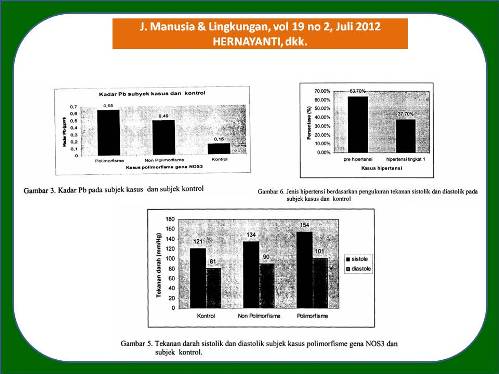 EFEK POLIMORFISME GENA NITRIT OKSIDA SINTASE3(NOS3) TERHADAP KADAR NITRIT OKSIDA DAN TEKANAN DARAH PADA INDIVIDU TERPAPAR PLUMBUM (The Effect of Polymorphisms Gene Nitric Oxide Synthase3 (NOS3) to Nitric Oxide Level and Blood Pressure on Lead-exposed Men)

https://doi.org/10.22146/jml.18532
Hernayanti Hernayanti
(1*)
, Sukarti Moeljopawiro
(2)
, Ahmad Hamim Sadewa
(3)
, Bambang Hariono
(4)
, Subagus Wahyuono
(5)
(1)&nbspFakultas Biologi Universitas Jenderal Soedirman, Purwokerto
(2)&nbspFakultas Biologi Universitas Gadjah Mada, Yogyakarta
(3)&nbspFakultas Kedokteran Universitas Gadjah Mada, Yogyakarta
(4)&nbspFakultas Kedokteran Hewan Universitas Gadjah Mada, Yogyakarta
(5)&nbspFakultas Farmasi Universitas Gadjah Mada, Yogyakarta
(*) Corresponding Author
Abstract
ABSTRAK
Penelitian ini bertujuan untuk mengidentifikasi efek polimorfisme gena nitrit oksida sintase3 terhadap kadar nitrit oks ida (NO) dan tekanan darah pada individu terpapar Plumbum. Metode penelitian menggunakan metode survai dengan rancangan kasus kontrol. Subjek kasus terdiri dari 30 orang pekerja bengkel mobil dan 30 orang subjek kontrol berasal dari pedesaan yang mewakili area yang tidak terpolusi Pb.Genotip individu ditentukan dengan metode PCR~RFLP. Parameter yang diukur adalah kadar NO, tekanan darah sistolik dan diastolik serta kadar Pb. Data dianalisis menggunakan uji t independent. Hasil penelitian menunjukkan bahwa 40% dari subjek kasus, terdeteksi sebagai individu pembawa polimorfisme gena NOS3 dengan genotip GA, sedangkan 60% dari subjek kasus dan subjek kontrol terdeteksi sebagai individu nonpolimorfisme gena NOS3 dengan genotip GG. Hasil uji t menunjukkan untuk parameter NO, tekanan sistolik, diastole serta Pb menunjukkan perbedaan yang sangat nyata an tara individu pembawa polimorfisme gena NOS3 dengan individu nonpolimorfisme. Kadar NO individu pembawa polimorfisme NOS3 lebih rendah dibandingkan individu nonpolimorfism. Sebaliknya kadar Pb, tekanan sistolik dan diastole individu pembawa polimorfisme gena NOS3 lebih tinggi dibandingkan individu nonpolimorfisme. Kesimpulan yang diperoleh adalah adanya polimorfisme gena NOS3 dan paparan Pb menyebabkan ketersediaan NO makin rendah dan meningkatkan kadar Pb, tekanan sistolik dan diastolik. Individu terpapar Pb pembawa polimorfisme gena NOS3 beresiko mengalami penyakit hipertensi yang lebih parah dibandingkan individu nonpolimorfisme terpapar Pb.
ABSTRACT
The aim of  these research were to identify  the effect of polymorphisms gene NOS3 to nitric oxide level and blood pressure on lead-exposed men. The research used survey method and case control design. These cases of subject were 30 autorepair workers and 30 subject control from village as non polluted area.  The genotype of individu  investigated  by  Polimerase Chain Reaction (PCR)- Restriction Fragment Length Polymorphisms (RFLP). The main parameters were nitric oxide (NO), blood pressure systole, dyastole and blood lead level. The data were analyzed by t test independent. These result showed that 40 % of cases subject  were detected as  individual polymorphism of gene NOS3 with GA alel. In contrast 60 %  of cases subject and control subject were detected as non individual polymorphism with GG alel. Result t test for three parameters i.e. NO, systole, diastole blood pressure and lead showed highly significant difference (p=0) between individual polymorphism and non polymorphism.  These research can be concluded that polymorphism of gene NOS3 on lead-exposed men influence bioability of  NO, systole and diastole blood pressure. Blood lead level, systole and diastole of individual polymorphism  are  higher than individual polymorphism. The risk of hypertension are more seriously on polymorphisms lead-exposure worker than non polymorphisms.
Keywords
Blood lead; polymorphisms gene NOS3; nitric oxide; hypertension

DOI:
https://doi.org/10.22146/jml.18532
---
Article Metrics

Abstract views : 1020 |

views : 1743
Refbacks
There are currently no refbacks.
Copyright (c) 2017 Jurnal Manusia dan Lingkungan
JML Indexed by:

View My Stats