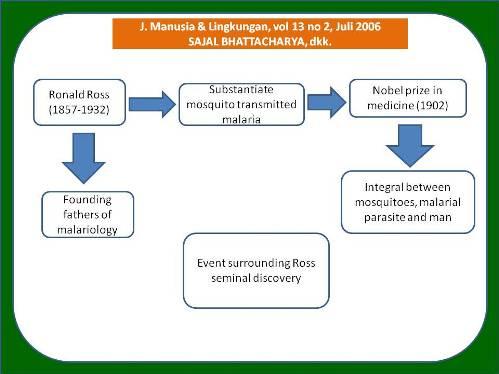 RONALD ROSS AND THE CRUSADE AGAINST MALARIA (ATRIBUTE TO ROSS'S 150th BIRTH ANNIVERSARY ON MAY 13,2007) (Ronald Ross dan Upaya Memerangi Malaria (Menyambut Hari Kelahiran Ross Ke 150 pada Tanggal 13 Mei 2007)

https://doi.org/10.22146/jml.18649
Ronald Ross
(1*)
, Debarshi Gupta Biswas
(2)
(1)&nbspDepartment of Zoology & PG Department of Environmental Science Asutosh College (University of Calcutta), Calcutta - 700 026.INDIA
(2)&nbspContent and Design Services Cognizant Technology Solutions. Calcutta - 700 091. INDIA
(*) Corresponding Author
Abstract
ABSTRACT
Ronald Ross ( 1857- 1932) was the first to substantiate that mosquito transmitted malaria. One among the founding fathers of malariology, he was awarded the second ever Nobel Prize in Medicine in 1902 for his work on establishing the integral connectivity between mosquitoes, malarial parasite, and man. Today, his researches have regained immense significance in the light of the threatening resurgence of malaria. This article examines the events surrounding Ross's seminal discovery.

ABSTRAK
Ronald Ross (1857-1932) adalah orang pertama di dunia yang membenarkan bahwa nyamuk menularkan malaria. Satu di antara banyak perintis penemuan di bidang malariologi, Ronald Ross dianugerahi Hadiah Nobel Kedokteran pada tahun 1902 untuk karya ilmiahnya yang menegaskan hubungan integral antara nyamuk, parasit malaria dan manusia. Dewasa ini, hasil-hasil penelitiannya kembali memperoleh nilai penting dalam hal kemunculan malaria yang kembali mengancam dunia. Makalah ini mengungkap kejadian-kejadian sekitar penemuan Ross tersebut yang kemungkinan masih berkembang di masa depan.

DOI:
https://doi.org/10.22146/jml.18649
---
Article Metrics

Abstract views : 893 |

views : 793
Refbacks
There are currently no refbacks.
Copyright (c) 2017 Jurnal Manusia dan Lingkungan
JML Indexed by:

View My Stats