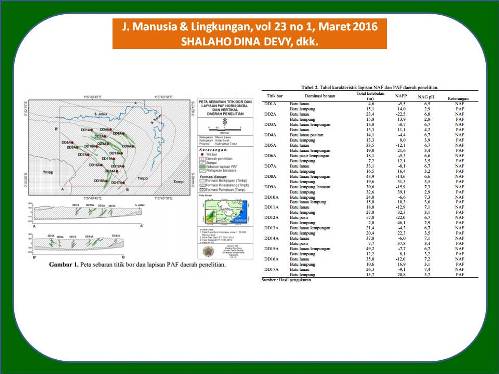 PEMODELAN PENYEBARAN BATUAN POTENSIAL PEMBENTUK ASAM PADA KAWASAN PENAMBANGAN BATUBARA TAMBANG TERBUKA DI MUARA LAWA, KABUPATEN KUTAI BARAT, KALIMANTAN TIMUR (Modeling Distribution of Rock Potential Acid Forming in Open Pit Coal Mining Areas)

https://doi.org/10.22146/jml.18770
Shalaho Dina Devy
(1*)
, Heru Hendrayana
(2)
, Dony Prakasa Eka Putra
(3)
, Eko Sugiharto
(4)
(1)&nbspJurusan Teknik Geologi, Fakultas Teknik, Universitas Gadjah Mada, Jl. Grafika No.2, Yogyakarta 55281. Jurusan Teknik Pertambangan, Fakultas Teknik, Universitas Mulawarman, Jl. Gn Kelua No.1, Samarinda 75123.
(2)&nbspJurusan Teknik Geologi, Fakultas Teknik, Universitas Gadjah Mada, Jl. Grafika No.2, Yogyakarta 55281
(3)&nbspJurusan Teknik Geologi, Fakultas Teknik, Universitas Gadjah Mada, Jl. Grafika No.2, Yogyakarta 55281
(4)&nbsp
(*) Corresponding Author
Abstract
ABSTRAK
Dampak penambangan batubara tambang terbuka adalah munculnya Air Asam Tambang (AAT) di sekitar lingkungan penambangan yang mempengaruhi kualitas air tambang, biota air, kualitas air dan tanah. Oleh karena itu, informasi awal untuk mengantisipasi dampak tersebut, yaitu identifikasi batuan yang berpotensi asam dan memodelkan penyebarannya. Kajian geologi dan mineralogi batuan berperan dalam mengetahui penyebaran batuan Potential Acid Forming (PAF) dan Non Acid Forming (NAF). Kawasan tambang yang digunakan sebagai model penelitian berada di Kecamatan Muara Lawa, Kabupaten Kutai Barat, Kalimantan Timur. Hasil dari penelitian mengindikasikan, bahwa dominasi PAF berada di lapisan batu lempung kemudian diikuti batu lanau dan batu pasir dengan penyebaran mengikuti struktur sinklin yang terbatas di lapisan bawah (floor) dan lapisan antara (inter burden) pada batubara. Sementara itu, batuan NAF menyebar menempati daerah selain batuan PAF.
ABSTRACT
The impact of open pit coal mining is the emergence of Acid Mine Water (AMD) around the mining environment that affect the quality of the mine water, aquatic biota, water and soil quality. Therefore, early information to anticipate these impacts is the identification potential acid rock and distribution model as a guide for the mining plan. Geological and geochemical study of rocks is important in knowing the distribution of rock Potential Acid Formning (PAF) and Non Acid Forming (NAF). Mining area which is used as a research model was in Muara Lawa, West Kutai regency, East Kalimantan province. The results of the study indicate, that the dominance of PAF are in layers followed by siltstone, claystone and sandstone with the distribution of rock following the syncline structure in the bottom (floor) layer and in the inter-burden layer on coal. Meanwhile, rock NAF spread in areas other than rock PAF.
Keywords
air asam tambang; batubara; dampak lingkungan; sinklin; tambang terbuka; acid mine water; coal; enviromentally impact; open pit mining; syncline
References
Ian, R., Taylor, J., Pape, S., Yardi, R., dan Bennett, J., 2007. Managing Acid and Metalliferous Drainage, Report for Departement of Industry Tourism and Resources, Australian Government, New South Wales, p. 95.
Jamal, A., Yadav, H.L., dan Pandey, S.S., 2015, Heavy Metal from Acid Mine Drainage in Coal Mines-A Case Study. European Journal of Advances in Engineering and Technology, 2(8):16–20.
Johnson, D.B., dan Hallberg, K.B., 2006. Acid Mine Drainage Remediation: A Review. Journal of Science of the Total Environment, 338:3–14.
Marthen, M., 2013. Identifikasi Potensi Pembentukan Air Asam Tambang, NAPP VS NTAPP, Buku Panduan, PT. Trubanindo Coal Mining, Kutai Barat.
Nugraha, C., Shimada, H., Sasaoka, T., Ichinose., M., dan Manage, M., 2009. Waste Rock Characteristics at Tropical Coal Mine Area: A Case Study of PT. Kaltim Prima Coal, Indonesia, International Journal of the JCRM, 5(2):77–82.
Quamruzzaman, C., Mondol, A.M., Ahmed, M.T., dan Ahmed, M.Z., 2014. A Proposal of Open Pit Coal Mine at the Northern Part of Barapukuria Coalfield, Dinajpur, Bangladesh, International Journal of Emerging Technology and Advanced Engineering, 4(3):482–488.
Supriatna, S., Sukardi, dan Rustandi, 1995. Peta Geologi Bersistem, Lembar Samarinda, Kalimantan sekala 1:250.000, Pusat Penelitian dan Pengembangan Geologi Bandung.
Sigh, G., 2006. Impact of Coal Mining in Mine Water Quality, International Journal of Mine Water, Dhanbad, p. 49–59.
Sand, W., Jozsa, P.G., Kovacs, S.M., Sasaren, N., dan Schippers, A., 2007. Long-term Evaluation of Acid Rock Drainage Mitigation Measures in Large Lysimeters. Journal of Geochemical Exploration, 92 (2-3): 205–211.
Zulkarnain, A., dan Abdiyanto, M.D., 2012. Pemodelan Geokimia batuan Penutup Area Binungan Blok 9 PT. Berau Coal, Seminar Air Asam Tambang di Indonesia Ke-4, Bandung, p. 23–30.

DOI:
https://doi.org/10.22146/jml.18770
---
Article Metrics

Abstract views : 4830 |

views : 3703
Refbacks
There are currently no refbacks.
Copyright (c) 2017 Jurnal Manusia dan Lingkungan
JML Indexed by:

View My Stats