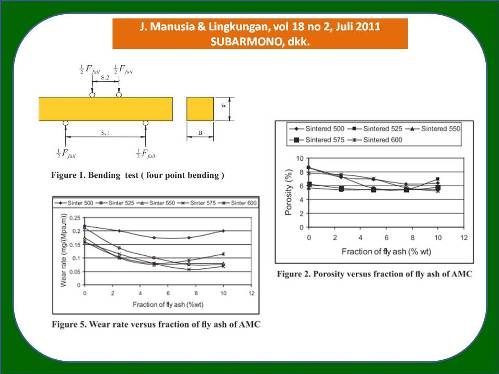 UTILIZATION OF FLY ASH WASTE AS REINFORCEMENT OF ALUMUNIUM MATRIX COMPOSITE PRODUCED USING POWDER MERALLURGY (Pemanfaatan Limbah Abu terbang sebagai Penguat Alumunium Metal Matrix Composite Dibuat dengan Cara Metaalurgi Serbuk)

https://doi.org/10.22146/jml.18814
Subarmono Subarmono
(1*)
, Jamasri Jamasri
(2)
, M.W. Wildan
(3)
, Kusnanto Kusnanto
(4)
(1)&nbspFakultas Teknik, Universitas Gadjah Mada, Yogyakarta
(2)&nbspFakultas Teknik, Universitas Gadjah Mada, Yogyakarta
(3)&nbspFakultas Teknik, Universitas Gadjah Mada, Yogyakarta
(4)&nbspFakultas Teknik, Universitas Gadjah Mada, Yogyakarta
(*) Corresponding Author
Abstract
ABSTRAK
Pada penelitian ini telah dilakukan pembuatan aluminium matrix composite (AMC) dari serbuk aluminium sebagai matrik dan limbah abu terbang sebagai penguat. Sejumlah abu terbang yaitu 2,5; 5; 7,5 dan 10% berat ditambahkan pada bubuk aluminium. Campuran abu terbang dan serbuk aluminium dikompaksi secara aksial dengan tekanan 100 MPa dan dilanjutkan dengan proses sintering tanpa tekanan dengan lingkungan gas argon pada berbagai temperatur yaitu 500˚, 525˚, 500˚, 575˚ dan 600˚C. Pengujian kekuatan bending menggunakan metode four point bending, kekerasan menggunakan metode Vickers, laju keausan menggunakan metode pin on disk dan porositas menggunakan metode Archimedes serta struktur mikro diamati menggunakan SEM. Hasil penelitian menunjukkan bahwa kekuatan bending dan kekerasan meningkat, laju keausan dan porositas menurun seiring dengan bertambahnya abu terbang pada AMC sampai 7,5% berat, namun bila kandungan abu terbang lebih dari 7,5% berat sifat AMC menunjukkan kebalikannya. Porositas, kekuatan bending, laju keausan dan kekerasan terbaik yaitu pada AMC dengan 7,5% berat abu terbang berturut-turut sebesar 5,4%, 68,5 MPa, 0,0571 mg/(MPa.m) and 62,6 VHN. Hal ini menunjukkan bahwa kekuatan bending, kekerasan dan ketahanan aus AMC lebih baik dibanding aluminium murni.
ABSTRACT
Aluminum matrix composite (AMC) has been prepared from aluminum fine powder as a matrix and fly ash waste as reinforcement. In this research the amount of fly ash as much as 2.5, 5, 7.5 and 10 wt%  was added to the aluminum fine powder. The mixture was compacted using uniaxial with a pressure of 100 MPa and it was pressureless sintered in argon atmosphere at various temperature of 500°, 525°, 550°,575° and 600ºC. Bending strength of AMC was determined using four point bending, hardness was tested using Vickers method, wear rate was tested using pin on disk method, porosity was tested using Archimedes method and the micro structure was observed using SEM. The result shows that fly ash can be used as reinforcement of AMC. The bending strength and Vickers hardness of AMC increase, wear rate and porosity of AMC decrease with increasing the fly ash content up to 7.5 wt%, while fly ash higher than 7.5 wt% causes a decrease. Porosity, bending strength, wear rate and hardness of AMC are 5.4%, 68.5 MPa, 0.0571 mg/(MPa.m) and 62.6 VHN, respectively. It show that bending strength, hardness and wear resistance of AMC are higher than pure aluminum

DOI:
https://doi.org/10.22146/jml.18814
---
Article Metrics

Abstract views : 775 |

views : 662
Refbacks
There are currently no refbacks.
Copyright (c) 2017 Jurnal Manusia dan Lingkungan
JML Indexed by:

View My Stats