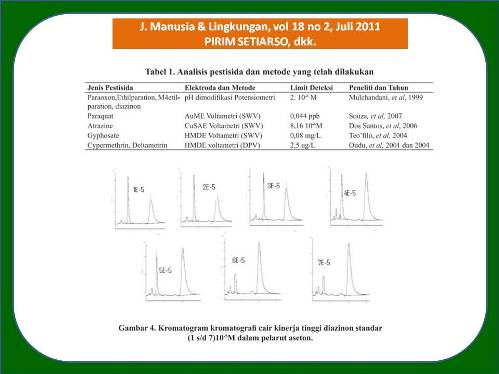 ANALISIS DIAZINON SECARA DIFERENSIAL PULSA VOLTAMETRI DIBANDINGKAN DENGAN KROMATOGRAFI (Diazinon Analysis with Differential Pulse Voltametry Compared to Chromatography)

https://doi.org/10.22146/jml.18815
Pirim Setiarso
(1*)
, Buchari Buchari
(2)
, Indra Noviandri
(3)
, Didin Mujahidin
(4)
(1)&nbspJurusan Kimia, Fakultas Matematika dan Ilmu Pengetahuan Alam, Universitas Negeri Surabaya
(2)&nbspJurusan Kimia, Fakultas Matematika dan Ilmu Pengetahuan Alam, Institut Teknologi Bandung
(3)&nbspJurusan Kimia, Fakultas Matematika dan Ilmu Pengetahuan Alam, Institut Teknologi Bandung
(4)&nbspJurusan Kimia, Fakultas Matematika dan Ilmu Pengetahuan Alam, Institut Teknologi Bandung
(*) Corresponding Author
Abstract
ABSTRAK
Telah dilakukan penelitian penentuan diazinon dari sampel tanah pertanian di beberapa kecamatan Kabupaten Nganjuk Jawa Timur menggunakan elektroda kerja tembaga amalgam padat (CuSAE) secara diferensial pulsa voltametri (DPV) dibandingkan dengan metode kromatografi. 100 g sampel tanah pertanian yang dihaluskan dengan ukuran 100 mesh diekstraksi menggunakan aseton. Ekstraksi dilakukan menggunakan ekstraktror soxhlet dengan 10 kali sirkulasi. Hasil ekstraksi sebagian ditambahkan surfaktan SDS untuk dianalisis secara voltametri menggunakan elektroda CuSAE dan sebagian dianalisis menggunakan kromatografi cair kinerja tinggi (HPLC). Analisis voltametri dilakukan pada pH 3 dengan elektrolit pendukung CaCl 2 menggunakan standar adisi, sedangkan analisis dengan HPLC menggunakan grafik standar. Berdasarkan data voltamogram dan kromatogram yang telah diolah dengan program origin 7.0 menghasilkan perolehan kembali rata-rata diazinon (97.40 ± 1.02) % pada voltametri dan (100.98 ± 7.10) % pada HPLC. Analisis diazinon kedua metode dibandingkan dengan uji t (t hitung = 0.4785 < t tabel = 2.31) sehingga tidak ada perbedaan hasil antara metode voltametri dan HPLC.
ABSTRACT
The research has been done for determination of diazinon in agricultural soil samples from several districts n Nganjuk, East Java . Solid copper amalgam (CuSAE) used  as a working electrode using differential ulse voltammetry (DPV) compared with chromatographic method. Around 100 g sample of agricultural soil ith a size 100 mesh was extracted using 100 ml acetone. The extraction was done using extractor oxhlet with 10 times the circulation. A part of the extraction  yield  was  added SDS surfactant for analysis by DPV,  and another part analyzed  by using high performance liquid chromatography (HPLC). Voltammetric analysis carried out at pH 3 with CaCl2 as a supporting electrolyte   using standard addition method, while the analysis by HPLC using calibration curve (standard graphic).Based on the data from voltammograms and chromatograms after processing data using Origin 7.0 programme, the  average of  recovery of diazinon found to be 97.40 ± 1.02 % and 100.98 ± 7.10 % using voltammetry  and HPLC methods, respectively. The results from both of methods compared using t test  (t count = 0.4785 < ttable = 2.31). Therefore, there is no difference between the results from voltammety method compared with HPLC method.

DOI:
https://doi.org/10.22146/jml.18815
---
Article Metrics

Abstract views : 2555 |

views : 1689
Refbacks
There are currently no refbacks.
Copyright (c) 2017 Jurnal Manusia dan Lingkungan
JML Indexed by:

View My Stats