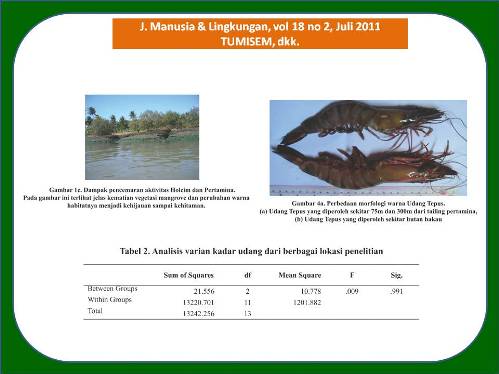 ANALISIS KADAR LOGAM DAN CARA MUDAH MENGENALI UDANG YANG TERAKUMULASI LOGAM: STUDI KASUS TENTANG UDANG DI SUNGAI DONAN CILACAP, JAWA TENGAH (Metal Content Analysis and Easily Recognize for Shrimps that Accumulates of Metal: Case Study about Shrimps)

https://doi.org/10.22146/jml.18816
Tumisem Tumisem
(1*)
, Endar Puspawiningtiyas
(2)
(1)&nbspPendidikan Biologi, Program Studi Pendidikan Biologi, Univ. Muhammadiyah Purwokerto
(2)&nbspTeknik Kimia Universitas Muhammadiyah Purwokerto
(*) Corresponding Author
Abstract
ABSTRAK
Penelitian tentang Analisis Kadar Logam dan Cara Mudah Mengenali Berbagai Udang yang Terakumulasi Logam dilakukan dengan: mengidentifikasi berbagai jenis udang, menganalisis kadar logam dan menganalisis secara morfologi berbagai jenis udang terkait dengan morfologi tubuhnya. Penelitian dilakukan di sepanjang Sungai Donan Cilacap dengan cara menangkap berbagai jenis udang di sepanjang sungai tersebut setiap musim. Analisis kadar logam dilakukan di Laboratorium Kimia Analitik UGM, identifikasi dan analisis morfologi udang dilakukan di Laboratorium Teknik Kimia UMP. Hasil identifikasi diperoleh enam jenis udang yaitu udang Tepus, Pletok, Jahe, Peci, Sikat, dan Wuku. Berdasarkan hasil analisis morfologi (warna tubuh) menunjukkan semua jenis udang yang berasal dari lokasi sekitar tailing semen dan pertamina berwarna lebih gelap (kehitaman atau hitam kemerahan), dan yang berasal dari lokasi sungai yang memiliki tanaman bakau adalah cerah dan segar (warna lebih kelihatan bening). Hasil analisis kadar logam jenis Cd dan Pb pada semua udang tidak terdeteksi, sedangkan analisis kadar Cu terdeteksi pada udang Pletok, Wuku dan Sikat dengan kadar melebihi baku mutu kesehatan 0,1 ppm. Rata-rata kadar Cu pada udang tersebut sebesar 66,256 ppm per 1000 gram udang kering. Dari hasil analisis morfologi (bentuk tubuh) dari semua jenis udang baik yang terakumulasi logam maupun tidak memiliki bentuk yang sama, sehingga tidak dapat menjadi patokan dalam mengenali udang yang tercemar logam. Berdasarkan penelitian di atas dapat disimpulkan udang yang terakumulasi bahan pencemar di atas standar keamanan pangan berwarna hijau kehitaman dan merah kehitaman, sedangkan udang yang tidak terakumulasi bahan pencemar berwarna putih segar.
ABSTRACT
Research on the metal content analysis and Easily Recognize for shrimps that accumulates of metal have done by identify various types of shrimps, metal content analysis, and analyzed morphologically various types of shrimp related to body morphology. The research was conducted along the Donan river in Cilacap by capturing various types of shrimps along the river each season. Metal content analysis conducted at the Laboratory of Analytical Chemistry in Gajah Mada University, and identification and morphological analysis of shrimps was done in the Laboratory of Chemical Engineering in Muhammadiyah University of Purwokerto. The identification results obtained by six species of shrimps, that is: Tepus, Pletok, Jahe, Peci, Sikat, dan Wuku.Based on the analysis of morphology (body color) show all types of shrimps that come from locations around the tailings of cement and Pertamina (black or reddish black), and that comes from location of the river which has a mangrove plants is bright and fresh (the color is more visible nodes). Result analysis of metal content about Cd, and Pb to types of shrimps was not detected, while the analysis of U content was detected in shrimp species: Plethok, Wuku, and Sikat with levels exceeding 0,1 ppm standard of health. The average Cu content in that shrimps at 66,256 ppm per 1000 grams of dried shrimp. From the morphological analysis (body shape) of all shrimps species which accumulate both metals and do not have the same shape, so as not to become a benchmark in identifying metal contaminated. Based on research can be concluded that pollutants accumulate over food safety standard of red black-green-black, while the shrimp are not accumulated pollutants fresh white.

DOI:
https://doi.org/10.22146/jml.18816
---
Article Metrics

Abstract views : 2782 |

views : 3246
Refbacks
There are currently no refbacks.
Copyright (c) 2017 Jurnal Manusia dan Lingkungan
JML Indexed by:

View My Stats