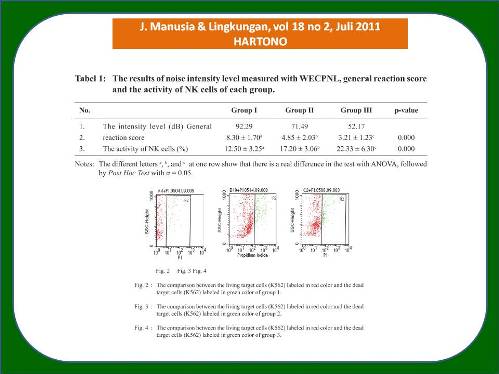 THE RELATIONSHIP OF THE GENERAL REACTION SCORE WITH THE NATURAL KILLER CELLS ACTIVITY AMONG WOMEN WITH AIRCRAFT NOISE EXPOSURE IN THE AREA OF ADI SOEMARMO AIRPORT SOLO (Hubungan antara general reaction score dengan aktivitas sel NK pada wanita)

https://doi.org/10.22146/jml.18818
Hartono Hartono
(1*)
(1)&nbspDepartment of Physiology, Sebelas Maret University School of Medicine
(*) Corresponding Author
Abstract
ABSTRAK
Paparan bising pesawat udara dapat berisiko terhadap kesehatan. Terdapat banyak bukti yang menunjukkan bahwa paparan bising pesawat udara dapat menyebabkan gangguan pendengaran, hipertensi, penyakit jantung iskemik, ketergangguan (annoyance), gangguan tidur dan penurunan prestasi sekolah. Sedangkan efek terhadap perubahan pada sistem imun dan lahir cacat, bukti-bukti masih terbatas. Penelitian ini bertujuan untuk mengetahui hubungan antara general reaction score dengan aktivitas sel NK pada wanita yang terpapar bising pesawat udara di sekitar bandara Adi Sumarmo Solo. Penelitian ini diharapkan dapat memberikan manfaat bagi pengembangan ilmu pengetahuan dan bagi masyarakat serta pemerintah daerah khususnya dalam upaya pencegahan terhadap dampak paparan bising pesawat udara. Rancangan penelitian adalah survei analitik dengan pendekatan cross sectional, dengan mengambil lokasi di Desa Dibal dan Gagak Sipat, Kecamatan Ngemplak, Kabupaten Boyolali. Penelitian dilaksanakan dari bulan Juli 2008 sampai dengan bulan Juni 2009. Jumlah keseluruhan sampel 39, terbagi dalam 3 kelompok; kelompok 1 terpapar bising intensitas 92,29 dB (13 responden); kelompok 2 terpapar bising intensitas 71,79 dB (13 responden); kelompok 3 terpapar bising intensitas 52,17dB (13 responden). Pengambilan sampel dengan cara simple random sampling. Data dianalisis menggunakan uji Anova diikuti dengan Post Hoc Test metode LSD dilengkapi dengan Homogenous Subsets. Uji Anova menujukkan ada perbedaan yang signifikan antar kelompok terhadap general reaction score yang ditunjukkan dari nilai p=0,000. Uji Pearson Correlation menunjukkan ada hubungan yang negatif antara general reaction score dengan aktivitas sel NK (r = – 0,631; p < 0,05).
ABSTRACT
Exposure to noise constitutes a health risk. There is sufficient scientific evidence that aircraft noise exposure can induce hearing impairment, hypertension and ischemic heart disease, annoyance, sleep disturbance, and decreased school performance. For other effects such as changes in the immune system and birth defects, the evidence is limited.The aims of the research is  to find out the correlation of the general reaction score with The Natural Killer cell activity among women with aircraft noise exposure in the area of Adi Sumarmo Airport Solo.The research findings are expected to contribute to the scientific knowledge development and to give benefits for local government and among people in the area of Adi Sumarmo Airport in preventing the effect of aircraft noise. The research design was an analytical survey with a cross sectional approach, taking place at the Dibal and Gagak Sipat Village, Ngemplak Sub district, Boyolali District. The research was conducted from July 2008 to June 2009. The number of respondens was 39. They were divided into 3 groups; group 1 was exposed to 92.29 dB of noise level (13 respondents); group 2 was exposed to 71.79 dB of noise level (13 respondents); and group 3 was exposed to 52.17 dB of noise level (13 respondents). The samples were taken using simple random sampling. The data were analyzed by Pearson Correlation and Anova followed by Post Hoc Test using LSD test completed with Homogenous Subsets. The Anova test showed that there was significant differences in the general reaction score among all groups (p = 0.000). The Pearson correlation test showed that there was a negative association between the general reaction score with the Natural Killer cells activity (r = - 0.613; p < 0.05).

DOI:
https://doi.org/10.22146/jml.18818
---
Article Metrics

Abstract views : 963 |

views : 555
Refbacks
There are currently no refbacks.
Copyright (c) 2017 Jurnal Manusia dan Lingkungan
JML Indexed by:

View My Stats