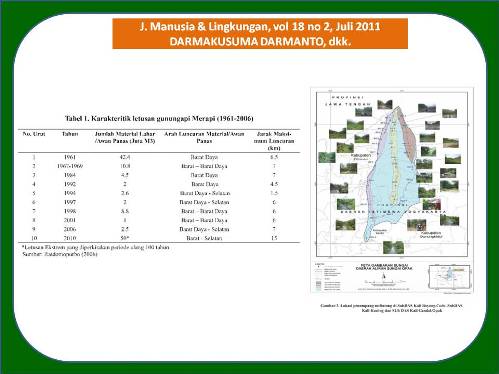 DAMPAK LINGKUNGAN PEMANFAATAN ALUR SUNGAI DI KALI BOYONG, KALI KUNING DAN KALI GENDOL (Environmental Impact of Utulization River Courses in Boyong River, Kuning River and Gendol River)

https://doi.org/10.22146/jml.18820
Darmakusuma Darmanto
(1*)
, Sudarmadji Sudarmadji
(2)
, Sutikno Sutikno
(3)
, Agus Maryono
(4)
(1)&nbspJurusan Geografi Lingkungan Fakultas Geografi Universitas Gadjah Mada
(2)&nbspJurusan Geografi Lingkungan Fakultas Geografi Universitas Gadjah Mada
(3)&nbspJurusan Geografi Lingkungan Fakultas Geografi Universitas Gadjah Mada
(4)&nbspJurusan Geografi Lingkungan Fakultas Geografi Universitas Gadjah Mada
(*) Corresponding Author
Abstract
ABSTRAK
Penelitian ini merupakan sebagian dari hasil studi Program Doktor (S3) pada lokasi penelitian di Kali Boyong, Kali Kuning dan Kali Gendol yang merupakan sungai yang secara periodik merupakan jalur limpahan material sedimen yang berasal dari aktivitas Gunungapi Merapi. Sehingga muncul permasalahan: (a) dampak erupsi terhadap fungsi alur sungai sebagai tempat menyimpan, mengalirkan dan memanfaatkan air pada wilayah yang padat penduduk dan (b) pemanfaatan alur sungai untuk kegiatan penambangan sirtu dan pertanian, sehingga perlu dikembangkan model pengelolaan lingkungan alur yang dapat meminimalkan dampak yang terjadi, sehingga fungsi alur sungai tetap optimal. Metodologi yang digunakan adalah metoda survei dengan cara melakukan pengamatan lingkungan dan pengukuran profil penampang sungai, pengambilan sampel material sedimen yang kemudian dianalisis di laboratorium mengenai diameter butir, berat jenis dan warna, wawancara kepada masyarakat penambang di sekitar wilayah penelitian pada setiap penggal sungai, pengambilan gambar dengan menggunakan foto-digital dan pengumpulan data sekunder. Data yang telah dikumpulkan kemudian dianalisis secara deskriptif pada setiap sungai dan antar sungai dengan pendekatan ekologis dan spasial. Berdasarkan kajian hasil dan pembahasan yang diperoleh dalam penelitian ini dan sesuai dengan tujuan penelitian yang ingin dicapai, maka dapat ditarik kesimpulan sebagai berikut: (a) Mendasarkan pada pendekatan ekologis subDas antara hulu-tengah-hilir dan antar subDas kondisi geometrik dari faktor-faktor fisik maupun biotik relatif sama antara Kali Boyong dan Kali Gendol/ Opak sedangkan untuk Kali Kuning agak berbeda karena merupakan "lokasi antara" perpindahan waktu aktivitas Gunungapi Merapi; dan (b) Pemanfaatan alur sungai oleh masyarakat sekitar lokasi maupun usaha pemerintah daerah menimbulkan gangguan kelancaran penyimpanan dan penyaluran air sungai pada alurnya dari hulu ke hilir, kegiatan tersebut adalah penambangan material sedimen pasir dan batu serta pemanfaatan lembah alur sungai untuk kegiatan pertanian, kedua hal tersebut menimbulkan dampak negatif yang menghambat pengaliran air sungai dari hulu ke hilir akan tetapi juga mendapatkan dampak positif dari kedua kegiatan tersebut paling tidak untuk tambahan PAD dan untuk kesejahteraan masyarakat sekitar lokasi kegiatan.
ABSTRACT
This study is a part of the Doctoral Program (S3), the location is in Boyong, Kuning and Gendol River, where periodically are used to transport the sediment material from Merapi volcano.The problems of study are: (a) there will be impact of the Merapi eruption to the fuction of the river channels or courses in storage and delivery for the water in the river, (b) the usage of river channels/courses from or sediment material minings, and water and land usages by the people for agriculture so that needed to developed a model to manage the river channel in an active volcano to keep the function of the channel optimal. The methodology are field surveying and laboratory analysis by measuring, observation, taking sediment samples, interviewing respondents in the surrounding area and taking field photoes from the profiling sections of the river. Data are used to analyze the result by using ecology and spatial approach. The result and evaluation conclusions are: (a) by using ecological and spatial approach the physical and the biological factors are seems to be similar at Boyong River and Gendol/Opak River compared to Kuning River this was due to an interrivercourse area, and (b) the usage of river channel by surroundings people and government makes negative impacts of the water storage and flow of water to downstream, but the mining activity of sand and boulders and agriculture will produce positive impacts to the government and surroundings people

DOI:
https://doi.org/10.22146/jml.18820
---
Article Metrics

Abstract views : 3923 |

views : 2391
Refbacks
There are currently no refbacks.
Copyright (c) 2017 Jurnal Manusia dan Lingkungan
JML Indexed by:

View My Stats