IJEIS (Indonesian Journal of Electronics and Instrumentation Systems), a two times annually provides a forum for the full range of scholarly study. IJEIS scope encompasses all aspects of Electronics, Instrumentation and Control. IJEIS is covering all aspects of Electronics and Instrumentation including Electronics and Instrumentation Engineering. The journal publishes original research papers, short communications, and review articles both written in Engish or Bahasa Indonesia. The paper published in this journal implies that the work described has not been, and will not be published elsewhere, except in abstract, as part of a lecture, review or academic thesis. Paper may be written in English or Indonesian, however paper in English is preferred.
---
| | |
| --- | --- |
| Accreditated | "B" by the Ministry of Research-Technology and Higher Education Republic of Indonesia: 48a/E/KPT/2017 PERIOD: 2017-2022. |
| Initials | IJEIS |
| Abbreviation | Indonesian J. Electron. Instrum. Syst. |
| DOI | prefix 10.22146 by |
| Citation Analysis | SCOPUS | Google Scholar |
---
Please read these journal guidelines and template carefully. Authors who want to submit their manuscript to the editorial office of IJEIS (Indonesian Journal of Electronics and Instrumentation Systems) should obey the writing guidelines. If the manuscript submitted is not appropriate with the guidelines or written in a different format, it will BE REJECTED by the editors before further reviewed. The editors will only accept the manuscripts which meet the assigned format.
IJEIS is published two times annually, April and October by the Indonesian Computer, Electronics and Instrumentation Support Society (IndoCEISS) in colaboration with the Department of Computer Science and Electronics, Faculty of Mathematics and Natural Sciences, Gadjah Mada University, Yogyakarta.
Since 2016, Open Journal Systems (OJS) has been applied for all business process in IJEIS. Therefore, the authors are required to register in advance and upload the manuscript by online. The process of the manuscript could be monitored through OJS. Authors, readers, editorial board, editors, and peer review could obtain the real time status of the manuscript. Several other changes are informed in the Journal History.
IJEIS (Indonesian Journal of Electronics and Instrumentation Systems), with registered number ISSN
2088-3714
(print), ISSN
2460-7681
(online).
Please Download Template HERE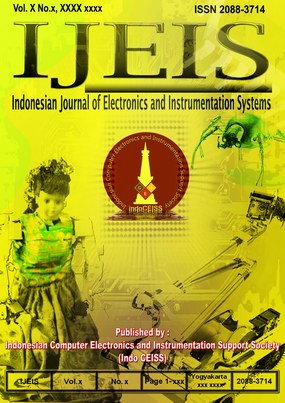 Announcements
IJEIS - Accreditated "B" by the Ministry of Research-Technology and Higher Education Republic of Indonesia

Dear IJEIS contributors,

Proudly I announce you that Indonesian Journal of Electronics and Instrumentations Systems (IJEIS) has reach another great achievement. The most recent achievement is :

1. ACCREDITATED with "B" grade by Ministry of Research, Technology and Higher Education of the Republic of Indonesia, Decree No. 51/E/KPT/2017, December 4, 2017.

2. IJEIS (Indonesian Journal of Electronics and Instrumentations Systems) is indexed in ASEAN Citation Index (ACI).

It is impossible to get without your marvelous participation. Therefore we would like to invite you to contribute your best article to boost our journal reputation.

Once more, thank you for your participation.

IJEIS Editorial Team
http://jurnal.ugm.ac.id/ijeis
Posted: 2018-01-17

Important Dates IJEIS

Journal Publication: 30 April 2019

Posted: 2017-02-13
More...

Call For Paper IJEIS

Published by the Indonesian Computer, Electronics and Instrumentation Support Society (IndoCEISS) in colaboration with Department Computer Science and Electronics, Faculty of Mathematics and Natural Sciences, Gadjah Mada University, Yogyakarta on April and October.

Posted: 2017-01-20
Vol 9, No 1 (2019): April
Available Online since April 30, 2019
Table of Contents
Articles
Elga Ridlo Sinatriya, Muhammad Idham Ananta Timur, Ika Candradewi

10.22146/ijeis.27818

Abstract views : 479 |

views : 478

1-10
Faisal Fajri Rahani, Tri Kuntoro Priyambodo

10.22146/ijeis.37212

Abstract views : 405 |

views : 332

21-32
Aditya Surya Wijaya, Nurul Chamidah, Mayanda Mega Santoni

10.22146/ijeis.38729

Abstract views : 539 |

views : 512

33-44
Rahman Faisal, Roghib Muhammad Hujja

10.22146/ijeis.41017

Abstract views : 469 |

views : 357

55-64
Nia Gella Augoestien, Ryan Aditya

10.22146/ijeis.43906

Abstract views : 421 |

views : 337

65-74
Agfianto Eko Putra, Unggul Adhi Nugroho, Bakhtiar Alldino Ardi Sumbada, Catur Atmaji

10.22146/ijeis.44299

Abstract views : 515 |

views : 423

75-86
Raden Sumiharto, Rosyidatul Ilma, Rif'Atunnisa Rif'Atunnisa

10.22146/ijeis.44449

Abstract views : 571 |

views : 345

87-96
Ilona Usuman, Widodo Prijodiprodjo, Prima Asmara Sejati

10.22146/ijeis.44751

Abstract views : 504 |

views : 307

97-106