Jurnal Online Universitas Gadjah Mada adalah sistem penerbitan online berbasis Open Journal System yang diterbitkan oleh Universitas Gadjah Mada.
Identify OAI address: https://jurnal.ugm.ac.id/[path_jurnal]/oai?verb=Identify
Apabila ada pertanyaan lebih lanjut terkait Jurnal Online UGM (pembuatan jurnal, pelatihan jurnal, pelaporan bug atau error) silahkan menghubungi Badan Penerbit dan Publikasi UGM dinomor (0274) 6491963 email bpp[at]ugm.ac.id.
---
A B C D E F G H I J K L M N O P Q R S T U V W X Y Z All
Poetika : Jurnal Ilmu Sastra
POETIKA is a half-yearly journal published by the literary studies program of gadjah mada university. It is founded in 2011, with registered number ISSN 2338-5383 (print), 2503-4642 (online). It provides forum for the scholar of literary studies with special interest in Arabic, English, French, Indonesia and Japanese literature. Thus the editorial board accept the articles within the scope of literary studies with various application of theory.
Book our Print Edition
Booking Poetika Journal print edition can be done by:
1. Purchase directly by coming to the Ilmu Sastra office at the address: FIB UGM Lt.2 , Jalan Sosiohumaniora, Bulaksumur, Yogyakarta 55281
2. Purchase online by mailing to Poetika's email address: jurnalpoetika.fib@ugm.ac.id
---
View Journal | Current Issue | Register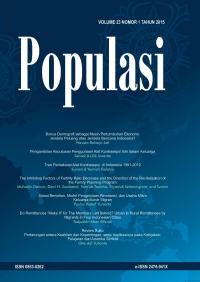 Populasi
Jurnal Populasi adalah jurnal kependudukan dan kebijakan yang bersifat multidisipliner dan bertujuan mewadahi pertukaran gagasan dan hasil penelitian mengenai isu-isu terkait kependudukan dan kebijakan. Jurnal Populasi diterbitkan oleh Pusat Studi Kependudukan dan Kebijakan Universitas Gadjah Mada berkantor di Gedung Masri Singarimbun Jalan Tevesia Bulaksumur Yogyakarta 55281, No tlp: (0274) 547867, 6491153. Fax: (0274) 556563.
Jurnal Populasi: Volume 1 (1990) – 24 (2016)
Jurnal Populasi telah terdaftar ISSN 0853-0262 (print) ISSN 2476-941X (online) dan terbit dua kali setahun, setiap bulan Juni dan Desember. Jurnal Populasi menerima tulisan berkualitas tinggi dan orisinil tentang kebijakan sosial, kemiskinan, keluarga berencana, kesehatan reproduksi, ketenagakerjaan, lingkungan dan penduduk, migrasi, kriminalitas, kenakalan remaja, dan isu-isu lain terkait kependudukan dan kebijakan.