Poetika: Jurnal Ilmu Sastra is twice a year open access journal focusing on the critical analysis and interpretation of literature through structural, post-structural, post-modern, and post-colonial approaches, with specific preference given to under-represented works and those that foreground marginalized peoples and groups. Submitted articles should provide a critical perspective on contemporary works and contribute to current debates within contemporary literature.
Poetika: Jurnal Ilmu Sastra is published by the post-graduate program of literature of the Faculty of Cultural Sciences, Universitas Gadjah Mada. The journal is currently accredited by the National Research and Innovation Agency of Indonesia (Sinta 2) and indexed in DOAJ. The accreditation documents and the milestones are available on our Journal History page.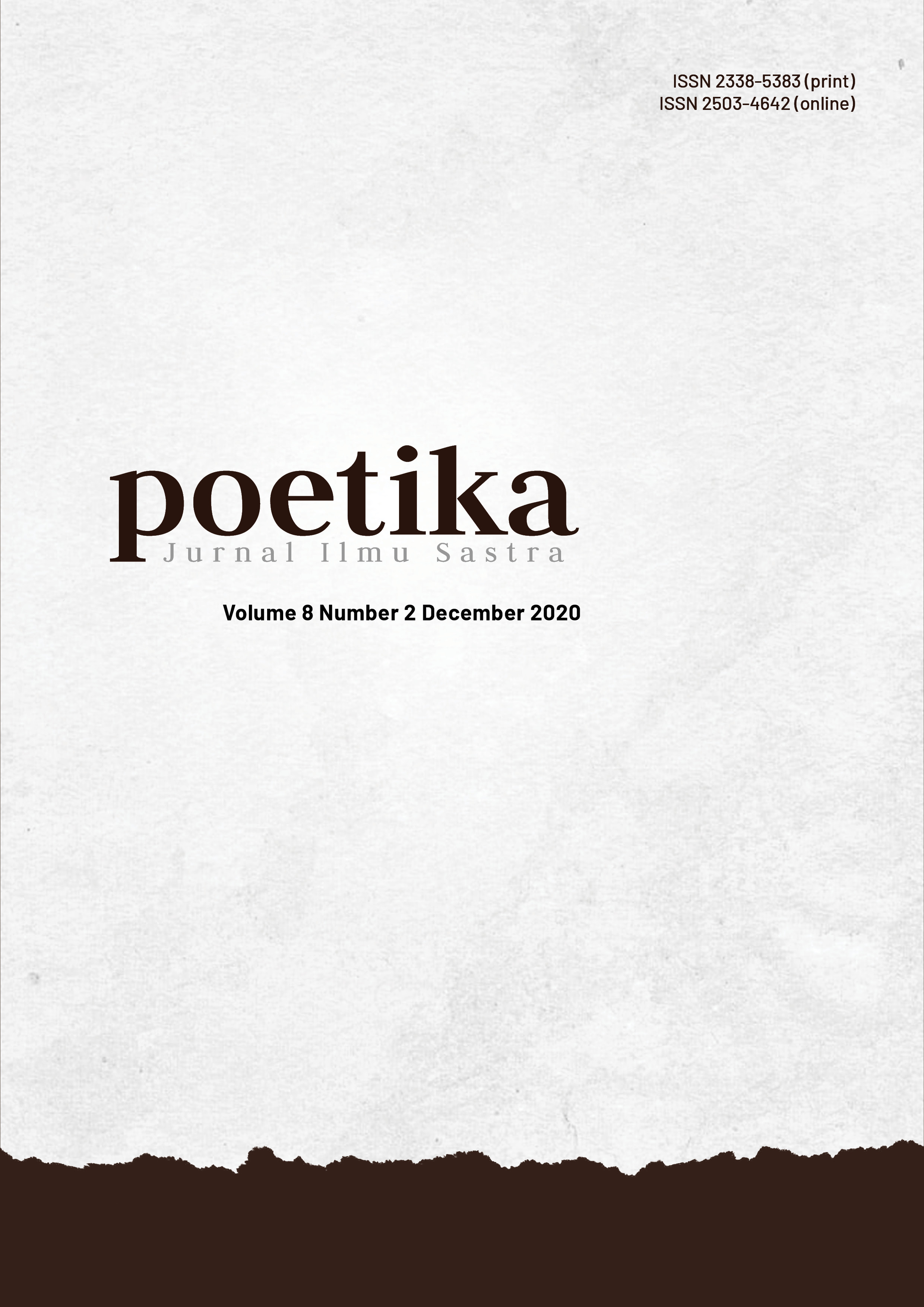 Book our Print Edition
Booking Poetika Journal print edition can be done by:
Purchase directly by coming to the Ilmu Sastra office at the address: Gedung Margono FIB UGM Lt.3, N0. 301 Jalan Sosiohumaniora, Bulaksumur, Yogyakarta 55281
Purchase online and any inquiry please mail to Poetika's email address: jurnalpoetika.fib@ugm.ac.id
Announcements
No announcements have been published.
Vol 10, No 1 (2022): Issue 1
Table of Contents
Articles
Akhida Rukhul Qisthi, Muhammad Jibran Zuliansyah, Sarirotul Ishmah, Umu Hana Amini, Diana Kurniawati, Asep Yudha Wirajaya

10.22146/poetika.v10i1.69221

Abstract views : 0 |

views : 0

31-39
Muhammad Rizqy Al-Mubarok, Tya Asih Dayu Purwitasari, Rekno Wulandari Pambudi

10.22146/poetika.v10i1.64791

Abstract views : 0 |

views : 0

50-60