Jurnal Online Universitas Gadjah Mada adalah sistem penerbitan online berbasis Open Journal System yang diterbitkan oleh Universitas Gadjah Mada.
Identify OAI address: https://jurnal.ugm.ac.id/[path_jurnal]/oai?verb=Identify
Apabila ada pertanyaan lebih lanjut terkait Jurnal Online UGM (pembuatan jurnal, pelatihan jurnal, pelaporan bug atau error) silahkan menghubungi Badan Penerbit dan Publikasi UGM dinomor (0274) 6491963 email bpp[at]ugm.ac.id.
---
A B C D E F G H I J K L M N O P Q R S T U V W X Y Z All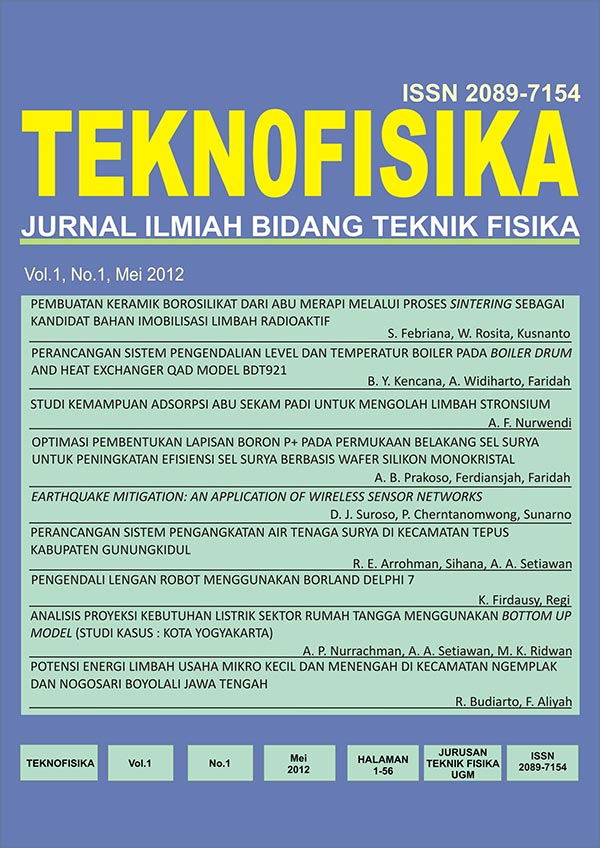 Teknofisika
View Journal | Current Issue | Register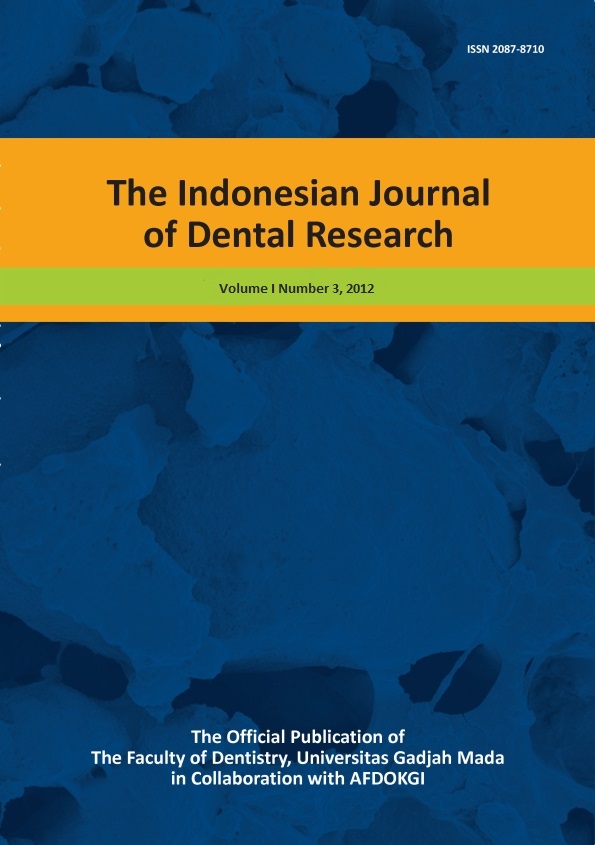 The Indonesian Journal of Dental Research
The Indonesian Journal of Dental Research is an international journal dedicated to the latest advancement of dental research in Indonesia and Asia Pacific regions. The goal of this journal is to provide a platform for dentists and academicians all over the world to promote, share, and discuss various new issues and developments in different areas of dental and oral sciences. All manuscripts must be prepared in English, and are subject to a rigorous and fair peer-review process. Accepted papers will immediately appear online followed by printed hard copy. The journal publishes original papers including but not limited to the following fields:
Dental Biomedical Sciences
Oral Sciences
Biomaterials
Community and Preventive Dentistry
Prosthodontics
Orthodontics
Oral Medicine
Oral and Maxillofacial Surgery
Conservative and Endodontics
Pediatric Dentistry
Periodontology
Tissue Engineering
Radiology and Dental Technology
View Journal | Current Issue | Register
Traditional Medicine Journal
Traditional Medicine Journal (Majalah Obat Tradisional) abbreviated Trad. Med. J. (ISSN-p 1410-5918 and ISSN-e 2406-9086) is an international scientific journal published three times annually. The journal receives papers on research laboratory, field research, and case studies of traditional medicine and its constituent, covering a wide range of research topic papers, including raw materials, cultivation, phytochemical, pharmacological effects and toxicology, formulation, and biotechnology.
The journal is a peer reviewed multi-disciplinary traditional medicine journal published by the Faculty of Pharmacy, Universitas Gadjah Mada, Indonesia, in collaboration with Indonesian Pharmacist Association, Daerah Istimewa Yogyakarta, and is dedicated to all researches and development in traditional medicine.
Traditional Medicine Journal receives and publishes rewiev articles, original research articles, and short communications in both English (preferably) and Indonesian. The journal is indexed in:
Google Scholar
Inherent DigiLib
vikaspsoar
worldcat
We hope that Traditional Medicine Journal will contribute to the advancement of traditional medicine.
Paper submitted to this journal are FREE OF CHARGES.
Editor in Chief
Prof. Dr. Subagus Wahyuono, Apt.