The Indonesian Journal of Dental Research is an international journal dedicated to the latest advancement of dental research in Indonesia and Asia Pacific regions. The goal of this journal is to provide a platform for dentists and academicians all over the world to promote, share, and discuss various new issues and developments in different areas of dental and oral sciences. All manuscripts must be prepared in English, and are subject to a rigorous and fair peer-review process. Accepted papers will immediately appear online followed by printed hard copy. The journal publishes original papers including but not limited to the following fields:
Dental Biomedical Sciences
Oral Sciences
Biomaterials
Community and Preventive Dentistry
Prosthodontics
Orthodontics
Oral Medicine
Oral and Maxillofacial Surgery
Conservative and Endodontics
Pediatric Dentistry
Periodontology
Tissue Engineering
Radiology and Dental Technology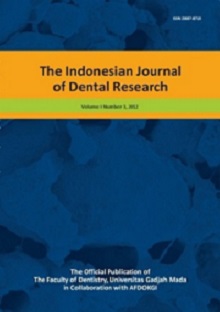 Announcements
No announcements have been published.
Vol 1, No 1 (2012)
Table of Contents
Articles
Sapta Adisuka Mulyatno, Kosuke Kataoka, Makoto Fukui, Tselmeg Baatarjav Rita Cristina Orihuela Campos, Hiro-O Ito

10.22146/theindjdentres.65711

Abstract views : 994 |

views : 487

10-20
Sana Mohammed Alrefae, Siti Sunarintyas, Widowati Widowati

10.22146/theindjdentres.65714

Abstract views : 1314 |

views : 779

29-35
Karina Dhaniarti, Fathia Agzarine Deandra, Ariadna A Djais, Boy M Bachtiar

10.22146/theindjdentres.65715

Abstract views : 1620 |

views : 734

36-43