Jurnal Ketahanan Nasional  shortened as JKN is the journal specifically to consists of 8 aspects (Asta Gatra) namely Geography, Natural Resources, Demography, Ideology, Politics, Economics, Social-Culture, and Defense and Security. National Resilience Journal is Indonesian language scientific periodicals managing by the National Resilience Study Program Graduate School Universitas Gadjah Mada and cooperation with National Resilience Institute of Republic of Indonesia (LEMHANNAS RI). Jurnal Ketahanan Nasional  has been accredited since 26  April  2017  based on the decision of Ministry of Higher Education No. 32a/E/KPT/2017. It is published three times a year quarterly on April, August and December. Editorial staff accepts script in accordance with journal perspective and mission namely writing focusing on the study and development of Pancasila moral, cultural minded, populist spirited, and independence. The script acceptance process is conducted for the whole year. The accepting script to editorial will be processed with double-blind peer review before received to publish.     
Ketahanan Nasional Journal was first published in 1st December 1996, and published online since 2016 with printed ISSN 0853-9340(Print) and daring version ISSN 2527-9688 (Online)
Since 2016 Ketahanan Nasional Journal has used Open Journal System (OJS). The writers should register before upload the script online. Editor, peer review and writers are able to observe the script process. Ketahanan Nasional Journal Author Guidelines, Publication Ethics, Script Originality Statement, and Author Fess are able to be downloaded at this template. Several other changes are informed in the Journal History.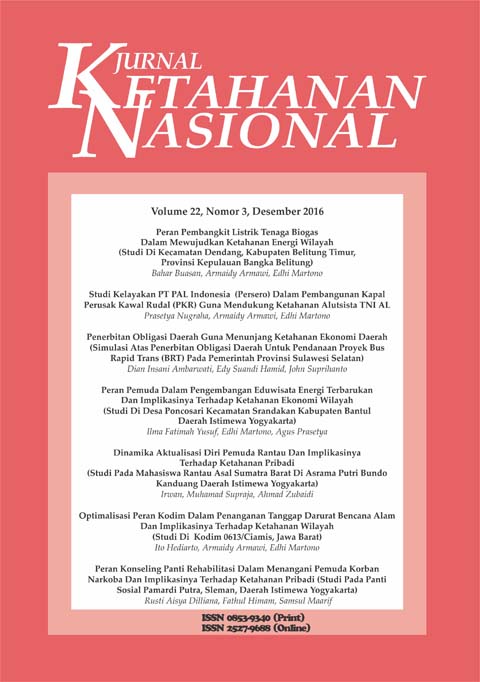 Announcements
Call for Papers August 2017

The executive team of JKN(Jurnal Ketahanan Nasional) invites the author to submite their article here. Futurre issue for August 2017, Volume 23, issues 2.
Posted: 2016-10-03
More...
Vol 23, No 1 (2017)