Jurnal Kesehatan Reproduksi is a scientific journal published by Association of Women and Children Reproductive Health Enthusiasts and Experts/Ikatan Pemerhati Anak dan Kesehatan Reproduksi/IPAKESPRO) who works closely with the Department of Obstetrics and Gynaecology, Faculty of Medicine, Public Health and Nursing, University of Gadjah Mada.
Jurnal Kesehatan Reproduksi first printed version was published in 2014 with ISSN 2302-836X. In 2016, we also have an online journal version with ISSN 2621-461X. Jurnal Kesehatan Reproduksi was designated as scientific periodicals accredited dated on December 10, 2018 by the Director General of Strengthening the Research, Technology and Higher Education of the Republic of Indonesia No. 34 / E / KPT / 2018 and is valid for 5 years PERIOD: 2018-2023. 
Currently, we already use the Online Journal System, requiring all authors to submit their papers online. Afterwards, authors, editors and reviewers will be able to monitor the manuscript processing.
This journal is published annually every April, August and December. Submission of the manuscript is done throughout the year using direct online submission in https://jurnal.ugm.ac.id/jkr. All submitted papers will be reviewed according to rules and regulation. At present, the reviewing process is performed using single blind peer review; but in the future we will use double blind peer review. Reviewers will declare which manuscripts deserves to be published through online information.
This journal is a media of information and scientific knowledge which contains research articles and case reports in the field of reproductive health issues in women, children, and adolescents; including pregnant women health, gynecology issues and family planning. It is also accommodating the the development of reproductive health problems through interdisciplinary and multidisciplinary approach:
Medical Education in women reproductive health
Child and adolescent gynecology
Psychiatry in Women Health-Related Reproductive Problems
Nutrition in Women Health and Reproduction Sciences
Fertility and Infertility
Urogynecology
Endometriosis
Endocrinology in reproductive health
Menopause
Puberty
High risk pregnancy
Emergency obstetrics
Polycystic Ovary Syndrome
Menstrual Syndrome and Complications
Oncology of Female Reproductive Organs
Complimentary medicine Medicine in Women Reproductive Health
Ultrasound in Women Health Reproduction sciences
Female Sexual Dysfunction: Pathophysiology & Treatment
Jurnal Kesehatan Reproduksi  (JKR) has indexed by: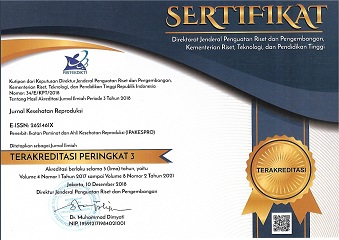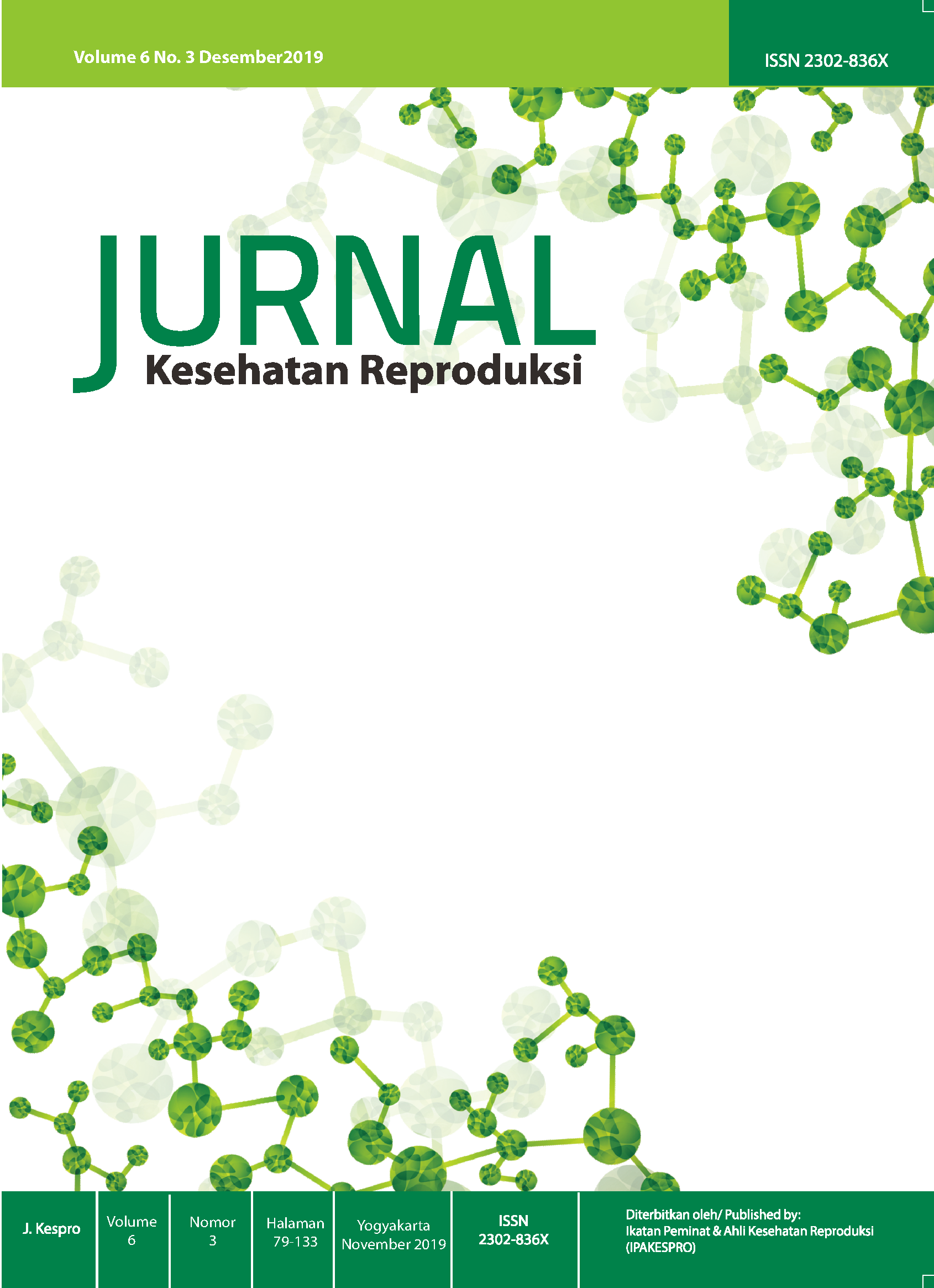 Announcements
Call for Papers

Dengan ini kami mengundang penulis untuk mengirimkan manuskrip ke Jurnal Kesehatan Reproduksi.
Posted: 2018-08-29
More...
Vol 8, No 1 (2021)
Table of Contents
Research Article
Eis Damayanti, Irwan Taufiqurrachman, Eugenius Phyowai Ganap

10.22146/jkr.64361

Abstract views : 13 |

views : 11

1-7
Arista Gunawati, Wenny Artanty Nisman

10.22146/jkr.56294

Abstract views : 8 |

views : 12

8-17
Popy Apri Yanti, Atik Triratnawati, Dhesi Ari Astuti

10.22146/jkr.58017

Abstract views : 8 |

views : 17

18-22
Dini Mahrani, Ahsanudin Attamimi, Ardhanu Kusumanto

10.22146/jkr.64362

Abstract views : 23 |

views : 4 |

views : 12 |

views : 8

23-30
Nabila Arnest Amorita, Ira Syahriarti

10.22146/jkr.63936

Abstract views : 19 |

views : 8 |

views : 9 |

views : 4

31-36
Martha Chaterince Silitonga, Shofwal Widad, Ova Emilia

10.22146/jkr.64359

Abstract views : 18 |

views : 4 |

views : 8 |

views : 8

37-46
Eka Vicky Yulivantina, Mufdlilah Mufdlilah, Herlin Fitriana Kurniawati

10.22146/jkr.55481

Abstract views : 22 |

views : 8 |

views : 8

47-53
Dewanto Suryoningrat, Abdurahman Laqif, Soetrisno Soetrisno, Uki Retno Budihastuti, Sri Sulistyowati

10.22146/jkr.63039

Abstract views : 63 |

views : 13 |

views : 8

54-58