Biologi dan Statistik Demografi Coccinella transversalis Thunberg (Coleoptera: Coccinellidae), Predator Aphis gossypii Glover (Homoptera: Aphididae)

https://doi.org/10.22146/jpti.28409
Siska Efendi
(1*)
, Yaherwandi Yaherwandi
(2)
, Novri Nelly
(3)
(1)&nbspProgram Studi Agroekoteknologi, Fakultas Pertanian, Universitas Andalas Kampus III Dharmasraya. Jln. Lintas Sumatera Km 4, Pulau Punjung, Sumatera Barat 27673
(2)&nbspProgram Studi Proteksi Tanaman, Fakultas Pertanian, Universitas Andalas, Gedung Faperta, Limau Manis, Kota Padang, Sumatera Barat 25164
(3)&nbspProgram Studi Proteksi Tanaman, Fakultas Pertanian, Universitas Andalas, Gedung Faperta, Limau Manis, Kota Padang, Sumatera Barat 25164
(*) Corresponding Author
Abstract
Biology and demographic statistics of lady beetle Coccinella  transversalis Thunberg (Coleoptera: Coccinellidae) using Aphis gossypii (Hemiptera: Aphididae) as prey was studied in laboratory. Development of  C. transversalis from egg to adult was 31.02±4.73 days. The egg stage lasted for 2.33±0.58 days. Larva stage has four instars, which lasted for 2.43±0.19 days (instar I); 2.53 days±0.19 (instar II); 2.64±0.04 days (instar III), and 2.77±0.21 days (instar IV). A female laid 90.44±14.38 eggs. Meanwhile, gross reproduction rate (GRR) of C. transversalis was 74.80 individuals per generation, the net reproduction rate (R0) was 18.22 individual per female per generation, the innate capacity for increase (rm) was 0.46 individual female per day, the mean generation time (T) 12.40 days, and the double population value (DT) was 1.51 days.
Intisari
Masa perkembangan pradewasa dan imago serta keperidian Coccinella  transversalis (Thunberg) (Coleoptera: Coccinellidae) telah diteliti di laboratorium dengan menggunakan Aphis gossypii (Glover) (Homoptera: Aphididae) sebagai mangsa. Masa perkembangan C. transversalis sejak stadium telur hingga menjadi imago adalah 31,02±4,73 hari. Perkembangan larva terdiri dari empat instar, masa perkembangan instar I sampai IV berturut-turut adalah 2,43±0,19 hari; 2,53±0,19 hari; 2,64±0,04 hari, dan 2,77±0,21 hari, dengan masa pupa 3,18±0,77 hari. Umur imago betina C. transversalis lebih panjang jika dibandingkan dengan imago jantan yakni 15,14±1,90 dan 13,63±1,00 hari. Imago betina meletakkan telur setelah melewati masa pra oviposisi selama 2,67±0,58 hari. Masa oviposisi C. transversalis yakni 8,97±0,89 hari dengan jumlah telur yang diletakkan yakni 90,44±14,38 butir. Parameter demografi C. transversalis adalah laju reproduksi kotor (GRR) adalah 74,80 individu per generasi; laju reproduksi bersih (Ro) 18,22 individu per induk per generasi; laju pertumbuhan intrinsik (rm) sebesar 0,46 individu per induk per hari; masa rata-rata generasi (T) selama 12,40 hari; dan nilai pelipatgandaan populasi (DT) adalah 1,51 hari.
Keywords
Aphididae sp, chili, Coccinellidae, lady beetle, predator
References
Ali A., P.Q. Rizvi, M. Pathak. 2009. Reproductive Performance of Coccinella transversalis Fabricius (Coleoptera: Coccinellidae) on Different Aphid Species. Biosystematica 3: 37-41.
Ali, A dan P.Q, Rizvi. 2009. Age and Stage Specific Life-Table of Coccinella transversalis with Regards to Various Temperatures. Tunisian Journal of Plant Protection 4 : 211-220.
Andrewartha, H.G.  1982. Selections from The Distribution and Abundance of Animals. University of Chicago, Chicago. 283 p.
Aslan, M.M., N. Uygun. 2005. The Aphidophagus Coccinellid (Coleoptera: Coccinellidae) species in Kahramanmaras, Turkey. Turkish Journal of Zoology. 29: 1 – 8.
Birch, L.C. 1948. The Intrinsic Rate of Natural Increase of an Insect Population. Journal of Animal Ecology 17: 15-26.
Bukero, A., A.G.Lanjar., A.W.Solangi. 2014. Biology of Coccinella Transversalis Fab. on Aphis nerii Under Laboratory Conditions. Science International (Lahore) 27: 3289-3292.
Chakraborty, D., D.M Korat. 2014. Biology, Morphometry and Feeding Potential of Coccinella Transversalis Fabricious. Thebioscan 9: 1101-1105.
Debaraj, Y. dan T.K. Singh. 1990. Biology of an Aphidophagous Coccinellid Predator, Coccinella transversalis Fab. Journal of Biological Control 4: 93-95.
Kontodimas D.C., P.G. Milonas, G.J. Stathas, N.E. Papanikolaou, A. Skourti, Y.G. Matsinos. 2003. Life Table Parameters of the Aphid Predators Coccinella septempunctata, Ceratomegilla undecimnotata and Propylea quatuordecimpunctata (Coleoptera: Coccinellidae). European Journal of Entomology 105: 427–430.
Efendi, S., Yaherwandi, N. Nelly. 2016. Analisis Keanekaragaman Coccinellidae Predator dan Kutu Daun (Aphididae spp) pada Ekosistem Pertanaman Cabai Jurnal Bibiet 1: 67-80.
Efendi, S., Yaherwandi, N. Nelly. 2016. Studi Preferensi dan Tanggap Fungsional Menochilus sexmaculatus dan Coccinella transversalis pada Beberapa Mangsa yang Berbeda. p. 125-131.  Di dalam: Ahmad, D.S., Muhammad, R., Deby, F.L., Diaga, W.P., Krisanty, K., Muhammad, A.R., Nor, L. (ed.),: Revitalisasi Produksi Komiditas Pertanian: Upaya Menjamin Kedaulatan Pangandan Menjaga Ketersediaan Bahan Baku Industri. Prosiding Masyarakat Biodiversitas Indonesia, Padang, 23 April 2016. Masyarakat Biodiversitas Indonesia, Solo. 125-131.
Evans, E.W. 2000. Egg Production in Response to Combined Alternative Food by the Predator Coccinella transversalis. Entomologia Experimentalis et Applicata 94: 141-147.
Fiaboe, K.K.M., M.G.C. Gondim Jr, G.J. de Moraes, C.K.P.O. Ogol, and M. Knapp. 2007. Bionomics of the acarophagous ladybird beetle Stethorus tridens fed Tetranychus evansi. Journal of Applied Entomology 131: 355-361.
Foltz, J.L. 2002. Coleoptera: Coccinellidae. Dept of Entomology and Nematology. University of Florida. http://entomology.ifas.ufl.edu/Coleoptera/Coccinellidae.html. [diakses tanggal 12 Januari 2014].
Franzmann, B.A. 2002. Hippodamia variegata (Goeze) (Coleoptera: Coccinellidae) a Predacious Ladybird New in Australia. Australian Journal of Entomology 41: 375-377.Gautam, R. D., Chander, S. Sharma., dan Singh, R. 1995. Aphids Infesting Safflower, Their Predatory Complex and Effect on Oil Content. Annals of Plant Protection Sciences 3:27-30.
Hendrival, P. Hidayat, A. Nurmansyah. 2011. Keanekaragaman dan Kelimpahan Musuh Alami Bemisia tabaci (Gennadius) (Hemiptera: Aleyrodidae) pada Pertanaman Cabai Merah di Kecamatan Pakem, Kabupaten Sleman, Daerah Istimewa Yogyakarta. Jurnal Entomologi Indonesia 8: 96-109.
Hidayat P., B.K. Udiarto, W. Setiawati, R.R.R. Murtiningsih. 2009. Strategi Pemanfaatan Musuh Alami dalam pengendalian Bemisia tabaci (Gennadius) (Hemiptera: Aleyrodidae) sebagai Vektor Virus Kuning pada Pertanaman Cabai Merah. Laporan penelitian. Institut Pertanian Bogor. Bogor 62 p.
Hochachka PW, Somero GN. 2002. Biochemical Adaptation: Mechanisms and Processes in Physiological Evolution. Oxford University Press: New York 480 p.
Hodek, I. 1996. Food Relationships. In: Hodek I, Honek A (eds.) Ecology of Coccinellidae. Kluwer Academic Publishers. Dordrecht Boston London.
Joshi, S., C.R.Ballal dan N. S. Rao.  Biotic Potential of Three Coccinellid Predators on Six Different Aphid Hosts. International Journal of Entomology Research 23(1):1-7.
Kurniawan, H.A. 2007. Neraca Kehidupan Kutu Kebul, Bemisia tabaci Gennadius (Hemiptera: Aleyrodidae) Biotipe-B dan Non-B pada Tanaman Mentimun (Curcumas sativus L.) dan Cabai (Capsicum annuum L.). Tesis. Institut Pertanian Bogor. Bogor 64 p.
Lyla, K.R.Sheena dan Bhasker, Haseena 2008. Biology and Feeding Preference of the Coccinellid Predator, Coccinella transversalis Fab. Insect Environment 14: 75-76.
Mani, M. 1995. Studies of Natural Enemies of Wax Scale Drepanococcus chiton (Green) on Ber and Guava. Entomol 20: 55-58.
Mawan, A., H. Amalia. 2011. Statistika Demografi Riptortus linearis F. (Hemiptera: Alydidae) pada Kacang Panjang (Vigna sinensis L.). Jurnal Entomologi Indonesia 8: 8-16.
Maurice N., A. Pervez., A. Kumar., P.W. 2011. Ramteke. Duration of Development and Survival of Larvae of Coccinella transversalis Fed on Essential and Alternative Foods. European Journal of Environmental Sciences 1: 24–27.
Omkar. A., Pervez. 2000. Biodiversity of Predaceous Coccinellids (Coleoptera: Coccinellidae) in India: A review. Journal of Aphidology 14: 41-66.
Omkar dan James, B.E. 2003. Searching and Feeding Efficiency of a Ladybeetle, Coccinella transversalis Fab. on aphid, Aphis gossypii Glover. Journal of Biological Control 17: 107-112.
Omkar, K. Singh., A. Pervez. 2009. Influence of Mating Duration on Fecundity and Fertility in Two Aphidophagous Ladybirds. Journal of Applied Entomology 130: 103-107.
Prabhakar, A. K., S.P. Roy. 2010. Evaluation of the Consumption Rates of Dominant Coccinellid Predators on Aphids in North-East Bihar. The Bioscan 5: 491-493.
Price, P.W. 1997. Insect Ecology. John Wiley & Sons, Inc. New York 784 p.
Shukla, A., D.S. Jadhav. 2014. Biology of Coccinella Transversalis (Fabricius) on Different Aphid Species. Thebioscan 9: 17-22.
Rodriguez, C. Saona, J.C.Miller. 1999. Temperature-Dependant Effects on Development, Mortality and Growth of Hippodamia convergens (Coleoptera: Coccinellidae).Environmental Entomology 28: 518-522.
Tarman, P.E. 2011. Potensi Predator Famili : Coccinellidae Untuk Mengendalikan Hama Tanaman Cabai Merah Thrips parvispinus. Balai Penelitian Tanaman Sayuran: Lembang. 8 p.
Tarumingkeng, R.C. 1992. Dinamika Pertumbuhan Populasi Serangga. Institut Pertanian Bogor. Bogor. 201 p.
Tsai, J.H. 1998. Development, Survivorship, and Reproduction of Toxoptera citracida (Homoptera: Aphididae) on Eight Host Plants. Environmental Entomology Journal. 27: 1190-1195.
Udiarto, B.K, K. Hidayat, H. Rauf, Pudjianto, S.H. Hidayat. 2011. Kajian Potensi Coccinellidae Predator untuk Pengendalian Bemisia tabaci (Gennadius) pada Tanaman Cabai Merah. Jurnal Hortikultura 22: 76-84.

DOI:
https://doi.org/10.22146/jpti.28409
---
Article Metrics

Abstract views : 1839 |

views : 2046
Refbacks
There are currently no refbacks.
Copyright (c) 2018 Jurnal Perlindungan Tanaman Indonesia
This work is licensed under a
Creative Commons Attribution-ShareAlike 4.0 International License
.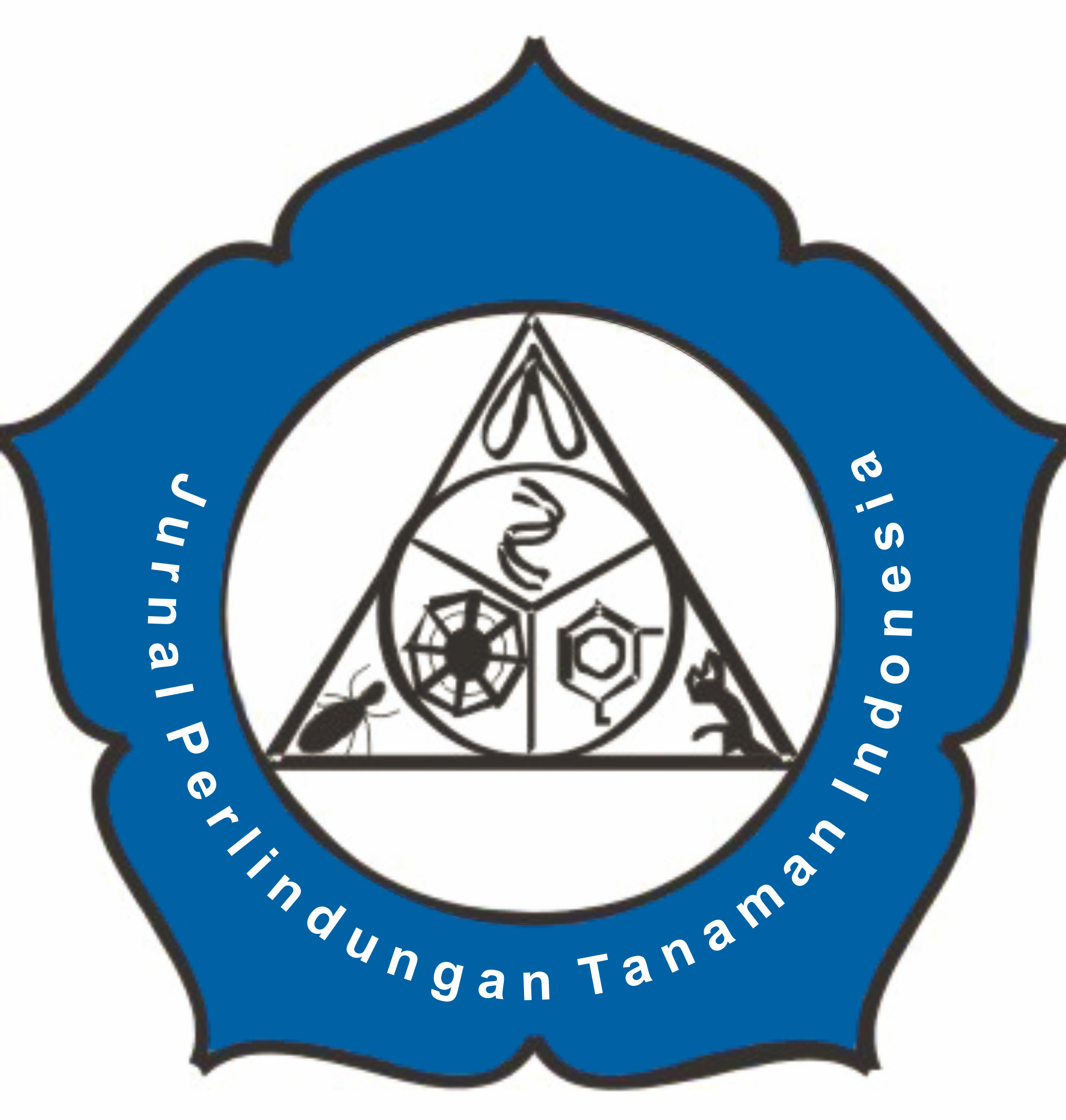 Jurnal Perlindungan Tanaman Indonesia ISSN 1410-1637 (print), ISSN 2548-4788 (online) Accredited Journal, Based on Decree of the Minister of Research, Technology and Higher Education, Republic of Indonesia Number 30/E/KPT/2018, Vol. 21 No. 1 the Year 2017 - Vol. 25 No. 1 the Year 2021. Design by Wibiseno, Indexing & Abstracting , view my stats