Survey of Rice Pests, Diseases and Natural Enemies on "Upsus" Program in Karawang District, West Java Province

https://doi.org/10.22146/jpti.50365
Kurniawan Effendi
(1*)
, Abdul Munif
(2)
, I Wayan Winasa
(3)
(1)&nbspDepartment of Plant Protection, Faculty of Agriculture, IPB University, Jln. Meranti, Kampus IPB Dramaga, Bogor, West Java 16680
(2)&nbspDepartment of Plant Protection, Faculty of Agriculture, IPB University, Jln. Meranti, Kampus IPB Dramaga, Bogor, West Java 16680
(3)&nbspDepartment of Plant Protection, Faculty of Agriculture, IPB University, Jln. Meranti, Kampus IPB Dramaga, Bogor, West Java 16680
(*) Corresponding Author
Abstract
"Upsus" (Special Efforts) Program is a program to increase crop production and productivity to support the acceleration of food self-sufficiency held by the government. The targets are to increase the planting index (IP) by 0.5 and productivity by 0.3 ton/ha/Harvested Dry Grain (HDG). Increased productivity has not been reached optimally. This research aimed to determine the number/types of the dominant pests and natural enemies, and pests and diseases attack rates in the wetland rice plantation "Upsus" Program in Karawang District. Direct observation was carried out on four stages of plant development, in the nursery stage (10–14 days after sowing) 200–300 m², seedlings stage (10–20 days after planting), vegetative stage (5–6 weeks after planting), and reproductive stage (1–2 weeks after flowering) respectively within an area of 2000 m². Twenty samples were observed in the nursery stage and 50 samples in the following stages. The dominant pests and diseases found were Nilaparvata lugens, Leptocarisa oratorius, Schirpophaga incertulas, Cnaphalocrocis medinalis, Scotinophara coarctata, Mythimna separata, bacterial leaf blight (Xanthomonas. oryzae pv. oryzae), blast (Pyricularia grisea) and narrow brown spot (Cercospora oryzae). The recorded dominant natural enemies were Cyrtorhinus sp., Paederus sp., Tetragnatha sp., and Pardosa pseudoannulata. S. incertulas showed the highest attack intensity and the highest disease severity was found in bacterial leaf blight. The largest population of dominant pests and natural enemies was found in the generative stage. The high application of pesticides affected the population of pests, natural enemies, and the level of pest and disease attacks.
Keywords
diseases; natural enemies; pests; special effort
References
Afifah, L. 2019. Fluktuasi Populasi Serangga pada Lahan Persawahan Kecamatan Pangkalan Karawang: Indikator untuk Kesehatan Lingkungan. Jurnal Ilmu Dasar 20: 1 – 6.
Anwar, R. 1989. Pengamatan Hama-Hama Penting Tanaman Padi (Oryza sativa L.) di Wilayah Kerja Penyuluh Pertanian Kali Jati, Wilayah Kerja Balai Penyuluhan Pertanian Kali Jati Kabupaten Subang Provinsi Jawa Barat. Skripsi. Fakultas Pertanian. Institut Pertanian Bogor, Bogor. 62 p.
Aprizal. 2018. Intensitas Serangan Hama dan Patogen pada Agroekosistem Hidroponik Tanaman Padi dengan Berbagai Media Tanam. Jurnal Agrotek Tropika 6: 86 – 90.
Badan Penelitian dan Pengembangan Pertanian. 2009. Deskripsi Varietas Padi. Kementerian Pertanian, Jakarta.  105 p.
Badan Penelitian dan Pengembangan Pertanian. 2012. Mengenal Predator Utama pada Tanaman Padi. Kementerian Pertanian, Jakarta. 17 p.
Baehaki, S.E. 2013. Hama Penggerek Batang Padi dan Teknologi Pengendaliannya. Iptek Tanaman Pangan 8: 7 - 12.
Baehaki, S.E. & M.J. Mejaya. 2014. Wereng Cokelat sebagai Hama Global Bernilai Ekonomi Tinggi dan Strategi Pengendaliannya. Iptek Tanaman Pangan 9: 2-5.
Baehaki, S.E. 2016. Resistensi Wereng Cokelat terhadap Insektisida yang Beredar di Sentra Produksi Padi. Penelitian Tanaman Pangan 35: 3 – 6.
Direktorat Jenderal Tanaman Pangan. 2015. Pedoman Teknis GP-PTT Padi. Kementerian Pertanian, Jakarta. 100 p.
Direktorat Pupuk dan Pestisida. 2014. Petunjuk Pelaksanaan Penyusunan Rencana Defenitif Kelompok Tani (RDKK) Pupuk Bersubsidi. Kementerian Pertanian, Jakarta. 20 p.
Heinrichs, E.A., W. Katanyukul, K.A.N.M. Rezaul, & B.C. Misra. 1986. Management of Insect Pests in Rainfed Lowland Rice. Progress in Rainfed Lowland Rice. International Rice Research Institute, Manila. 358 p.
IRRI. 2005. Masalah Lapang Hama Penyakit Hara pada Padi. Cetakan ke 2. [Terjemahan dari Rice Knowledge Bank Version 2,2., penerjemah: M. Syam, D. Wurjandari]. Pusat Penelitian dan Pengembangan Tanaman Pangan, Jakarta. 71 p.
IRRI. 2014. Standard Evaluation System (SES) for Rice. International Rice Research Institute. Los Banos. 58 p.
Kartohardjono, 2009. Hama Padi Potensial dan Pengendaliannya. Jurnal Balai Besar Penelitian  Tanaman Padi 6: 405 - 425
Kementerian Pertanian. 2015. Peraturan Menteri Pertanian Republik Indonesia Nomor 3 Tahun 2015 tentang Pedoman Upaya Khusus, Peningkatan Produksi Padi, Jagung, Kedelai melalui Perbaikan Irigasi dan Sarana Pendukungnya. Kementerian Pertanian, Jakarta.
Kementerian Pertanian. 2017. Produksi, Luas Panen dan Produktivitas Padi di Indonesia 2013 – 2017. http://www.pertanian.go.id/ap_pages/mod/datatp, modified 20/04/2017.
Mahrub, E. 1999. Kajian Keanekaragaman Artropoda pada Lahan Padi Sawah Tanpa Pestisida dan Manfaatnya dalam Pengendalian Hama Terpadu. Jurnal Perlindungan Tanaman Indonesia 5: 35 – 41.
Maulana, W., Suharto, & Wagiana. 2017. Respon Beberapa Varietas Padi terhadap Serangan Hama Penggerek Batang Padi dan Walang sangit. Agrovigor 10: 21 – 27.
Nurbaeti, B., A. Diratmaja, & S. Putra. 2010. Hama Wereng Cokelat (Nilaparvata lugens Stal.) dan Pengendaliannya. Departemen Pertanian. Balai Pengkajian Teknologi Pertanian Jawa Barat, Lembang. 24 p.
Paendong, E., J. Pelealu, & J. Rimbing. 2011. Penyebaran Hama Kepinding Tanah dan Musuh Alaminya pada Pertanaman Padi Sawah di Sulawesi Utara. Eugenia 17: 7 – 10.
Priyonugroho. 2014. Analisis Kebutuhan Air Irigasi (Studi Kasus pada Daerah Sungai Air Keban Kabupaten Empat Lawang). Jurnal Teknik Sipil dan Lingkungan 2: 457 – 470.
Putra, R. 2018. Hama dan Penyakit Tanaman Padi dan Deskripsi Padi Sawah. Balai Pengkajian Teknologi Pertanian Kepulauan Riau, Riau. 25 p.
Santosa. 2007. Peranan Musuh Alami Hama Utama Padi pada Ekosistem Sawah. Jurnal Inovasi Pertanian 6: 1 – 10.
Semangun, H. 2008. Penyakit-Penyakit Tanaman Pangan di Indonesia. Gadjah Mada University Press,  Yogyakarta. 475 p.
Sianipar MS. 2018. Fluktuasi Populasi Serangga Hama Wereng Batang Coklat (Nilaparvata lugens Stal.) Pada Lahan Padi Sawah Universtas Wiralodra, Desa Singaraja, Kecamatan Indramayu, Kabupaten Indramayu. Seminar Nasional Dies natalies UNS ke 42. Vol. 2 (1).
Sipayung, R.E., S. F. Sitepu, & F. Zahara. 2018. Evaluasi Serangan Tikus Sawah setelah Pelepasan Burung Hantu di Kabupaten Deli Serdang. Jurnal Agroteknologi Fakultas Pertanian Universitas Sumatera Utara. 6: 345 – 355.
Siregar, M.H. 2018. Pola Pergerakan Tikus Sawah di Ekosistem Sawah Irigasi dan Kelemahan Utama dalam Tindakan Pengendaliannya. Thesis. Fakultas Pertanian.  Institut Pertanian Bogor, Bogor. 48 p.
Sudarmadji. 2007. Karakteristik Perkembangbiakan Tikus Sawah pada Ekosistem Sawah Irigasi dan Implikasinya untuk Pengendalian. Penelitian Pertanian Tanaman Pangan 26: 93 – 99.
Tangkilisan, V.E., C. L. Salaki, M. F. Dien , & E. R. M. Meray. 2013. Serangan Hama Putih Palsu (Cnaphalocrosis medinalis) pada Tanaman Padi Sawah di Kecamatan Ranoyapo Kabupaten Minahasa Selatan. Eugenia 19: 23–29.
Wijayanti, R. 2011. Manipulasi Habitat sebagai Solusi Terjadinya Outbreak Wereng Coklat. Jurnal Esakta 33: 35–42.

DOI:
https://doi.org/10.22146/jpti.50365
---
Article Metrics

Abstract views : 574 |

views : 564
Refbacks
There are currently no refbacks.
Copyright (c) 2020 Jurnal Perlindungan Tanaman Indonesia
This work is licensed under a
Creative Commons Attribution-ShareAlike 4.0 International License
.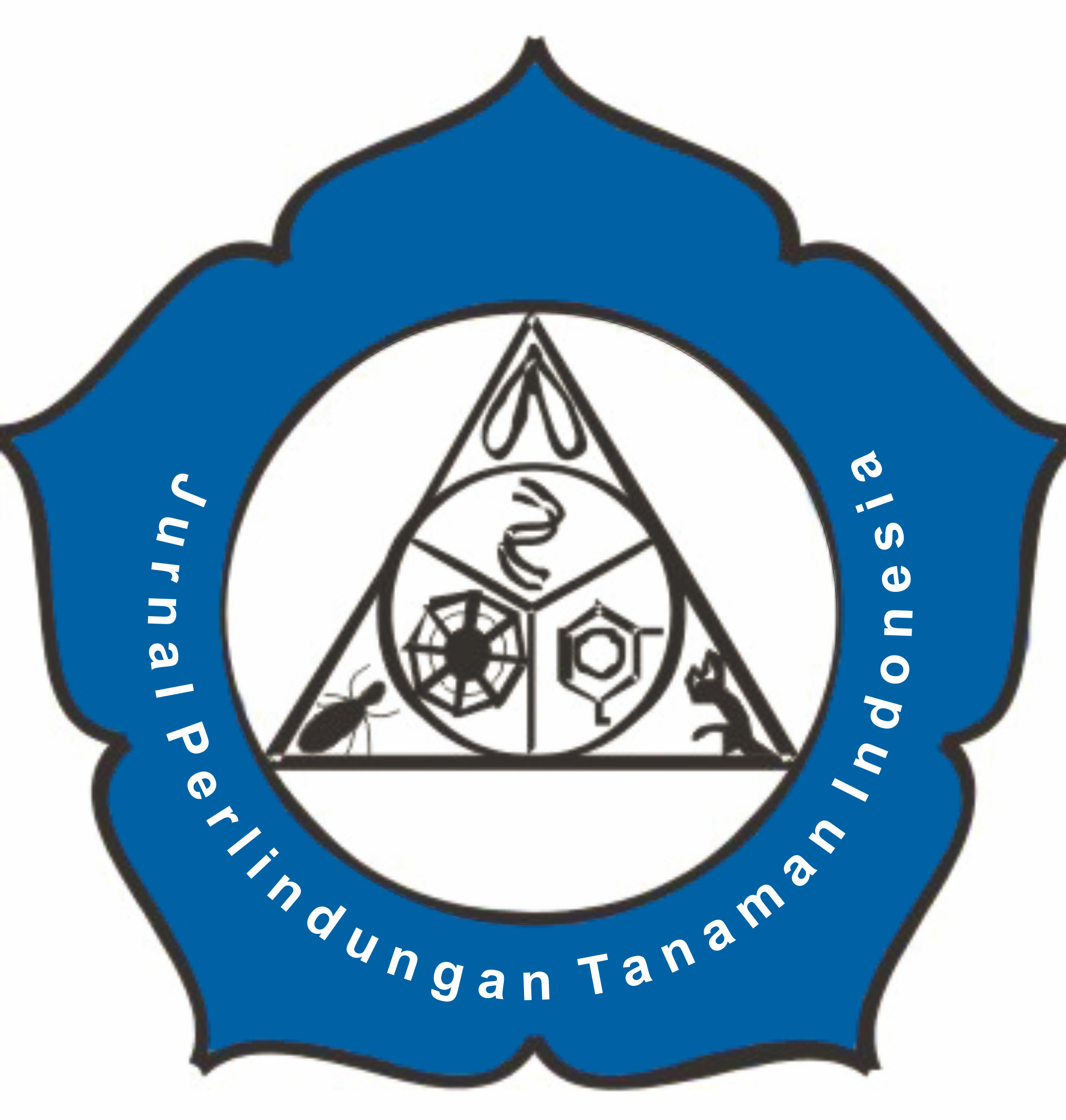 Jurnal Perlindungan Tanaman Indonesia ISSN 1410-1637 (print), ISSN 2548-4788 (online) is published by Department of Plant Protection, Faculty of Agriculture, Universitas Gadjah Mada in collaboration with Indonesian Entomological Society (Perhimpunan Entomologi Indonesia, PEI) and Indonesian Phytopathological Society (Perhimpunan Fitopatologi Indonesia, PFI). The content of this website is licensed under a Creative Commons Attribution-ShareAlike 4.0 International License.  
View website statistics