Evaluation of Anticancer Bioactive Compounds and Cytotoxicity of Kaffir Lime (Citrus hystrix Dc.) Callus Extract Post Preservation
Woro Anindito Sri Tunjung

Lab. of Biochemistry Faculty of Biology Universitas Gadjah Mada

Sudewi Fajarina

De Britto College Senior High School Yogyakarta

Beni Hendro Prabowo

Biology Education Department, Faculty of Teacher Training and Education, Tidar University

Frisca Damayanti

Research Center for Plant Conservation and Botanic Gardens, Indonesian Institute of Sciences

Asti Widyasari

Undergraduate Program, Faculty of Biology, Universitas Gadjah Mada

Aries Bagus Sasongko

Faculty of Biology, Universitas Gadjah Mada

Ari Indrianto

Faculty of Biology, Universitas Gadjah Mada

Endang Semiarti

Faculty of Biology, Universitas Gadjah Mada

Lisna Hidayati

Faculty of Biology, Universitas Gadjah Mada
Keywords:
Kaffir lime callus, Preservation, Cytotoxicity, Bioactive compounds
Abstract
Previous studies have shown that kaffir lime extract is toxic to breast cancer T47D cells. To increase the bioactive compound's production for traditional cancer medicine raw material, we induce kaffir lime callus in vitro. One strategy to continuously produce kaffir lime callus is by using callus preservation. Our preliminary study used two preservation methods of callus, which are stored in 4 0C with or without alginate encapsulation. However, low temperatures and alginate encapsulation can be stress factors for plants, affecting the production of bioactive compounds and their anticancer ability. This study's objective was to determine the bioactive compounds of callus with and without preservation and their effect on the cytotoxicity against cancer cells. GC-MS detected the bioactive compounds in the extract, and cytotoxicity of callus against breast cancer (T47D), and non-cancer cell (Vero) is tested using MTT method. The results showed that preservation in 4 0C with and without encapsulation caused a change in bioactive compounds' profile. The change mainly precursor compound in callus, after being preserved and recultured, then changes into intermediates or final compounds, indicating the difference in growth phases. The terpenoid compounds detected after preservation are squalene and geranyl linalool. However, Kaffir lime callus extract pre and post preservation are not cytotoxic to both cancer and non-cancer cells. Therefore, the preservation method did not act as an elicitor to callus.
References
Alkhalaf, M., Alansari, W., Ibrahim, E., Elhalwagy, M.Anti-oxidant, Anti-inflammatory and Anti-cancer Activities of Avocado (Persea americana) Fruit and Seed Extract. Journal of King Saud University - Science.31(4).

Ampasavate, C., Okonogi, S., & Anuchapreeda, S. (2010). Cytotoxicity of extracts from fruit plants against leukemic cell lines. African Journal of Pharmacy and Pharmacology, 4(1).

Beulah, G. G., Soris, P.T., & Mohan, V. R. (2018). GC-MS Determination of Bioactive Compounds of Dendrophthoe falcata (L.F) Ettingsh: An Epiphytic Plant. International Journal of Health Sciences and Research, 8(11).

Carrillo, C., Cavia, M., Alonso-Torre, S. (2012). Antitumor effect of oleic acid; mechanisms of action. Nutrición hospitalaria : organo oficial de la Sociedad Española de Nutrición Parenteral y Enteral. 27(6):1860-5.

Dong Y, Nakagawa-Goto K, Lai CY, Morris-Natschke SL, Bastow KF, Lee KH. Antitumor agents 287. Substituted 4-amino-2H-pyran-2-one (APO) analogs reveal a new scaffold from neo-tanshinlactone with in vitro anticancer activity. Bioorg Med Chem Lett. 2011;21(8):2341-2344.

Figueiredo, Carlos., Matsuo, Alisson., Massaoka, Mariana Hiromi., Girola, Natalia., Azevedo, R.A, Rabaça, Aline F., Camyla, Valenca Pereira, Felipe Matias, Natalia Silva, Luciana Rodrigues, Elaine Lago, João Travassos, Luiz R Silva, Regildo. (2014). Antitumor Activity of Kielmeyera Coriacea Leaf Constituents in Experimental Melanoma, Tested in Vitro and in Vivo in Syngeneic Mice. Advanced pharmaceutical bulletin (4):429-436.https://doi.0rg/10.5681/apb.2014.063

Gautam, V., Kohli, S., Arora, S. Bhardwaj, R., Kazi, M., Ahmad, A., Raish, M., Majid A.G. Parvaiz., A. (2018). Antioxidant and Antimutagenic Activities of Different Fractions from the Leaves of Rhododendron arboreum Sm. and TheirGC-MS Profiling. Molecules 23(2239).

Graidist, P., Martla, M., & Sukpondma, Y. (2015). Cytotoxic activity of Piper cubeba extract in breast cancer cell lines. Nutrients, 7(4).

Güneş, F. (2013). Medical use of squalene as a natural antioxidant. Journal of Marmara University Institute of Health Sciences.

Harwood, J.L. (2019). Plant Fatty Acid Synthesis. School of Bioscience, Cardiff CF10 3AX, Wales, UK

Kuete, V., Mbaveng, A. T., Nono, E. C. N., Simo, C. C., Zeino, M., Nkengfack, A. E., & Efferth, T. (2016). Cytotoxicity of seven naturally occurring phenolic compounds towards multi-factorial drug-resistant cancer cells. Phytomedicine, 23(8).

Lappano, R., Sebastiani, A.,Cirillo, F., Rigiracciolo, D., Galli, G., Curcio, R., Malaguarnera, R., Belfiore, A., Cappello, A., Maggiolini, M. (2017). The lauric acid-activated signaling prompts apoptosis in cancer cells. Cell Death Discovery 3(1)

Li, N., Xu, C., Li-Beisson, Y., & Philippar, K. (2016). Fatty Acid and Lipid Transport in Plant Cells. In Trends in Plant Science (Vol. 21, Issue 2).

Neumann, K.-H., Kumar, A., & Imani, J. (2020). Plant Cell and Tissue Culture – A Tool in Biotechnology. In Plant Cell and Tissue Culture – A Tool in Biotechnology.

Popa, O., Bəbeanu, N. E., Popa, I., Niţə, S., & Dinu-Pârvu, C. E. (2015). Methods for obtaining and determination of squalene from natural sources. In BioMed Research International (Vol. 2015). Hindawi Publishing Corporation.

Ronco, A. L., & De Stéfani, E. (2012). Nutritional epidemiology of breast cancer. In Nutritional Epidemiology of Breast Cancer (Vol. 9789400723979).
Shabala, S. (2012). Plant stress physiology. In Plant Stress Physiology. https:// doi.org/10.5860 /choice.50-2652

Sharma, R.M, Parashar, B, Kabra, A. (2018). Efficacy of Aqueous and Methanolic Extracts of Plant Desmodium Triflorum for Potential Antibacterial Activity. J.Plant Pathology & Microbiology. 9(12).https://doi.10.4172/2157-7471.1000466

Sheela, Dl., Narayanankutty, A., Nazeem, PA, Raghavamenon, AC., Muthangaparambil, SR. (2019). Lauric Acid Induce Cell Death in Colon Cancer Cells Mediated by the Epidermal Growth Factor Receptor Downregulation : An in silico and in vitro study. Human & Experimental Toxicology. 38(7) 753-761. https://doi.org/10.1177%2F0960327119839185

Tunjung, W. A. S., Cinatl, J., Michaelis, M., & Smales, C. M. (2015). Anti-Cancer Effect of Kaffir Lime (Citrus Hystrix DC) Leaf Extract in Cervical Cancer and Neuroblastoma Cell Lines. Procedia Chemistry, 14. https://doi.org/10.1016/j.proche.2015.03.062

Tunjung, W. A. S., Fatonah, V., Christy, G. P., Triono, S., Hidayati, L., Priyanto, D., Purwestri, Y. A., Sasongko, A. B., Hennisa, Faizah, N., & Indrianto, A. (2020). Effect of Growth Factor in Callus Induction and Bioactive Compounds in Seed Explant of Kaffir Lime (Citrus hystrix DC.). Indonesian Journal of Pharmacy, 31(2), 61–68. https://doi.org/10.14499/indonesianjpharm31iss2pp61.

Uddin, S. Grice, I., Tiralongo, E. (2012). Evaluation of cytotoxic activity of patriscabratine, tetracosane and various flavonoids isolated from the Bangladeshi medicinal plant Acrostichum. Pharmaceutical biology 50(10): 1276-80.

Yarkoni, W. & Herbert, J.R. (1979). Intralesional Injection of Mycobacterial Components Emulsified in 2,6,10,15,19,23-Hexamethyl-2,6,10,14,18,22-tetracosahexaene (Squalene), 2,6,10,15,19,23 Hexamethyltetracosane (Squalane), Peanut Oil, or Mineral Oil. Cancer Research 39(5):1518-20.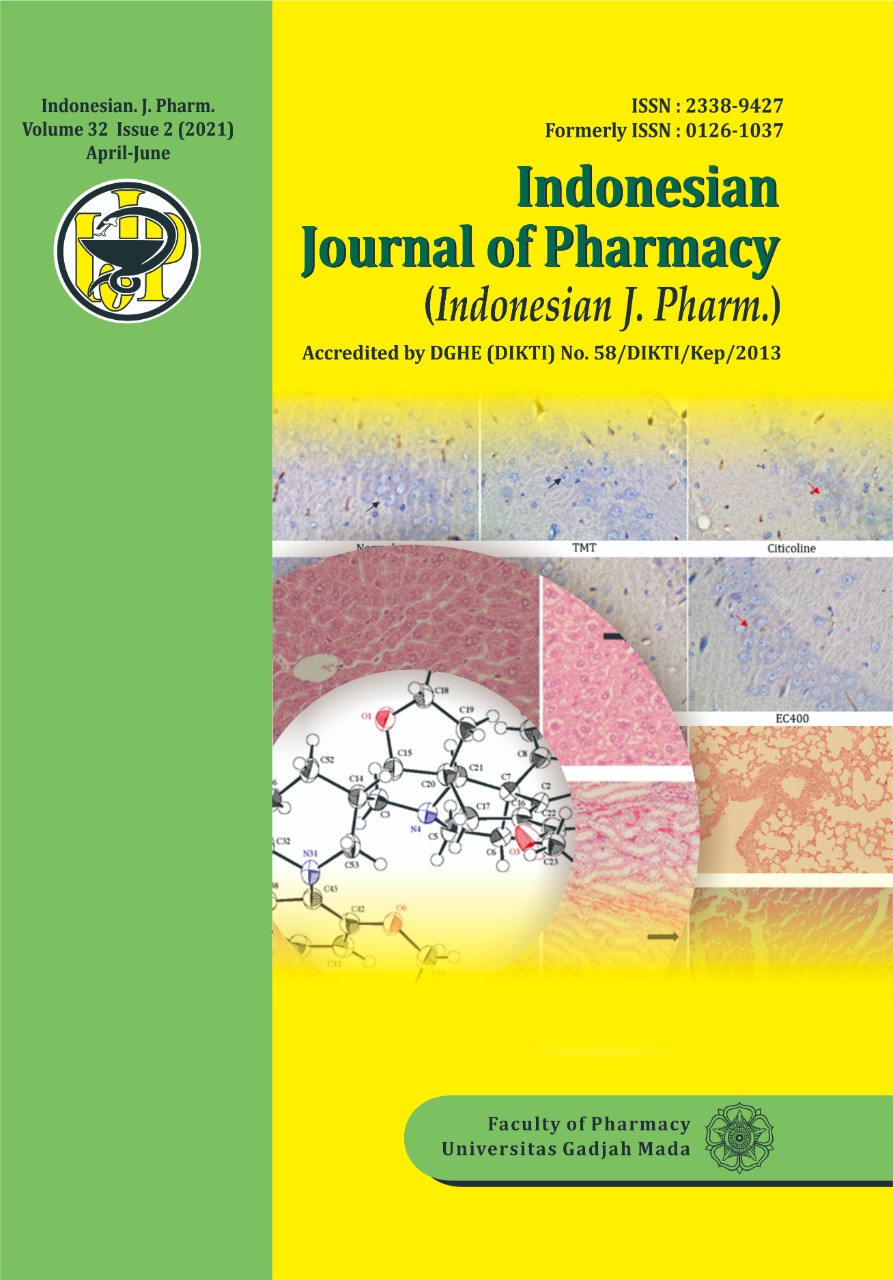 How to Cite
Tunjung, W. A. S., Fajarina, S., Prabowo, B. H., Damayanti, F., Widyasari, A., Sasongko, A. B., Indrianto, A., Semiarti, E., & Hidayati, L. (2021). Evaluation of Anticancer Bioactive Compounds and Cytotoxicity of Kaffir Lime (Citrus hystrix Dc.) Callus Extract Post Preservation. Indonesian Journal of Pharmacy, 32(2), 179-192. https://doi.org/10.22146/ijp.1062
Copyright (c) 2021 Indonesian Journal of Pharmacy
This work is licensed under a Creative Commons Attribution-ShareAlike 4.0 International License.