Anti-Inflammatory Action of Indonesian Black Garlic (IBG) Ethanol Extracts in LPS-stimulated RAW 264.7 Macrophage Cells
Laurentia Adinda Pratidina

School of Animal Life Convergence Sciences, Hankyong National University 327 Jungang-ro, Anseong-si, Gyeonggi-do, 456-749, South Korea 17579

Seong Gu Hwang

School of Animal Life Convergence Sciences, Hankyong National University 327 Jungang-ro, Anseong-si, Gyeonggi-do, 456-749, South Korea 17579

Novita Wijayanti

Agricultural Product Technology, Agricultural technology, Brawijaya University, Veteran, Malang, Indonesia
Keywords:
Indonesian Black Garlic, Anti-inflammatory, RAW 264.7 Macrophage Cells
Abstract
Indonesian Black Garlic (IBG) ethanol extracts is a new type of fresh garlic product, produced at high temperature and humidity. IBG has active antioxidant activity. Thy study aimed to evaluate the anti-inflammatory actions of IBG in RAW 264.7 macrophage cells. The cells were cultures and treated with different concentrations of IBG (50 to 1000 mg/mL). The cell counting kit-8 assay showed that IBG was not toxic up to 400 mg/mL. IBG significantly decreased the expression of inflammatory mediators in LPS-stimulated RAW 264.7 macrophage cells. Futhermore, IBG is shown to inhibit pro-inflammatory cytokines, this is evident from the decreased expressions of iNOS, COX-2, IL-6, NF-kB, and TNF-α in mRNA expressions and also on protein level. The results suggest that IBG can be used to prevent or cure inflammation-related diseases.
References
Alderton WK., Cooper CE., and Knowles R.G. 2001. Nitric oxide synthases: structure, function and inhibition. Biochem J. 357 (3), 593-615.
Amagase, H. 2006. Clarifying The Bioactive Constituents of Garlic. Journal of Nutrition. 136:716S-725S.
Bogdan. C. 2001. Nitric Oxide and The Immune Response. Nature Immunol. 2(10), 907-916.
Choi S., HS. Cha., YS. Lee. 2014. Physicochemical and Antioxidant Properties of Black Garlic. Molecules. 16811-16823.
Dawn B., and Bolli R. 2002. Role of Nitric Oxide in Myocardial Preconditioning. Ann. N. Y. Acad. Sci. 962 (1), 18-41.
Hamidzadeh K, Christensen SM, Dalby E, Chandrasekaran P, Mosser DM. 2017. Macrophages and The Recovery from Acute and Chronic Inflammation. Annual Revision Physiol. 79:567-92.
Hwang IG., Kim HY., Woo KS., Lee J., Jeong HS. 2011. Biological Activities of Maillard Reactions Products (MRPs) in Sugar Amino Acid Model System. Food Chem. 126: 221-227.
Ishikawa H., Saeki T., Otani T., Suzuki T., Shimoura H., Nishino H., Fukuda S. 2006. Aged Garlic Extract Prevents a Decline of NK Cell Number and Activity in Patients with Advanced Cancer. Journal of Nutrition. 136: 847S-851S.
Kim MJ., YC Yoon., HJ Kim., SK Shin. 2014. Aged Black Garlic Exerts Anti-inflammatory Effects by Decreasing NO and Pro-inflammatory Cytokine Production with Less Cytotoxicity in LPS-stimulated RAW 264.7 macrophages and LPS-induced septicemia mice. Journal of Medicinal Food. 17:10.
Lee EN., Choi YW., Kim HK., Park JK., Kim MJ., Lee HW., Kim KH., Bae SS., Kim BS., and Yoon S. 2011. Chloroform Extract of Aged Black Garlic Attenuates TNF-α Induced ROS Generation, VCAM-1 Expression, NF-kB Activation, and Adhesiveness for Monocytes in Human Umbilical Vein Endothelial Cells. Phytother Res.25:92-100.
Marjoni and Zulfisa. 2017. Antioxidant Activity of Methanol Extract or Fractions of Senggani Leaves (Melastoma candidum D. Don). Phamaceutica Analytica Acta. 8:8.
O'Neill L A. 2002. Toll-like Receptor Signal Transduction and The Tailoring of Innate Immunity: A Role for Mal Trends Immunol. 23:296-300.
Park EJ., Min HY., Ahn YH., Bae CM., Pyee JH., and Lee SK. 2004. Synthesis and Inhibitory Effects of Pinosylvin Derivates on Prostaglandin E 2 Production in Lipopolysaccharide-induced Mouse Macrophage Cells. Bioorganic Med. Chem. Lett. 14 (23), 5895-5898.
Sasaki J., Soga H., Shinohara C., Itoh Y., Sasahara R., Yoshida K. 2003. Anti-tumor Activity of Sweet Corn Phytoglycogen and Ground Powder of Sweet Corn. Annals of the Society of BCG and Biological Response Modifier Immunotheraphy. 24: 25-28.
Sasaki, J. 2006. Bioactive Phytocompounds and Products Traditionally used in Japan. In: Iwubal A, Farruh A, Mohammad O (Eds). Modern Phytomedicine-Turning Medical Plan Increased level of tetrahydro-carboline Plant Food Human Nutrition. 61:175-178.
Sato E., Kohno M., Niwano Y. 2006. Increased Level of Tetrahydro-carboline Derivatives in The Short-term Fermented Garlic. Plant Food Human Nutrition. 61:175-178.
Wandita TG., Najuma J., Joseph DC., Seong GH. 2018. In Vitro Evaluation of Anti-inflammmatory and Anti-diabetic Effects of Euphorbia tithymaloides Ethanol Extract. Indonesian J. Pharm. 29 (1), 1-9. doi: 10.14499/indonesianjpharm29iss1pp1.
Yuan H., L. Sun., M. Chen, J. Wang. 2016. The Comparison of The Contents of Sugar, Amadori, and Heyns compounds in fresh and black garlic. Journal of Food Science. C1662-C1668.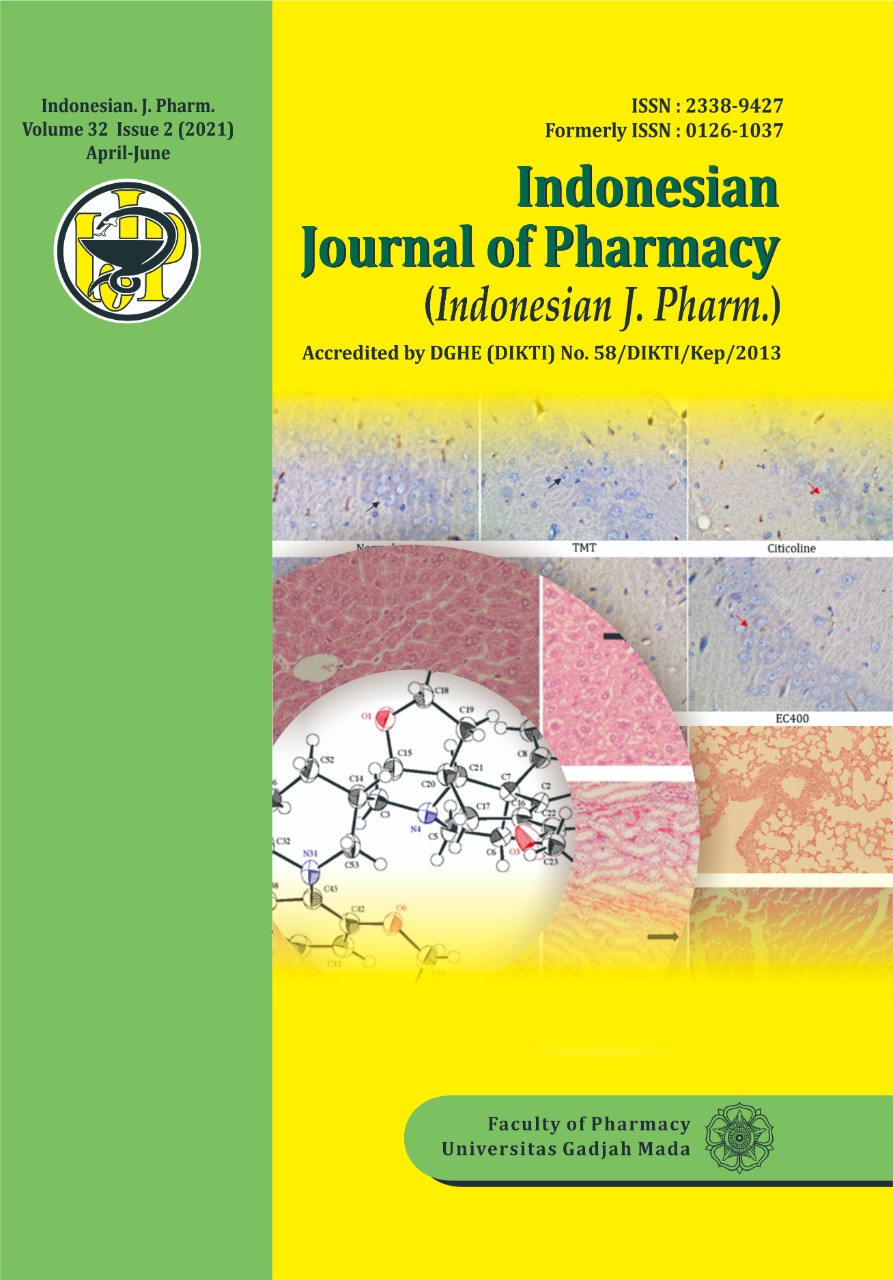 How to Cite
Pratidina, L. A., Hwang, S. G., & Wijayanti, N. (2021). Anti-Inflammatory Action of Indonesian Black Garlic (IBG) Ethanol Extracts in LPS-stimulated RAW 264.7 Macrophage Cells. Indonesian Journal of Pharmacy, 32(2), 201-208. https://doi.org/10.22146/ijp.1658
Copyright (c) 2021 Indonesian Journal of Pharmacy
This work is licensed under a Creative Commons Attribution-ShareAlike 4.0 International License.