New Approaches to Sample Preparation and Integrated Spectroscopic Methods for The Identification of Polioxyethylene Triolate Sorbitane for Pharmaceutical Examination of Drugs
Yerbolat Orazbekuly

National Center for expertise of medicines and medical devices of the Ministry of Healthcare of the Republic of Kazakhstan, Satbayev University, Almaty, 050013, Kazakhstan

Gulzat Aitkaliyeva

National Center for expertise of medicines and medical devices of the Ministry of Healthcare of the Republic of Kazakhstan, Satbayev University, Almaty, 050013, Kazakhstan

Madeniyet Yelubay

S.Toraigyrov Pavlodar State University, Pavlodar, 140008, Kazakhstan
Keywords:
TWEEN-85, NMR, FTIR, Column Chromatography, sample preparation
Abstract
Due to the fast pace of development of spectroscopic research methods in the pharmaceutical expertise of drugs presented in the United States Pharmacopeia (USP) and European Pharmacopoeia (Ph. Eur.), in this paper, we examined complex methods for the identification and preparation for analysis of polyethylene sorbitan trioleate. Two new systems were identified for purification of 98% polyoxyethylene sorbitan trioleate from organic impurities in column chromatography: acetonitrile 100% and acetonitrile/acetone 7.5/2.5. It was also revealed that a chamber with metallic iodine was the most suitable for selecting an eluent and controlling the cleaning by the TLC method. Proton NMR did not detect organic impurities. Identification of polyoxyethylene sorbitan trioleate was carried out on H1, C13, COSY, and IR spectra. These research methods are characterized by simplicity in sample preparation, the availability of reagents, the effectiveness of identification and quantification analyzes, and the efficiency in labor and material costs
References
A.Gordon, R. Ford Sputnik khimika. —М.:Mir,1976. -312p.
Abramzon A.A., Gayevoi G.M. Poverkhnostno- aktivnye veshestva.— L.: Chimiya, 1979. — 376 p.
Ema M, Hara H, Matsumoto M, Hirata-Koizumi M, Hirose A, Kamata E. "Evaluation of developmental neurotoxicity of polysorbate 80 in rats". Reproductive Toxicology. 25 (1): 89–99. January 2008.
European Pharmacopoeia. 2.2.64. Peptide identification by nuclear magnetic resonance spectrometry. Edition 10.2. p. 118.
European Pharmacopoeia. 5.16. Crystallinity. Describes various test to determine crystallinity e.g. Solid state NMR. Edition 10.2. p. 797.
European Pharmacopoeia. Haemophilus type b and meningococcal group C conjugate vaccine. Production section: characterization and identification of the linear copolymer polyribosylribitol phosphate. Edition 10.2. p. 979.
European Pharmacopoeia. Meningococcal group C conjugate vaccine. Production section: identification and serological specifity. Edition 10.2. p. 1010.
European Pharmacopoeia..2.2.24. Absorption spectrophotometry, infrared.
European Pharmacopoeia..2.4.22 C. Composition of fatty acids by gas chromatography.
FDA and US Pharmacopeia Explore Expanding Use of NMR for Drug Quality Testing. Spectroscopy (online journal). November 19, 2012. (http://www.spectroscopyonline.com/fda-and-us-pharmacopeia-explore expanding-use-nmr-drug-quality-testing)
Holzgrabe U., 2010. Quantitative NMR spectroscopy in pharmaceutical application, Progress in Nuclear Magnetic Resonance Spectroscopy, 57 : 229-240. https://doi.org/10.1016/j.pnmrs.2010.05.001
Huimeng Wu, Haizhen Zhu, Jiaqi Zhuang, Shuo Yang, Chen Liu and Y. Charles Cao* Angewandte chemie. Supporting Information© Wiley-VCH 200869451 Weinheim, Germany. pp.3
ICH Quality guidelines. Q2(R2)/Q14 EWG. Analytical procedure development and revision of Q2(R1) Analytical Validation.
John Coates. Interpretation of Infrared Spectra, A Practical Approach. Encyclopedia of Analytical Chemistry. R.A. Meyers (Ed.).pp. 10815–10837. Ó John Wiley & Sons Ltd, Chichester, 2000.
M.Katic, J.Frantar, I. Grgic, H. Podgornic, and A. P. Erdih. Polyoxyethylene Stimulates Lignin Peroxidase. Production in рhanerochcete chrysosporium. —Folia Microbiol. 43 (6), 631-634 (1998)
Pandemic H1N1 (pH1N1) Influenza Vaccine Quick Reference Guide Winnipeg Regional Health Authority 2009
U.Holzgrabe, I.Wawer, B.Diehl. NMR spectroscopy in pharmaceutical analysis. Elsevier.2008.
United States Pharmacopeia (USP) and the National Formulary (NF) 621. General Chapter. Chromatography—System Suitability.
Xiang-Hong Li, Shu-Duan Deng , Hui Fu ,Guan-Nan Mu. Inhibition by tween-85 of the corrosion of cold rolled steel in 1.0 M hydrochloric acid solution. —J Appl Electrochem (2009) 39:1125–1135
Ye. Orazbekuly, G.I.Boiko, N.P.Lubchenko, S. A. Dergunov. Novel high-molecular multifunctional reagent for the improvement of crude oil properties. Fuel Processing Technology. –2014. – Vol. 128. – P. 349-353.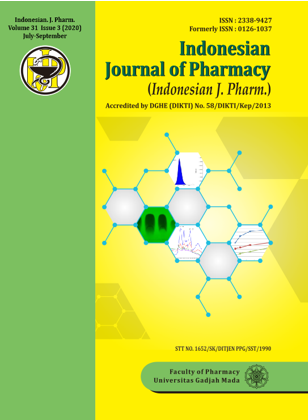 How to Cite
Orazbekuly, Y., Aitkaliyeva , G., & Yelubay, M. (2020). New Approaches to Sample Preparation and Integrated Spectroscopic Methods for The Identification of Polioxyethylene Triolate Sorbitane for Pharmaceutical Examination of Drugs. Indonesian Journal of Pharmacy, 31(3), 181-186. https://doi.org/10.22146/ijp.592
Copyright (c) 2020 Indonesian Journal of Pharmacy
This work is licensed under a Creative Commons Attribution-ShareAlike 4.0 International License.