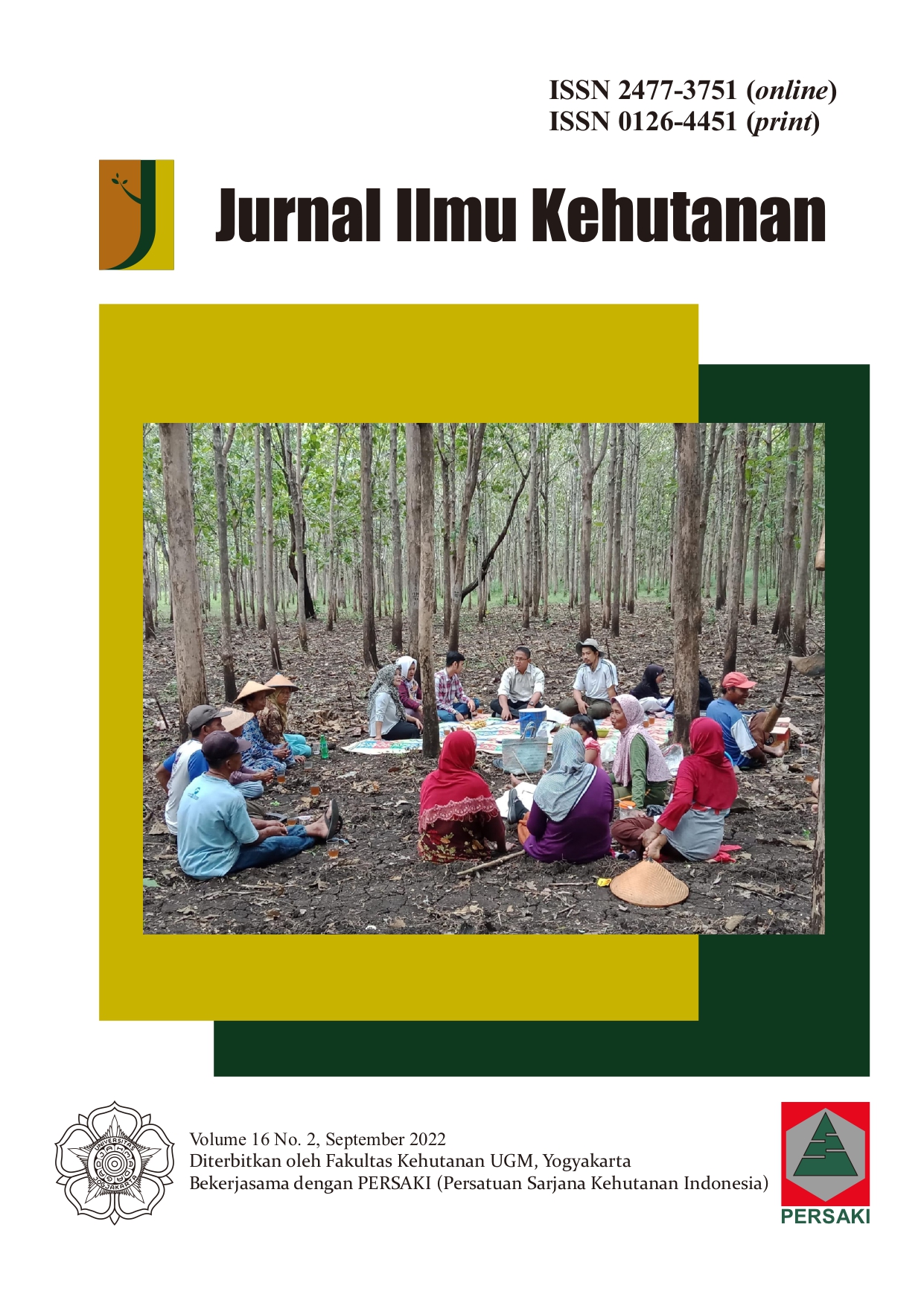 This work is licensed under a Creative Commons Attribution-NonCommercial-ShareAlike 4.0 International License.
Analysis of Intensified Agrosilvopastoral Farming in Wiladeg Village, Karangmojo Sub-district, Gunungkidul Regency, Special Region of Yogyakarta, Indonesia
Corresponding Author(s) : Muhammad Abdul Rahman Subrata
375cell@gmail.com
Jurnal Ilmu Kehutanan, Vol 16 No 2 (2022): September

Abstract
This research aimed to analyze the increase in income from intensified agrosilvopastoral in Wiladeg Village, Karangmojo Sub-district, Gunungkidul Regency, Yogyakarta, Indonesia. This research employed Participatory Action Research (PAR) to collect data through four cycles of food crop production trials under forest stands. The on-farm trials used the submersible-well technology and lasted for three years. The Average Equivalent Value (AEV) analysis grouped the respondents into two strata based on land ownership. Stratum-1 consisted of respondents with an agrosilvopastoral area of ≤ 4000 m2, while stratum-2 of > 4000 m2. The off-farm intensification trials involved three cow fattening cycles and used Net Present Value (NPV) analysis. The results showed that on-farm trials contributed an increase in AEV, namely 692% on land strata-1 and 462% on land strata-2. The off-farm trials provided an NPV of IDR 14,679,000,00/year in the off-farm sector of cow fattening. Based on these results, intensified agrosilvopastoral was feasible to increase land productivity both on-farm and off-farm in Wiladeg Village.
Keywords
Intensified agrosilvopastoral farming
AEV
NPV
on-farm
off-farm
Subrata, M. A. R., Riyanto, S., Andayani, W., Awang, S. A., & Dewi, G. K. (2022). Analysis of Intensified Agrosilvopastoral Farming in Wiladeg Village, Karangmojo Sub-district, Gunungkidul Regency, Special Region of Yogyakarta, Indonesia. Jurnal Ilmu Kehutanan, 16(2), 184-197. https://doi.org/10.22146/jik.v16i2.1865
Download Citation
Endnote/Zotero/Mendeley (RIS)
BibTeX
References
Adhikari P, et al. 2018. System of crop intensification for more productive, resource-conserving, climate-resilient, and sustainable agriculture: experience with diverse crops in varying agroecologies. International Journal of Agricultural Sustainability 16(1):1-28.
Andayani W. 2006. Analisis usaha tani pola hutan rakyat. Page 4–13. Fakultas Kehutanan Universitas Gadjah Mada, Yogyakarta.
Amar DSC. 2010. Gunem Catur in the Sunda region of West Java: Indigenous communication on MAC plant knowledge and practice within the Arisan in Lembang, Indonesia. Dissertation (Unpublished). Faculteit der Wiskunde en Natuurwetenschappen, Leiden University, Leiden.
Apriyadi R, Hutajulu JM. 2020. Pengaruh harga komoditas pangan hewani asal ternak terhadap inflasi di Provinsi D.I. Yogyakarta. Jurnal Ecobisma 7(2):52-70.
Arinah H, Andayani W, Purwanto R H. 2021. Analisis finansial hutan rakyat pola agroforestri herbal di Desa Gerbosari Kabupaten Kulon Progo. Jurnal Ilmu Kehutanan 15(2):137-146.
Awang SA, Sepsiaji D, Bariatul H. 2002. Etnoekologi manusia di hutan rakyat. Page 56-59. Sinergi Press, Yogyakarta.
Awang SA, Widayanti WT. 2012. Buku ajar partisipasi pemberdayaan masyarakat. Page 102-121. Laboratorium Ekonomi Sosial Kehutanan Bagian Manajemen Hutan Fakultas Kehutanan UGM, Yogyakarta.
Blocher EJ, Stout DE, Cokins, G. 2010. Cost management: A strategic emphasis, 5th Edition. Page 496-498. McGraw-Hill, New York.
BPS Gunungkidul. 2019. Kecamatan Karangmojo dalam Angka 2019. Page 7-8. BPS Kabupaten Gunungkidul, Gunungkidul.
Chevalier JM, Buckles DJ. 2013. Participatory action research for engaged inquiry. Page 28-168. Routledge Taylor dan Francis Group, London dan New York.
Dinas Lingkungan Hidup dan Kehutanan Yogyakarta. 2019. Buku statistik kehutanan. Hlm. 35. Dinas Lingkungan Hidup dan Kehutanan Yogyakarta, Yogyakarta.
Faradhana A, Herwanti S, Kaskoyo H. 2019. Peran hutan tanaman rakyat dalam meningkatkan pendapatan di Kesatuan Pengelolaan Hutan Unit XIV Gedongwani. Jurnal Belantara 2(2):104.
Fitri R, Tarigan, Suria P, Sitorus, Santun RP, Rachma, ML. 2017. Formulating of agroforestry type for the farmers in Ciliwung Hulu watershed of West Java Province. International Journal of Science: Basic and Applied Research 36(2017):264-274.
Giraldo CJ, Filho BS, Ribeiro SMC, Gonçalves RC. 2017. Analysis: Is it possible to make rubber extraction ecologically and economically viable in the Amazon? The Southern Acre and Chico mendes reservecase study. Ecological Economics 134(2017): 186-197.
Hasibuan D. 2020. NPV vs IRR: Mana yang harus digunakan dalam mengukur kelayakan bisnis. Jurnal Manajemen dan Bisnis 2(1):38-52.
John Hopkins University. 2021. Data kasus corona di Indonesia. JHU, Maryland. https://www.google.com/search?q=data+corona+indonesia&oq=data+coron+&aqs=chrome.1.69i57j0i13l7.5958j0j4&sourceid=chrome&ie=UTF-8 (accessed January 2021)
Juaningsih IN. 2020. Analisis kebijakan PHK bagi para pekerja pada masa pandemi covid-19 di Indonesia. Adalah: Buletin Hukum dan Keadilan 4(1):189-196.
Kindon SL, Pain R, Kesby M. 2007. Participatory action research approaches and methods: connecting people, participation and place. Page 1-32. Routledge, London
KPH Yogyakarta. 2014. Rencana pengelolaan hutan jangka panjang tahun 214-2023. Page 176-179. KPH Yogyakarta, Yogyakarta.
Lembaga Ekolabel Indonesia. 2006. Koperasi wana manunggal lestari mendapat sertifikat ekolabel. LEI, Bogor. https://lei.or.id/koperasi-wana-manunggal`-lestari-mendapat-sertifikat-ekolabel/ (accessed January 2022)
Menteri Dalam Negeri. 2021. Instruksi Menteri Dalam Negeri Nomor 62 Tahun 2021 tentang pencegahan dan penanggulangan corona virus desease 2019 pada saat natal tahun 2021 dan tahun baru tahun 2022.
Muslim M. 2020. PHK pada masa pandemi covid-19. ESENSI: Jurnal Manajemen Bisnis 23(3):357-70.
Peña AB, Rosa L, D'Odorico P. 2020. Global food self-sufficiency in the 21st century under sustainable intensification of agriculture. Environmental Research Letters 15(2020):1-11.
Portillo BA, Martı´nez AG, Rodea AO, Rubio RR, Armijo JFV, Jorda´n CMA. 2018. Socioeconomic and productive characteristics of dual purpose farms based on agrosilvopastoral systems in subtropical highlands of Central Mexico. Agroforest System 93:1939-1947.
Pujiati, Primani NC, Marheny. 2017. Budi daya bawang merah di lahan sempit. Page 11-13. Program Studi Pendidikan Biologi, FKIP, Universitas PGRI Madiun, Madiun.
Rahmat A, Mirnawati M. 2020. Model participation action research dalam pemberdayaan masyarakat. Aksara: Jurnal Ilmu Pendidikan Nonformal, 6(1): 62-71.
Republik Indonesia. 1999. Undang-Undang Republik Indonesia Nomor 41 Tahun 1999 tentang Kehutanan. Presiden Indonesia, Jakarta.
Sabastian GE, Yumn A, Roshetko JM, Manalu P, Martini E, Perdana A. 2019. Adoption of silvicultural practices in smallholder timber and ntfps production systems in Indonesia. Agroforestry Systems 93:607-620.
Salikin KA. 2003. Sistem pertanian berkelanjutan. Page 11-13. Kanisius, Yogyakarta.
Suhartati T, Purwanto RH, Setyarso A, Sumardi. 2021. Karakteristik pengelolaan hutan rakyat dalam perspektif sistem (Studi di Desa Semoyo Kabupaten Gunungkidul). Jurnal Hutan Tropis 9(3):355-364.
Sulastri I, Suharti. 2017. Sesaji kupat dalam tradisi gumbregan di Desa Kemiri Kecamatan Tanjungsari Kabupaten Gunungkidul. Jurnal Penelitian Humaniora 22(1):57-70.
Suratiyah K. 2006. Ilmu usahatani. Page 8. Penebar Swadaya, Jakarta.
Tayyari F dan Parsaei HR. 1992. Joint cost allocation to multiple products: cost accounting v.engineering techniques. Page 189-200. Parsaei HR dan Mital A. Economics of Advanced Manufacturing Systems. Springer. Boston
Republik Indonesia. 1999. Undang-Undang Republik Indonesia Nomor 41 Tahun 1999 Tentang Kehutanan
Utomo EWB, Widiatmaka, Rusdiana O. 2021. Potensi lahan tersedia untuk pengembangan hutan rakyat di Kabupaten gunungkidul, Provinsi D.I Yogyakarta. Journal of Natural Resources and Environmental Management 11(1): 108-119.
Yumi, Sumardjo, Gani, DS, dan Sugihen BG. 2012. Kelembagaan pendukung pembelajaran petani dalam pengelolaan hutan rakyat lestari (Kasus di Kabupaten Gunungkidul, Provinsi D.I Yogyakarta dan Kabupaten Wonogiri, Provinsi Jawa Tengah). Jurnal Penyuluhan 8(1):15-28.