Jurnal Manusia dan Lingkungan  shortened as JML is published by Pusat Studi Lingkungan Hidup (Center for Environmental Studies), Universitas Gadjah Mada, Yogyakarta, Indonesia. The journal is a scientific journal focusing to the relationship between people and its environment that are oriented for environmental problems solving. It is published three times a year/ quarterly on March, July, November. The accepting script to editorial will be processed with blind peer review before received to publish.
JML was first published in year 1992, and published online since 2015 with printed ISSN 0854-5510 (Print) and daring version ISSN 2460-5727 (Online).
Since 2015, JML has been using Open Journal System requiring all writers to register in advance before they are allowed to upload the manuscript they write online. Afterwards, the editors, peer reviewers, and writers can monitor the manuscript processing.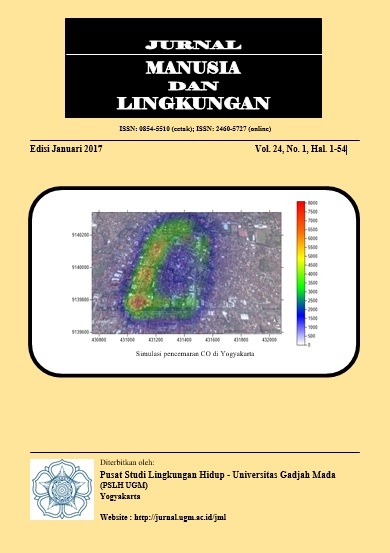 Announcements
Call For Paper


The executive team of JML (Jurnal Manusia dan Lingkungan) invites the author to submit their article here. Future Issues for 2017, Volume 24,  issues 1.

Posted: 2017-02-09
Vol 23, No 3 (2016): September
Table of Contents
Articles
Eka Wardhani, Dwina Roosmini, Suprihanto Notodarmojo

10.22146/jml.18802

Abstract views : 1430 |

views : 879

285-294
Dori Rachmawani, Fredinan Yulianda, Cecep Kusmana, Mennofatria Boer, Ety Parwati

10.22146/jml.18801

Abstract views : 1282 |

views : 744

295-303
Nana Kariada Tri Martuti, Budi Widianarko, Bambang Yulianto

10.22146/jml.18800

Abstract views : 637 |

views : 423

304-309
Sofia Sofia, Adi Heru Husodo

10.22146/jml.18803

Abstract views : 1086 |

views : 663

310-318
Andi Gustiani Salim, Harris Herman Siringoringo, Budi Hadi Narendra

10.22146/jml.18805

Abstract views : 1625 |

views : 871

319-326
Gunggung Senoaji, Muhamad Fajrin Hidayat

10.22146/jml.18806

Abstract views : 2952 |

views : 2667

327-333
Aswandi Aswandi, Ronggo Sadono, Haryono Supriyo, Hartono Hartono

10.22146/jml.18807

Abstract views : 724 |

views : 386

334-341
Restu Nur Afi Ati, Terry Louise Kepel, Mariska Astrid Kusumaningtyas, Desy Maria Helena Mantiri, Andreas Albertino Hutahaean

10.22146/jml.18804

Abstract views : 789 |

views : 500

342-348
Budiadi Budiadi, Handojo Hadi Nurjanto, Suryo Hardiwinoto, Enggal Primananda

10.22146/jml.18809

Abstract views : 900 |

views : 447

349-359
Aida Mawaddah, Roto Roto, Adhitasari Suratman

10.22146/jml.22473

Abstract views : 826 |

views : 535

360-364
Ratih Ida Adharini, Suharno Suharno, Hari Hartiko

10.22146/jml.18808

Abstract views : 1251 |

views : 706

365-373
Muarif Muarif, Ario Damar, Sigid Hariyadi, Mennofatria Boer, Dewayani Soetrisno

10.22146/jml.22476

Abstract views : 889 |

views : 424

374-380
Hari Kusnanto, Suprapto Dibyosaputro, Suwarno Hadisusanto, Sri Puji Saraswati

10.22146/jml.22484

Abstract views : 639 |

views : 360

390-393
Anton Silas Sinery, Jacob Manusawai

10.22146/jml.18811

Abstract views : 1855 |

views : 764

394-401
Editorial