Berita Kedokteran Masyarakat adalah jurnal ilmiah di bidang Kesehatan Masyarakat yang diterbitkan oleh Prodi S2 Ilmu Kesehatan Masyarakat Fakultas Kedokteran, Kesehatan Masyarakat, dan Keperawatan (FKKMK) Universitas Gadjah Mada yang bekerja sama dengan Perhimpunan Dokter Kedokteran Komunitas dan Kesehatan Masyarakat Indonesia (PDK3MI)  dengan STT SK. Menteri Penerangan Republik Indonesia No. 1143/SK/Ditjen.PPG/STT/1987 dan Ikatan Ahli Kesehatan Masyarakat Indonesia (IAKMI).
Jurnal Berita Kedokteran Masyarakat (BKM) merupakan jurnal ilmiah yang memuat artikel penelitian (research article) yang diterbitkan empat bulan sekali sejak terbit tahun 1985, kemudian sejak tahun 2016 (Volume 32) BKM diterbitkan setiap bulan/ 12 kali dalam satu tahun.
Artikel yang terbit di jurnal ini telah melalui proses review secara blind review oleh satu/ dua orang reviewer/ mitra bebestari. Para reviewer kemudian membuat keputusan berdasarkan rekomendasi dengan beberapa kemungkinan: ditolak, revisi mayor, revisi minor, atau diterima. 
Berita Kedokteran Masyarakat terlah terindeks di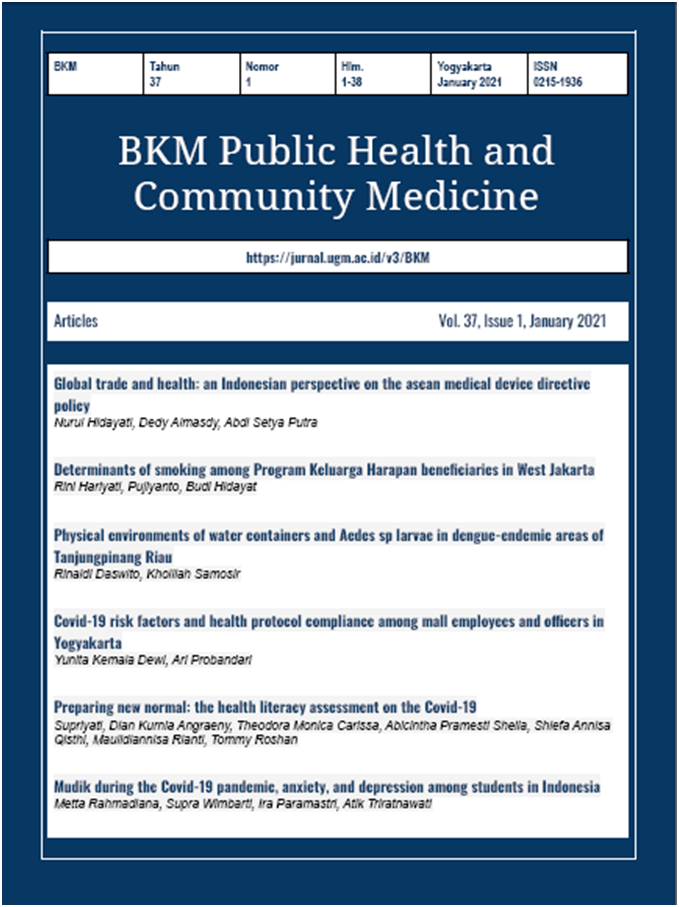 Announcements
Info: The 5th UGM Public Health Symposium

The 5th UGM Public Health Symposium berlangsung pada 24-26 April 2019 di Yogyakarta dengan tema Open science to improve access and equity to public health knowledge. Simposium ini merupakan cara berbagi perkembangan terakhir di bidang public health di tingkat nasional, daerah, dan komunitas.

Kami mengundang Anda untuk mengirim abstrak berupa artikel penelitian, paper posisi berisi argumentasi yang didebatkan, laporan kasus, atau policy brief. Abstrak yang masuk akan direview sesuai standar BKM untuk diterbitkan dalam prosiding online berISSN.

Info selengkapnya tersedia disini.

Posted: 2019-03-15
Open Review Articles
Readers, writers and reviewers, since the January 2019 edition, we have implemented a system of "open review articles" for texts sent to BKM. Within a maximum of 5 days after submission, we will put your manuscript in an "open review article" if we consider your text to be within our scope and in accordance with the mission of our journal. Thus, we open an open invitation to readers to become reviewers. As writers, we are very happy if you want to be an observer of articles that are your area of expertise. As our manuscript reviewer, you are entitled to a 35% discount on your article processing fees. Please select the article that you want to review and click on this link, we will send an invitation for you to review.
Table of Contents
Epidemiology
Gumson Josua Tampubolon, Riris Andono Ahmad, Andre Zulhasogi

10.22146/bkm.44070

Abstract views : 0

In Review
Environmental Health
Annisa Febriana Siregar, Taufik Ashar, Nurmaini Nurmaini

10.22146/bkm.43021

Abstract views : 496

In Revision
Noor Rosyidah Amini, Sarto Sarto

10.22146/bkm.35597

Abstract views : 215

In Review
Mika Vernicia Humairo, Sarto Sarto, Wiranto Wiranto

10.22146/bkm.44214

Abstract views : 0

In Review
Reproductive health
Siti Nunung Nurjannah, Euis Susanti, Sohel Rana

10.22146/bkm.43098

Abstract views : 202

In Review
Yanna Wari Harahap, Siswanto Agus Willopo, Mohammad Hakimi

10.22146/bkm.42691

Abstract views : 202

In Review
Maternal and Child Health
Husnawati Husnawati, Anggriyani W. Pinandari, Djaswadi Dasuki, Siswanto Agus Wilopo

10.22146/bkm.42814

Abstract views : 184

In Revision
Sholikah Sholikah, Rina Triasih, Yayi Suryo Prabandari

10.22146/bkm.42690

Abstract views : 177

In Review
Wahyuni Sujarwadi, Evawany Y. Aritonang, Sri Rahayu Sanusi

10.22146/bkm.43556

Abstract views : 203

In Review
Wahyuni Sujarwadi, Evawany Y. Aritonang, Sri Rahayu Sanusi

10.22146/bkm.43578

Abstract views : 160

In Review
Public Health Nutrition
Ervina Ervina, Ida Yustina, Etti Sudaryati

10.22146/bkm.42577

Abstract views : 205

In Review
Public Health Regulation and Policy
Widi Astutty Casimira Daeli, Atik Nurwahyuni

10.22146/bkm.43459

Abstract views : 199

In Review
Occupational Health
Anggi Isnani Parinduri, Taufik Ashar, Nurmaini Nurmaini

10.22146/bkm.42711

Abstract views : 376

In Review
Muhammad Harry Wijaya, Agus Surono

10.22146/bkm.42427

Abstract views : 147

In Revision
Millani Amastasia Koeswardani, Nur Arfian, Agus Surono

10.22146/bkm.44060

Abstract views : 61

In Revision
Bayu Yoni Setyo Nugroho, Christantie Effendy, Darwito Darwito, Mubasysyir Hasanbasri

10.22146/bkm.43705

Abstract views : 82

In Review
Ika Ambar Trisnawati, Agus Surono, Adi Heru Husodo

10.22146/bkm.44140

Abstract views : 0

In Review
Health Promotion Strategies
Perilaku Kesehatan Penduduk Spesifik
Public Health
Arifatun Nisaa, Nur Rokhimah Hanik

10.22146/bkm.42370

Abstract views : 183

In Review
Primary Health Care
Brenda Ellyse Sangari, Yolanda Handayani, Abdurrahman Wahid, Ahmad Zaidan

10.22146/bkm.42569

Abstract views : 172

In Review